Ram and the Art of Extra-Terrestrial Poker

Catman - The Poker Agent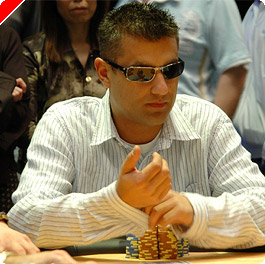 Last week I had the pleasure of playing on TalkSport and 888.com's freeroll as a bounty player, which was a delight because it was a "win-win" (a very sad PR phrase) situation. Although I am not a pro poker player, I am a poker pro and was indeed being paid to play this freeroll. I had made it in my own tiny little way!
I was indeed a sponsored player. I was proud to say I came 15th out of 999 players, to qualify for the final to win a seat at the 888.com UK Poker Open. Great! The point is, my job is one big poker game itself. I have been through at least six check-raises and bad beats with major corporates in the last year in my bid to develop sponsorships for players. Of course, if I succeed, I will satisfy one of the most important aspects in any business, and that is bankroll acquisition for us all. How does the regular player get the opportunity to be a Roland De Wolfe or Ram Vaswani?
How on earth do you make the premier league? Poker is unlike any other sport in that a complete novice can serve a short apprenticeship and then, with grit, determination and with incestuous support from the poker gods, become a star. Roland made his own luck, he chased his dream and in no time at all has become one of the world's biggest poker names, simple as that.
A Sponsor's Dream
Ram Vaswani ('Ram the Man') is a sponsor's dream, a member of the daddies of UK poker, the Hendon Mob. But Ram's personal qualities go far beyond 99% of sportsmen worldwide. Last week he came 8th at the Final of the EPT in Monte Carlo; this week he is, or was at the time of writing, faring very nicely at Paddy Power's Irish Open. The man is a sensational poker player.
But Ram has recently become a "viral tsunami" across the internet forums following his sensational online cash play. This man is the Clarke Kent and Lex Luther of the poker world, Ram is a silent Ninja. In the outside world, he is softly spoken, can charm your pants on and off with a single smile (if he was a single man and you a woman) and is just a diamond geezer.
His live play and record is sensational, but there must be something about a laptop that unleashes a force that permits him to win $125,000 in a single hand with


against Brian Townsend's "Bobbies" (jacks). This was in a session that he had previously just lost a similar amount a few hands prior.
Marilyn Monroe was a legend, not just for her sex appeal, it was the fact that she was totally unpredictable, mysterious and alluring. Ram obviously has the control and patience for tournament play, but how does his mind work in high stakes cash (a phenomenon I can't wait to study in more detail)?
Ram has just finished his ten year professional apprenticeship and is now discovering his inner self online, in a trip that few could follow. The psychology of the game is something that is vital to understand, but what makes Ram the player he is can only be related to extra-terrestrial life! Yes, Phil Ivey is something else while Mike Matusow plays big online and certainly seems to lose, and so on.
So, as I sat playing my freeroll, I was thinking that I would pay to sit by Ram as he battled in the $300-$600. In fact, would it not make the best pay per view TV? What could we learn from Ram who has been playing mental stakes cash online for years? His genius verges closer to insanity than Einstein or Beethoven, but in a very cool way. Naturally, his common adversary, Brian Townsend, already sells videos of his cash game plays on the net.
Why these ramblings? If you want inspiration, think of Ram for the most extreme inspiration. If you can go out there and win, imagine the adrenalin rushes you could experience if you had won the bankroll to play heads up with "Ram (A Different Gravy) The Man"!
Horses for Courses
Back to sponsorship, last week I had my third meeting with a horse racing consortium who are slowly deciding whether they should be gambling a tidy sum on sponsoring a team to Las Vegas. My first meeting as a poker consultant is always a freebie, so when I was first dragged down to The R.A.C. club for a chat, I thought "why not?" I might try to blag a membership!
The initial request was for me to supply pro players whom they would pay to play their bankroll online. "Catman, we have a $500,000 fund to invest; what can you do with it? We will give the players 20% of the winnings" said the thirty-something banker. I won't go into detail, but as much as I would have liked to, I could not offer a sensible reply.
"If you give me $500k and I give it to players, they will lose the lot, if they have any sense, to their best mate. That is if you are talking online where the high stakes games are!"
It was a long story but my honesty was appreciated. The fact is that poker players, myself included, can be a little greedy. The corporate world is biting at the bit to sling its marketing money into poker, but it has to be made respectable and fun. So, I want to convince corporate money that poker is Formula One tied into a gentlemanly game with no blood spilt. So my plan for the horse backers is to put together a team, train two of them to play, and make it fun. We all pop out to Vegas, win some and all go home with a little percentage, simple as that. Live play is the way forward for them.
Catman on TV
Finally, if you want entertainment, Catman the poker pimp will be appearing on Poker Night Live on 11th April and Sky Poker Open on 13th April with the gorgeous Alina Salnikova. Let me tell you, Poker Night Live is such a pressure seat, but please remember if you watch my cash play, "I am here to gamble!"
Ed note: Book a free poker holiday in the sun when you download Ladbrokes Poker and play the EXCLUSIVE UK Poker News Caribbean Poker Cruise Freeroll!