Caribbean Poker Cruise Still Up For Grabs!

Tony Bromham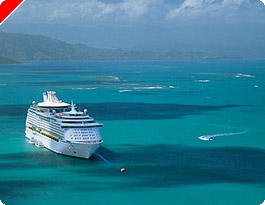 As they say on bulletin boards – To The Top! Join the UK Poker News Caribbean Poker Cruise Freeroll on Ladbrokes Poker now and you will have the bargain of the century! Player numbers are restricted yet there is a 10-Day $5,500 Caribbean Cruise Ticket going begging!
No poker player – apart perhaps from an eskimo – could possibly have a reason to refuse a one-off, entirely exclusive ticket to board the next sun-soaked Ladbrokes Caribbean Poker Cruise! In a glorious ten-day holiday, you will have all of the poker tournaments and side games you need on board the luxurious cruise liner "Explorer of the Seas", plus you will visit San Juan in Puerto Rico, Charlotte Amalie in St. Thomas, Casa de Campo in the Dominican Republic and finally, an exclusive private beach and watersports paradise at Labadee.
The Main Event on the Ladbrokes Caribbean Poker Cruise attracts some of the best European players. Last time out, you could have been sat with the Devilfish, Roy Brindley and Marc Goodwin to name just three. There will also be a bevy of beautiful ladies along for the ride.
The winner of the Main Event on the Ladbrokes Caribbean Poker Cruise in 2006 took home a substantial $375,000. The player in 65th spot took away $5,500. All of those prizes are profits waiting for you to pick up while you are on holiday in the Caribbean. To make it there, simply qualify in our free-to-enter tournament! The date for this is likely to be in June and Ladbrokes is waiting for a mere 100 (that's all!) players to sign up. How much easier do you need it?
Just sign up to Ladbrokes Poker via our review page (click the link) if you do not already have a Ladbrokes account and play a few hands of poker. Nothing to it!
Apart from a Cruise Ticket worth $5,500, second and third places in the freeroll will also give you another chance with a $550 seat at the Ladbrokes Weekly Cruise Final. You will still have a 1 in 10 chance of making it to the Caribbean at a cost of zero dollars!
Fourth to tenth places in the UK Poker News freeroll gets you even more chances to qualify.
The Ladbrokes Caribbean Poker Cruise will set sail from New York on 25th January 2008 and return on 3rd February 2008. Each cabin on the cruise ship, the "Explorer of the Seas", will have its own balcony and wi-fi internet connectivity. Luxury!
Ed note: If you do nothing else this year, make sure you do enter the exclusive Ladbrokes Caribbean Poker Cruise Freeroll available ONLY here at UK Poker News!