All Set for the William Hill Grand Prix Final on TV

Tony Bromham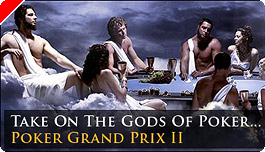 Tonight (Tuesday 27th March) sees one of the year's highlights of TV poker. The Final of the William Hill Grand Prix II with "The Gods of Poker" gets its first small screen airing. Whatever the other-worldly quality of the players, the poker should be good.
This is William Hill's second season of running the Grand Prix, a tournament designed for the skilful poker player by virtue of its long structure. Inevitably this means that each heat and final takes longer to complete but also provides a far richer variation of hands played, making for a superb highlights package of top poker.
The first seven heats have been shown weekly on Sky Sports 2 (channel 402) along with the semi-final. The seven heat winners and the winner of the semi-final (which comprised the seven heat runners-up) now play the eight-seat Grand Final. This has been played already but players are under instruction to keep the result generally under wraps.
One look at the line-up of players for the Final has the poker juices flowing:
As is the norm these days in high-end European poker tournaments, the Scandinavians not only came to play, but to win. So we have Swedes Bo Sehlstedt and Ken Lennaard, Dane Martin Wendt and Norwegian hotshot Johnny Lodden locking horns.
Against them are leading Australian pro Jeff Lisandro who has been a WSOP finalist on several occasions; top-ranked American Antonio "The Magician" Esfandiari; super-aggressive UK pro Ben "Milkybarkid" Grundy, and lastly, a qualifier through William Hill Poker, Wayne Hutchins, who fought off the likes of Roy Brindley, Mickey Wernick, Andrew Black, Joe Beevers and Vicky Coren in his heat – no mean feat.
Another qualifier to get through was the aforementioned Swede, Bo Sehlstedt. However, internet novice he is not. A recent winner of the Pokerstars Sunday Million (he won $130,000 for his first place), Sehlstedt has an impressive record both online and off. He has an 18th place at a WPT Final in 2005 and has cashed in the money for three years running at the WSOP Main Event. Online, he is prolific at tournaments and cash games.
Fellow Swede Ken Lennaard makes his second appearance at the William Hill Grand Prix final having finished 5th in the inaugural final behind winner Phil "Unabomber" Laak, Ram Vaswani, Roy Brindley and Pascal "Triple P" Perrault.
This TV poker treat can be seen tonight (27th March) at 10pm BST on Sky Sports 2 in the UK, and is repeated several times the following day on various Sky Sports channels.
Earn £25 sterling every month simply for playing for five hours Download William Hill Poker to start on the first hour!