Climb Aboard the $50,000 H.O.R.S.E. with Sun Poker!

Tony Bromham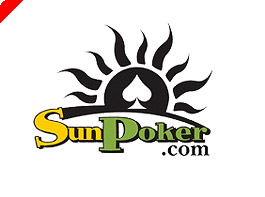 We at UK Poker News can safely say that we do not know where else you can win through to play in the most exclusive of all the WSOP tournaments, the $50,000 buy-in H.O.R.S.E. tournament. In this, you are guaranteed a game with the greats of poker!
One of the more imaginative of the CryptoLogic-powered poker rooms, Sun Poker always has plenty of truly attractive monthly offers for its existing and new players. But, on top of those, it is never bashful about revealing its "sick promos" to the world; the promotions where excess is never far away for its players.
Already running and available for all new and existing players is its gigantic WSOP extravaganza, "One Sick Promo" worth an incredible $1,250,000 in Las Vegas seats. To go along with this amazing offering, Sun Poker have set up a super-satellite direct to the massive H.O.R.S.E. event in Las Vegas.
To reserve your seat at this super-satellite you just have to play at Sun Poker between now and 31st May 2007 and earn 50,000 My Player Points (MPP's). It is likely that the big satellite won't be a heavily-populated affair so what better chance have you got to join the ranks of the immortals? Last year's winner was David "Chip" Reese who won a staggering $1.8m from just 143 entries in the 2006 $50,000 H.O.R.S.E. event. The crème-de-la-crème played this event which resulted in this star-spangled final table:
Phil Ivey
Doyle Brunson
T.J. Cloutier
Andy Bloch
Dewey Tomko
David 'Chip' Reese
David Singer
Jim Bechtel
If your poker dreams include a game with these boys – and not forgetting the girls as the likes of Jennifer Harman and Annie Duke are comfortable in this company – then now is the time to start accumulating the MPP's at Sun Poker.
We spoke to the Poker Room Manager at Sun Poker, Adam Smirnis, who told us:
"With the crowding of the Main Event, players are looking for other outlets to prove themselves as players. For the top professionals, the H.O.R.S.E. event is the equivalent of what the Main Event used to be before it got so big. We feel that the prestige of this event will draw the bigger internet players to our site to see if they can qualify for the satellite. And although 50,000 MPPs seems like a daunting number, 22 players have already reached that number since December 1st. Since the promotion lasts a full six months, players who log on regularly should all have a chance to reach the mark."
For those not already familiar with H.O.R.S.E., this is a mixed discipline game that is the ultimate test of a poker player's skills. The event switches disciplines including the "H" of Hold'em (Limit Texas), the "O" of Omaha (Limit Hi/Lo), the "R" of Razz (a Low hand version of Stud), the "S" of Stud (Limit) and the "E" of Eight or better (Stud Hi/Lo). In the WSOP version, the final table reverts to No Limit Texas Hold'em.
Ed note: Don't forget that all new players who download Sun Poker automatically enter a huge $10,000 monthly new player freeroll. Beat that for a sick promo!