Sky Poker Enhances the Online Experience

Tony Bromham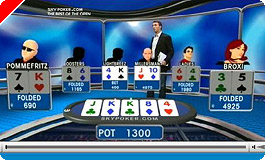 Any viewer of Sky TV will already know that there is no barrier to what can be achieved in screen graphics in this day of digital and high definition technology. No wonder then that the brand new online Sky Poker TV/internet interface is such a hit.
Sky Poker is available on TV on channel 846 through the usual satellite/cable services available from Sky. Every evening, there is an incredible 3D graphical representation of live online poker being played on Sky Poker. This has somehow been transfigured from the flat computer screen into an outrageous three dimensional display apparently hovering in mid-air in front of the two live presenters who discuss the play as it unfolds. The picture on this page does not do it justice as it is a still image but it gives you an idea nonetheless. To add more human interaction, there are guest players playing online in the studio who discuss their own plays during the tournaments. It is a clever concept.
Sky Poker is available as a web-based internet poker room so no downloading of a program is necessary. Simply click Sky Poker for this new internet experience.
Sky Poker TV is primarily an educational poker forum laced with entertainment, or is it entertainment laced with poker education? It's a question of interpretation and preference. Several media-hungry poker and sporting faces are involved in the presentations such as Carlo Citrone, Tony Kendall, Helen Chamberlain and Ed Giddens. Unsurprisingly, regular sporting stars also well-known for their poker prowess make regular appearances as players.
The online poker room at Sky Poker is building up fast so anyone looking for new challenges in online poker can be assured of plenty of UK players and some from further afield, many of whom are likely to be novices lulled in by the glitzy TV production.
The chance to have your play discussed as it happens is attractive. It has been done before of course but not like this!
Sky Poker offers The Open at 9pm every night in the form of a multi-table tournament with a featured TV table discussed live by the presenters for the evening. Around 500 players are entering these tournaments and you can enter them for cash or Sky Poker Player Points. 500 Player Points will immediately be yours as soon as you open an account at Sky Poker through UK Poker News.
Apart from TV poker, Sky Poker's new online interface offers plenty of cash and tournament tables for you to improve your Hold'em play. Video and other tutorials are also available online as well as the educational advice on the TV.
Ed note: Claim an immediate 500 Player Points when you register at Sky Poker right here