"BG00D2me" Makes Giant Strides to Becoming a Poker Pro For A Year

Tony Bromham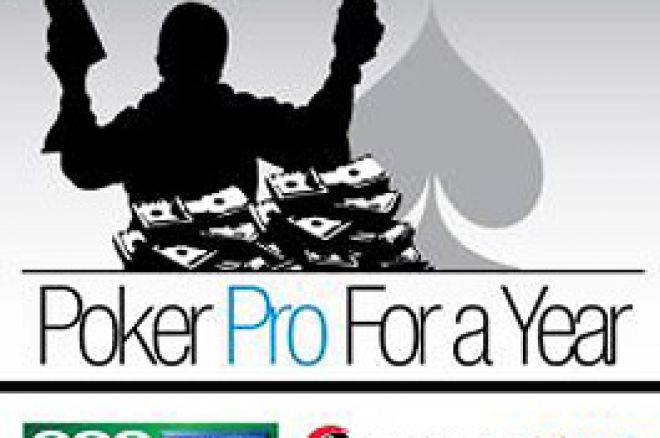 As the saying goes, "The Early Bird Catches The Worm". This certainly applies to 888 Poker player, "BG00D2me" (Ilya Smid from Germany) who has just secured a place at the Poker Pro For A Year Final from Series 1. But, you can join "BG00D2me" by playing Series 2 to Series 6!
Let's debunk any ideas that the Poker Pro For a Year poker leagues are in any way exclusive. They are not. In fact, they are easy to join and cheap to play, plus they are fun. You play regular tournaments of your choice and by joining any of the Series, you are eligible to play in the Global Freerolls and cash freerolls that are on offer during each league's duration.
Remember that in Series 1 that has just ended, a mere 42 enlightened players joined the Global Freeroll to win a seat at the EPT at Dortmund, a package worth $8,500 with travel and accommodation. That's right, just 42 players paying absolutely nothing. Find us some better value and opportunity than that! The player called "Kassike" will certainly agree as he is off to Germany next week. Plus he racked up 12,000 points in his quest to qualify for the big one at the end of the year. Second place won 9,000 points, third 5,000 and all the other players 2,000. Series 2 players can win an even bigger package worth $15,000 at the WPT in Paris.
Yet these juicy prizes are not the main attraction of playing the league! Every player in Series 1 was aiming to be the top ten point earner so they could play in the Series 1 Grand Final on 28th February. The winner would receive a place directly into the end of year Poker Pro For a Year Grand Final, to be held in a secret live location, with all of it being filmed and webcast exclusively on all Poker News websites. That winner was Ilya Smid. One Series down, five Series to go!
In case you haven't already seen what this amazing series of leagues has to offer poker players of all bankrolls, here is a brief recap:
Poker Pro For a Year is a competition sponsored by 888/Pacific Poker and PokerNews.com where one lucky poker player will be sponsored into Four Major Poker Tournaments in 2008, including airfares, accommodation and entry fees, valued at over $50,000! You can also win one of six packages to a major poker tournament in 2007 like the WSOP, EPT or Aussie Millions via the Global Freerolls that take place in each of the six Series of the League!
To register for Poker Pro For a Year, you must click any of the links shown in this article or on the banner on the home page of UK Poker News, download 888/Pacific Poker, and create a new account. You must not already have an 888/Pacific Poker account. You must be 21 years of age or older to be eligible for the Poker Pro For a Year grand prize. The special website that these links take you to tell you all you need to know to join in the fun.
To win the major prize, you have to make it to the ten-handed final. These will be determined throughout 2007 over a 48 week period divided into six separate Series lasting eight weeks each. Players can qualify for the final, or win any Global Freeroll, from any of the Series without having to play in all of them. Most players however will play as many as they can once they've played one. Plus, the earlier you play, the greater the chance you will be in a smaller field and thereby gain a greater chance!
Each Series contains seven low buy-in tournaments, one $500 freeroll, and one Global Freeroll (which has a minimum playing requirement due to the massive prizes on offer here). The Global Freerolls offer six lucky players (one from each Series) an all-expenses paid package to play in a live tournament such at the WSOP, WPT, EPT or Aussie Millions.
Apart from the six Series winners and the one "Overall Leaderboard" winner, there will be a further three places in the big live final available to the top 100 in the "Overall Leaderboard". They will all play a Freeroll to get those last three places. So, even if you finish 100th overall, you may still become the Poker Pro For a Year and be sponsored into the Aussie Millions Main Event, a WPT Main Event, the WSOP Main Event and an EPT Main Event! Second place gets one of these events and third receives entries into big qualifiers for similar events.
So, now is the time to get signed up for Series 2. This series has the following attractions:
3rd March - Series 2 Round 1 - $10+1
10th March - Series 2 Round 2 - $10+1
17th March - Series 2 Round 3 - $10+1
24th March - Series 2 Round 4 - $10+1
28th March – Series 2 Round 5 - $500 Freeroll
31st March - Series 2 Round 6 - $10+1
7th April - Series 2 Round 7 - $15,000 Global Freeroll – WPT Grand Prix de Paris
14th April - Series 2 Round 8 - $10+1
21st April - Series 2 Round 9 - $10+1
25th April - Series 2 Final – All Qualifiers
It doesn't matter if you miss one or more as very few will score points in every one. Plus there are Series 3, 4, 5 and 6 to come!
Ed note: All this is yours when you visit PokerProForAYear.com and start playing Series 2 and beyond!