Denmark's Peter Jepsen Wins the EPT Warsaw

Tony Bromham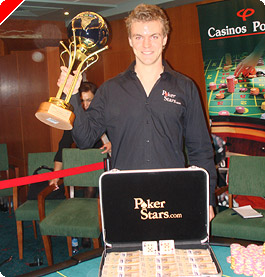 Peter Willers Jepsen, a 24 year old Dane who discovered online poker after suffering war injuries serving in Iraq has prevailed in the European Poker Tour Main Event in Warsaw, Poland, to win €325,000.
These days, Jepsen plays high stakes online although he started at the $0.50/$1 levels at first before discovering his knack for turning a profit. This culminated in his first big offline cashout ($165,000) when he finished third in the 2006 Caribbean Poker Classic in St Kitts last November. He was the highest beneficiary of a three-way deal in that event so arguably was the winner – in cash terms at least.
The eight finalists in Warsaw this weekend started out in this formation:
Seat 1. Fredrik Hostrup (Denmark) - 288,000
Seat 2. Peter Jepsen (Denmark) - 498,000
Seat 3. Marius Torbergsen (Norway) - 434,000
Seat 4. Andrew O'Flaherty (UK) - 168,000
Seat 5. Farid Meraghni (France) - 971,000
Seat 6. Katja Thater (Germany) - 105,000
Seat 7. Patric Martensson (Sweden) - 305,000
Seat 8. John Conroy (UK) - 73,000
France's Farid Meranghi was clear chip leader but with starting blinds of 4,000/8,000 and 200 antes, chips were likely to move sooner rather than later, especially amongst the shorter stacks.
The UK's John Conroy, in particular, would be in need of early action and a bit of luck. Andrew O'Flaherty, who is a Leeds-based Dubliner, was better stacked but not comfortably so. Germany's Pokerstars.com-sponsored Katja Thater was also needing to select the right moment quickly.
In early play, Conroy benefited from a flopped set of tens and later on collected a much larger pot from the previously well-placed Marius Torbergsen from Norway. After that, Torbergsen never fully recovered and struggled to get chips for a long while.
First to go however was one of the two Danes, Fredrik Hostrup. This was his second EPT cash following hot on the heels of some money from Dortmund. Eighth was his limit this time after his K 10 clashed with Andrew O'Flaherty's pair of tens.
The next elimination came direct from bad beat city. Swede Patric Martensson was committed with his last 300k or so and was called by big stack Farid Meranghi. The Frenchman's AQ looked sick against the AK of Martensson but a Q on the river spelt the end for him.
Soon to follow was Andrew O'Flaherty who raised all-in over Marius Torbergsen's 32k bet only to find Meranghi re-raising the pair of them all-in. Torbergsen was not prepared to put his entire tournament to the test in this spot and quickly passed. Meranghi's JJ proved to be far too hot for O'Flaherty's pair of ducks.
Katja Thater walked the plank soon after this. She had battled through the 24 cash places with a fairly small stack and a well-executed strategy of protect and survive and did well to make 5th spot. Even then, she only went out on a "coin-flip", her 2 2 not clearing the hurdle of Peter Jepsen's A Q.
Four-handed saw the table tighten up considerably as it became clear that the prize money on offer would step up dramatically with each elimination. Only Marius Torbergsen was low-stacked, the other three including John Conroy with 750,000 or more of the 2,840,000 chips in play.
Thus it was with a certain predictability that Torbergsen claimed fourth prize. Once again, he decided to make a play just as his opponent caught a beauty. On a flop of 4 5 6, Marius made a dash for it with Q 5. Peter Jepsen was obliged to call holding 8 7 for the stone cold nuts, an 8-high straight.
Sometimes these are the breaks you need. Three handed, it was a turgid "raise-fold-fold" affair with chips going round in circles between the three equal stacks for about 20 minutes. Then, Jepsen caught another break.
John Conroy was on the button and first to act, so he raised the big blind of 16,000 to 46,000. Peter Jepsen pondered for a short while before re-raising to 150,000. This pause of uncertainty was enough to convince Conroy that his


was good and he pushed all-in for over 500,000. Jepsen called immediately and flipped over


. No help arrived for John so it was "Exit stage left" but a great week's work for the UK man.
Heads up between Meranghi and Jepsen settled back into the cagey mode seen for most of the final. Although with two-thirds of the chips, Jepsen was not taking risks nor for that matter was the smaller stack. Observing this, we felt that Meraghni had very little to lose and could collect the substantial blinds and antes if he were to start pushing with any half a hand. Jepsen clearly wanted to win but was reluctant to commit.
An eternity seemed to pass before there was some action of note and what a hand Jepsen played. On the button, he raised to a standard 60,000 (blinds 10k/20k) and in keeping with the caution on display, Meranghi merely called to see a flop.
The flop came



and both checked. The turn was a third spade,

. Meranghi checked again (in trying to trap) and Jepsen raised to 80,000. Meranghi re-raised to 240,000. Peter Jepsen considered why these moves were being made and decided to call. Now the pot was getting serious.
The river was a fourth spade,

. Meranghi, again first to act, this time fired straight out with another 280,000. Jepsen went into the tank for a good think. Clearly, to call and lose would leave him short-stacked but a call would mean committing 280,000 and receiving back 1,160,000 should he win the hand. Favourable odds when the whole tournament could be at stake. Jepsen finally called.
Farid Meranghi showed


for a rivered 2-pair but no flush. Jepsen showed


for a flush and a big pot.
There were two more hands of note soon afterwards that brought the chips back in line after Meragni took advantage of the cautious pre-flop play by flopping a 2-pair with 2 9.
Meraghni regained the chip lead then seemed to loosen up and consequently crippled himself over-playing


on a




board before the river. Jepsen with


cleaned up.
Finally, now well behind, Meraghni committed with


and was called by Jepsen's


. The flop hit hard showing



. The straight could save Meranghi and the turn of

opened up another straight draw. The river of

sealed it though.
Peter Jepsen was, based on the overall play we witnessed here while reporting for Pokernews.com Live Updates, the deserved winner. He made the right plays at the right time when it mattered.
However, Scandinavian bookmakers Bet24 will be nursing a headache. Peter Jepsen told us that they had laid odds of 500/1 on him winning at Warsaw after witnessing him losing money "on tilt in Las Vegas last week". Peter and several friends piled on at those odds given that less than 300 players could even enter the Warsaw event. With the Caribbean success still fresh in the memory, it was a good call to suggest Peter Jepsen was a better player than the average entrant, many getting there through Pokerstars online qualifying tournaments.
One last observation from Warsaw - Jan Tomaszewski was playing in the EPT tournament. Tomaszewski was the famous football goalkeeper for Poland who memorably saved everything kicked at him by England way back in 1973, thus preventing them from qualifying for the 1974 World Cup. We are unsure whether any English players were aware of this or they might have "had a word" with Jan!
We at UK Poker News would like to add our congratulations to Casinos Poland and the EPT for a tournament run extremely well in what was a relatively small but well-appointed casino. It was a pleasure to report from there.
Final result:
1 Peter Willers Jepsen (Denmark – wins Pln 1,266,711 - approx €325,000)
2 Farid Meranghi (France – wins Pln 708,225)
3 John Conroy (UK – wins Pln 424,935)
4 Marius Skoglund Torbergsen (Norway – wins Pln 303,525)
5 Katja Thater (Germany – wins Pln 250,914)
6 Andrew O'Flaherty (UK – wins Pln 198,303)
7 Patric Martensson (Sweden – wins Pln 157,833)
8 Fredrik Hostrup (Denmark – wins Pln 113,316)
Ed note: Affordable qualifiers to EPT tournaments are available when you download Everest Poker. We will throw in an additional $50 bonus on top of the standard one when you deposit via UK Poker News.