Party Poker Premier League: Review

Nicky O'Donnell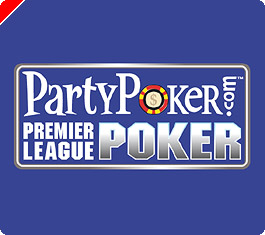 Let me take you back to 7 years ago when something changed me inside forever. I didn't know it would until about 4 years later, and while certain moons in my life needed to align themselves in order for me to see the light, it has been there, deep inside me ever since and it never went away. Poker is in my blood, and in my bones, and it was brought to the surface through the most powerful medium of them all. Television.
"Oh My God! He got it on the river!" screams Jesse May as some scary looking guy with an even scarier sounding name, "The DevilFish" cruelly outdraws another victim. As he stacks up his chips in a single, seemingly 3 feet high chimneystack of chips, he grins like a Cheshire cat, and peers over his ruby red shades, which are perched on the end of his nose purely to make him look "cool". He looks more than just cool. This man puts the fear of God in his opponents, even the ones who don't believe in God. This is dominance, this is total destruction, this is war, and I don't just want to be at that table, I want to be The DevilFish!
7 years on, I no longer want to be Dave Ulliot. I'm very happy with the poker player I've become, but to my dismay, no poker show has improved on the original series of Late Night Poker. Even, the recent remake of the series "Late night poker Ace" and "Late Night Poker Masters" were just dull, lifeless and dare I say severely lacking, in a display of much real talent. Of course that's just my opinion. Maybe check-raising the minimum with second pair when there's a flush and straight on the flop has some hidden meta-gaming genius that I can't see, or maybe I'm right, and most poker players on TV these days really don't know what they are doing but, that's not really the problem.
What I do know for certain is I do not want to watch celebrities, porn stars, or rugby players try their hand at poker, nor do I want to watch internet qualifier #1 take on internet qualifier #2. It's boring. Even the coverage of the EPT is awful because the large fields mean the quality of the poker is watered down and the commentary is quite frankly, complete rubbish. When I watch poker on TV I need to see passion, excitement, blood, sweat and tears. I want to see genuine courage and emotion. I want to see real god-given skill, and in a year where I came to realise that we can't even rely on the televised World Series of Poker main event to supply us with that basic yet crucial element of the game, where else is there to turn?
So, last week Pokernews asked me to travel to Maidstone Studios in Kent to cover a new TV series called "The PartyPoker.com Premier League", that they said was going to be something special. "Hmmmm…" I thought, "Realllllly?" As you can probably tell I'm quite cynical, and opinionated, often to my own detriment, but I went to Maidstone anyway, with an open mind, but also determined not to kiss anyone's rear. If this show was going to stink like smelly socks then I wasn't going to lie about it.
The idea for the show was pretty simple. Instead of inviting players to come and play one heat to qualify for the next round or beyond to a grand final, they played 6 heats each and earned points on a league table. This way players weren't flying in, busting out and flying off again feeling very unsatisfied. They were all here for the long haul and would be given plenty of chances to perform. If their performances weren't good enough they were relegated, if they dominated their heats they were promoted straight into the grand final and if they were average they qualified for a heads-up play-off. "Bad beat today? Don't worry, maybe it will be better in tomorrow's heat, and there's always the play-offs" Seemed pretty fair to me.
Another new innovation for the show was playing 21 hands per level, instead of using a clock. This allowed for plenty of play on the early levels, but didn't mean that when it got to 3 handed or heads up the tournament might go stale and still take another 80 hands, as has happened on so many other shows with a Sit n' Go format.
The selected players for the league not only assured plenty of entertaining table banter but that plenty of skilful poker would be played. The 12 players were Phil Hellmuth, Dave 'The Devilfish' Ulliott, Tony G, Andy Black, Kirill Gerasimov, Liz Lieu, Ian Fraser, Roland De Wolfe, Vicky Coren, Juha Helppi, Kenna James and Eddy Scharf.
The "green room", a name given to a room that didn't have any green in it, was where I watched an almost-live feed of all the heats, in the company of other players and representatives of the Matchroom team and Party Poker. My job was to blog the event in our site's new live reporting section. The first heat featured The DevilFish, Phil Hellmuth, Tony G and Andrew Black so as you can imagine the pre-match verbal exchanges were pretty close to the bone. Phil Hellmuth stormed off the table when tournament director Mad Marty Wilson laid down some of the rules because he felt he was being singled out. The players were already sticking needles in each other and we hadn't even dealt a card yet. There was so much tension before the show even started, that I knew there and then this was going to be one of the most enjoyable weeks work I've ever done, and it was.
The highlight of the week for me was seeing Tony G challenge Phil Hellmuth to a race of 4 laps around the TV table where Phil was disqualified by the Judge, Andrew Black, for taking a shortcut through the seating area, even though Tony G decided to run the wrong way. There was also some classic commentary from the players who were given the chance to say what they thought of their opponents in heats they weren't playing in. Tony G's commentary on the Heads up match between Liz Lieu and Kenna James is quite extraordinary.
Dave Ulliot's commentary was also excellent, not just strategically but from an entertainment point of view. Once when the shuffling machine on the TV table broke down and Marty Wilson tried to fix it Ulliot came out with this classic line "Look, Marty's gona' get his tie caught in the shuffling machine now. I once had a friend who got his tie stuck in a fax machine and he ended up in an office in Tokyo".
When this show airs on Channel 4 in May I think it really will be something special. How it is edited will be very important, and even though I have already seen every single hand I will watch it all again. For the first time in years I think people will be really entertained by a poker show again.
I want to thank Eddie Hearn from Matchroom and also Party Poker for their incredible hospitality. It was a great experience and I hope the show is not only a success but that they follow it up with another series. Also, special thanks to Mickey May for her photography and the pokernews team for designing an excellent live update system that made my blogging look much better than it really was.
Ed note: Have you got your totally free $50 bonus from Party Poker and UK PokerNews yet? Just click Here for yours