UK Poker News Review: The Mansion Poker Dome Final

Jon Grey Davis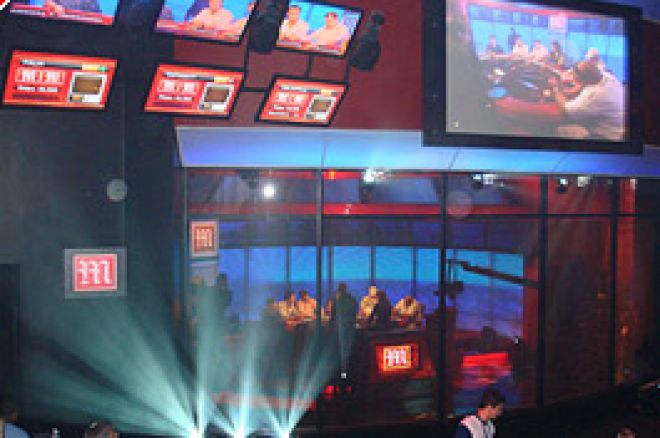 The curtain came down for the first and, probably, last time on the unique Mansion Poker Dome Challenge in downtown Las Vegas on March 17.
The Mansion Poker Dome Challenge took online qualifiers to play in six-handed heats of speed poker at the futuristic Poker Dome which were all televised and screened by Fox Sports News. Winning one of these six handed tables meant that you instantly cashed for $25,000 and progressed to the semi-finals. Winning your six handed semi-final added another $50,000 to your bankroll and guaranteed progress to the six handed final where an amazing $1 million jackpot was up for grabs.
The Poker Dome itself is a hi tech studio consisting of a computerised six-seater table, with cameras in every conceivable position and microchips within the cards themselves allowing all of the players' cards to be read by the technology. This is all relayed to the audience on plasma screens, with screens dedicated to each player, along with each individuals heart rate as all contestants are obliged to wear a heart rate monitor. Audiences can also view the action through the one way glass of the Poker Dome, but players cannot see out.
Of the six contestants in the million dollar finale, the lone Brit was poker pro, Rob Sherwood. The remaining players were all American and amongst these were pre tournament favourite Dennis 'Swami' Waterman, a semi pro player, meditation teacher and pokernews.com columnist, talented amateur Rodel Tuazon who had knocked out celebrated poker pro Tony G in his heat, Jerry Schrader, Andrew Rogers and Ben Ludwig.
The start of the final was delayed by a failure in the air conditioning in the Dome on one of the hottest March days in Vegas ever and this couldn't have helped the nerves of the players, as the heart rate monitors showed when the final got under way. With the exception of the über cool Waterman, the tension was palpable and players' heart rates were fluctuating between 120 and 160 beats per minute. By contrast the Zen Mr Waterman barely managed to get his heart rate above 90.
Despite the initial delay it turned out to be a fitting finale for the Dome challenge as Waterman and Tuazon battled for the prize in a tightly fought, exciting heads up battle.
Waterman entered heads up play with a commanding chip lead but Tuazon got busy and through a series of aggressive plays bought the stack count close to level. On the final hand Waterman aggressively raised with 10-7s only for Tuazon, with 9-9, to reraise all in.
Waterman, with a tough decision, took the single time extension that players are allowed in heads up play, giving him 45 seconds to decide. In the event he made the decision that was to cost him one million dollars.
His call bought some gasps from the audience as most expected him to fold and fight on as he still would have been left with a sizeable stack of 100,000 chips. Waterman, though, made his stand there and then. Although the flop bought Waterman some hope of a draw, it was not meant to be and the third 9 gave Tuazon the set and the ultimate prize, one million dollars.
Waterman had up to that point played immaculate poker all night forcing players to lay down better hands with well timed bets and having a better hand when other players forced the pace against him. It was Tuazon, though, with an uncanny prescience, who made the most inspired lay down of the game. With A-K he decided not to get involved with Waterman who had re-raised his initial raise holding A-J. The hand came down 6s Jc Jh 7d 7c which would have meant elimination for Tuazon had he tangled with Waterman at that point.
Rob Sherwood finished third and did well to recover from an early hand when he caught Q-Q only to face a reraise from Rogers with A-K clubs. With 2 clubs on the flop Sherwood checked the flop and Rogers took the free card gratefully. A further check on a blank turn from Sherwood gave Rogers another free card. Rogers hit the nut flush on the river and following a check from Sherwood, fired a 10,000 bet in. Sherwood called and instantly became the short stack with almost half his chip stack gone and put him at a massive disadvantage.
Sherwood eventually clawed his way back in to the game when he slow played A-A and caught Ludwig who hit top pair on the flop and put Sherwood all in. Ludwig failed to improve and was crippled, going out soon after.
It seemed that the earlier hand with Rogers though had unnerved Sherwood and he continued to play too tight and was forced to lay down superior hands on more than one occasion by raises from Waterman. This inability to pick up a spot against Waterman, even with 10-10, meant that Sherwood, with his stack being eroded by the blinds, eventually succumbed to Tuazon, pushing with Q-6 suited only to find Tuazon with A-6.
I caught up with Rob Sherwood in Caesar's Palace a few days after the game and asked his impression of the game. He realised that he hadn't played his best game, but had, along with the rest of the players, pegged Waterman as a tight, straightforward player. He said that he had put the game behind him, had deliberately avoided the TV coverage, and was now looking toward a return to Vegas in June and July for the World Series of Poker.
Final finishing positions:
1.Rodel Tuazon - $1,000,000
2.Dennis Waterman - $0
3.Rob Sherwood - $0
4.Ben Ludwig - $0
5.Andrew Rogers - $0
6.Jerry Schrader - $0
(Although positions 2 through 6 paid nothing it must be remembered that each of these contestants picked up a very healthy $75,000 for winning their earlier heats)
The Mansion Poker Dome Challenge was originally intended to run for three seasons, but appears to be the latest casualty of the US stance on Internet gambling. I spoke with the production crew in Las Vegas last weekend and they had been informed that there was to be no second series. Mansion Poker owns the Dome itself and presumably it could be moved elsewhere, but that remains to be seen. Ironically Mansion Poker stopped accepting US players before the Dome Final and appears to be concentrating on the UK and Asian markets with rumours of a takeover of a prominent European online poker room abounding.
Ed note: Download Mansion Poker and play in the daily $100,000 guaranteed tournament