Juha Helppi Wins the Party Poker Premier League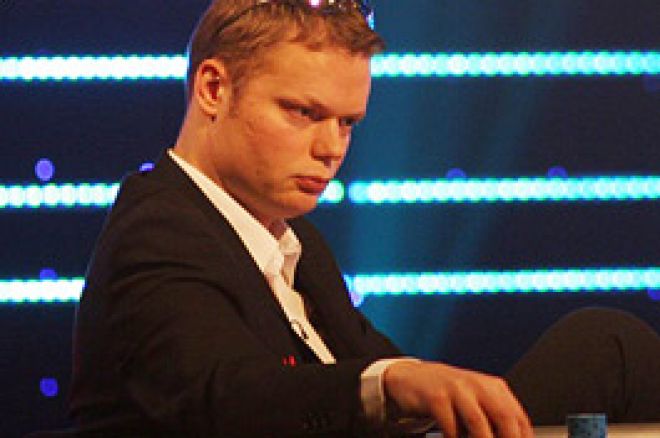 Former WPT title winner Juha Helppi, of Finland, came through an intense week of league and heads-up poker battles to win the inaugural Party Poker Premier League. Helppi takes away $151,000 ahead of runner-up Eddy Scharf and third placed Phil Hellmuth Jr.
UK Poker News' Irish correspondent, Nicky O'Donnell, has reported from Maidstone all this week through the medium of our leading edge live update tournament reporter and his own wrap-up can be found here.
Nicky's review captures the essence of the event itself so here we will stick to the bare facts of the tournament.
The twelve top-notch starting players, who included 10 times WSOP Gold Bracelet winner, Phil Hellmuth from the US, ended up with the following prize money and finishes:
Juha Helppi (Finland) $151,000
Eddy Scharf (Germany) $91,000
Phil Hellmuth Jr (US) $65,000
Liz Lieu (US) $43,000
Vicky Coren (England) $35,000
Ian Fraser (England) $35,000
Andy Black (Ireland) $18,000
Kenna James (US) $17,000
Kirill Gerasimov (Russia) $17,000
David 'Devilfish' Ulliott (England) $14,000
Tony G (Australia) $7,000
Roland De Wolfe (England) $7,000
This result, especially at the final table, represented an element of revenge for Helppi over Hellmuth. For it was in 2006 that Phil Hellmuth secured his history equalling 10th Gold Bracelet at the expense of the runner-up in that $1,000 Rebuy event, one Juha Helppi.
Helppi says:
"This was not about the money. If I hadn't beaten Phil it would have hurt really bad. This is a big title with a top quality field and it happened as I hit a big landmark in my life (it was Helppi's 30th birthday). I will remember this forever. It is a perfect birthday present."
Phil Hellmuth is a larger-than-life figure in the world of poker so it was no surprise that his play dominated events in the opening stages of this 12-player Party Poker Premier League event. So much so that he went into the final table as chip leader. Yet it was the intense focus of Juha Helppi that left many observers believing that the best player in the week won the tournament.
Helppi continued:
"Phil really wanted to win this one and didn't take it too well. I think I managed to tilt him on one occasion. This does help with losing out on the bracelet and is satisfying because the league structure means that skill was so important."
The final table comprised Phil Hellmuth with 350,000 chips, followed by Eddy Scharf (310,000), Juha Helppi (260,000), Ian Fraser (250,000), Liz Lieu (230,000) and Vicky Coren (200,000). The play progressed for over seven hours. It may have been a surprise that Ian Fraser went out first given his amazing success in TV events at Maidstone having previously secured both the 888 UK Open and the Party Poker European Open here. But out he went.
Phil Hellmuth was giving good value with his table talk. Earlier in the week, his dialogue with professional wordsmiths Tony G and the Devilfish guaranteed good footage in the can for TV. In the end, having been eliminated finally in third place, Hellmuth was able to say:
"I have to give Juha credit, he played very well all week".
That said, the manner of the elimination was tailor-made for a Brattish episode from the "Poker Brat". Hellmuth's kings were cracked by Helppi when the Finn called a $50k raise with 87 offsuit. A 7 on the turn after an 8 appeared on the flop did for Hellmuth's prospects. This was the cue for the following speech:
"You are such a donkey, how could you call a $50,000 re-raise with eight seven off suit? You tried to give me the chip lead!"
Another double Bracelet-holder, German Eddy Scharf (both WSOP titles were won playing limit Omaha), finished second after going all in with 56 suited against the heavily-stacked Juha Helppi's A2 offsuit. It wasn't enough and the Helsinki hotshot took the spoils. The ladies on the table, Liz Lieu and Vicky Coren finished 4th and 5th respectively.
We will leave this event with a few quotes from the participants.
Phil Hellmuth's views were that "Premier League Poker featured a fantastic format filled with skill, twists and turns, great players and made for electric television" while the Devilfish said that "this is a totally different concept and will make great television, it's like a poker Big Brother. It sets a new bar for televised poker"
To give an idea of how well the event was received, Tony G, a recent winner of the $500,000 first prize at the Betfair Asian Open in Singapore, said "the Premier League is the best poker event I have ever played in. A real breakthrough for poker".
High praise indeed but perhaps the last word should be with EPT London winner Vicky Coren who observed less than coyly that "it's the most fun I've had in a room with a group full of men since the summer of 1976…but that is a different story."
Ed note: Play poker on TV every night when you open up an account at Sky Poker