High Stakes Poker, Mind Games and Money

Catman - The Poker Agent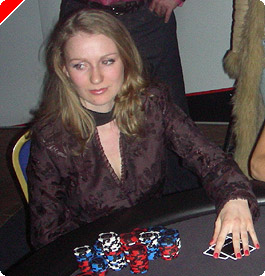 "Art is not what you see, but what you make others see". I quote Edgar Degas whose 'Ballerina' pastel last sold in 1999 for close on £18 million. Poker is an art form and of course selling your hand, and its artistry, is no better demonstrated than in cash games. To become a cash king requires more than a big bankroll; it is a journey during which you must explore deep into the next level of your poker mindset to prosper.
"The Mrs" (Alina Salnikova - pictured), who has now adopted the name of "Moneylover", has taken to discussing poker with her best friend, a hypnotherapist. Hypnosis or self-hypnosis, in a form known as visualisation, has been long used by sportsmen and martial arts practitioners, and indeed by anyone who is seeking the answer to self improvement and winning. To be good you have simply got to feel confident and strong. Who hasn't said "I will win" a hundred times prior to a certain game? If you don't want self improvement, then you are already Doyle Brunson.
So, the next day, "The Mrs" and I continued our own heads up poker championship. Last week, she took on Tony G and Phil Hellmuth in a fun game so she already has those names to add to her belt. At our Kenwood Café Heads Up Event, I noticed a marked change in her game strategy. She beat me 4-1 which up until then had been a rarity. "It is simple, you have got to believe yourself and trust in your intuition." she reflected in her new found wisdom.
Watching TV that night, we saw Friedman fluff to a Jamie Gold bluff at the last two tables of the main event at the WSOP. He even named Gold's hand, but he just did not have the confidence to go with his intuition. The top pro's talk of ESP or extra sensory perception; if the belief is strong enough, if you really feel that you have the best hand, then you must follow your convictions. Sensing danger or weakness is an art, if you feel you have learnt that ability, stick to your guns and go for it.
So, she has discovered the next avenue of improving her game, but what is it about cash that so often lets us fall back into the famous "I am here to gamble" quote of Joe Grech? Developing the levels of mental concentration required to be a winning cash player requires belief and self-improvement every game, while paying full attention to the game and your opponents in a detailed general overview.
It seems that it is far easier to use all of your artistic skills in tournament play. Tournaments seem to allow for relaxation and you must be relaxed to be good at anything. I believe Phil Hellmuth doesn't play a lot of cash, because he simply doesn't find it particularly relaxing or enjoyable. His wealth and mental control does not need him to feed off or battle in side games. Tournament poker is definitely relaxing for 80% of the time providing you with the time and opportunity to develop your game skills and to use every piece of information that you have been lucky enough to learn from a poker book or from poker on TV.
Freddy Deeb takes this to the next level. Deeb, a man with 25 years of big time cash play behind him, probably is a winner (as Phil Hellmuth explained to me the other week, there is no way of monitoring other players' cash wins and losses over the long term). Freddy says:
"Whatever a person is like, I try to find common ground with him. Take your game to the next level by thinking about not just your hand, but how your opponent is playing his hand, what his range of cards is, and what he thinks you think about his hand. When you can do this, you will be amazed at how transparent some players become."
Good luck, poker is an art that certainly does take a lifetime to learn.
With this in mind, I made my way over to Party Poker's 24-hour TV cash game, held at the location of The Poker Den in Leyton. It was a $5,000 sit-down affair with big names including Phil Hellmuth, Tony G, The Devilfish, "Mad* Wolfe" Roland, Kenna James and more (*note: madness is always so close to genius).
The more cash play we get to watch on TV, the more we will learn and it is always fun TV. There was absolutely no shortage of strong opposition for the top names, lurking was half of the cast of The Sportsman Casino, and indeed players in some of London's biggest cash games. The week prior, the Wolfe had walked away with £50,000 from one of those very games, and if your name is not "Bond" then this is real high stakes poker, away from GSN High Stakes, Vegas and Irish farms that is.
The field was mixed, with some very strong and some very wealthy players, vying to take the cash and limelight at this prestigious event.
Everyone took a pew in a sort of mini Den area, and sat and watched, with the benefit of live under table cameras seeing cards live. The likes of Kenna James, Kirill Gerasimov and many others sat and I believe, in between the banter, that they were studying the play ahead of us. Well, they certainly should have been. The first line up included The Devilfish and the seemingly-bored Juha Helppi playing alongside the likes of Dave Gregoryles, Andy the Greek Fish, John Hewson and Achilleas Kallakis, with a large list waiting to jump in.
The first hour saw The Devilfish go up $10,000 and straight back down again, the bored Finn was down $4,000. It was early days and any game needs time to loosen up. This table was moving a little faster with a lot of kudos at stake. TV time is the number one value to any player who is working the showbiz of poker. For the Fish's image, he will always promote the unimaginable, for no matter how well or poorly he plays, he will either be feared or a target. At this particular event, he was a man with "Aim here" written all over his forehead. This might not have been the $100,000 sit down, but the fields of Vietnam it was bound to become.
For cash poker is the nectar of life, not better than sex but for anyone that tasted it, cash is as seductive as a sword to a Samurai. Cash is war, whereas a tournament is a slow stroll in the park. It is a gentleman's duel, verbals are just not acceptable in cash. Never forget the first example of bad choice of seat position - Wild Bill Hitchcock was shot in the back.
I stood there with Robert Cooper discussing the game; "As the night goes on, this will be a heck of a game, if I get in now I will loosen the game up. But, I reckon it is going to turn into quite a needle match once people get behind." True words, we were all dying for Phil to get in there and go on tilt! The standard adrenalin rushes one experiences playing would be further fuelled by the power of the cameras that will provide for some exciting and enjoyable TV entertainment.
It was time for a break and Phil was in the game after. At this point I hastily made my way to the Chilli Con Carne, downed a bottle of Becks and headed back home. I wasn't bored, it's just that I needed to be in the game. I will wait to see Phil play with his friends when it comes out on Channel 5. For Phil, this is a little fun, for the others it is all about money and position.
Of course there is the old adage that those that learnt poker via tournament play, don't make great cash players, so it looks like many are going to have a thrilling ride learning, hopefully not the hard way. Enjoy the ride.
Cash TV is the way forward, it going to get bigger and bigger in every way.
PS. If you want some extra fun viewing, watch "Naked in Westminster" every Monday, at…err…1am. This is the 16th repeat of a 7 hour episode that led to my nickname of "Catman". It is about a strip club I once owned. Is that why I came 9th at the Paddy Power Strip Poker world record event?
Ed note: Play great cash games when you download Paddy Power Poker and earn a juicy $101 bonus to get you started.