EPT Warsaw Final Table All Set to Go

Tony Bromham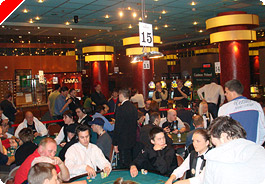 The eight places for the final of the European Poker Tour tournament in Warsaw, Poland, have been decided, and it includes two players from UK and Ireland, John Conroy and Andrew O'Flaherty.
Conroy will need to get busy while O'Flaherty caught some late pots to rescue his low stack towards the end of Day 2. Both have plenty of catching up to do with the chip leader, Farid Meraghni of France, lording it over nearly 1 million of the available 2.84 million chips.
Farid Meraghni was nearly eliminated at the start of Day 2 yesterday but picked up what was at that stage a useful 17k in chips when he rivered a nut flush holding AdQd. Another UK player, David Welch, had raised preflop only to see another player reraise all-in with around 10k. Welch said he was going to call him but Meraghni called it instead which caused Welch to fold his pocket tens. The board made the flush for the Frenchman while making a pair of jacks for the all-in player. Welch however survived due to his decision to fold, and went on to get close to the cash places, falling a few places short.
A big move occurred during day 2 by Dane Peter Willers Jepsen. He was put to the test for all of his 92k of chips during Day 2. This was at a time when that pile was near the chiplead. Jepsen reraised preflop for 17k and Thomas Mathiesen of Norway went all-in for 96k. Jepsen held AK but will have questioned whether he was any more than a 50/50 chance. He took the gamble as most winners have to do at some stage in a big tournament and was delighted to see Mathiesen's A7. His pants were truly caught in a lowered position!
This set the tone for the rest of the day with Jepsen dominating the chiplead until the later stages. Once the blinds and antes started to bite, there were major moves in chips.
German Katja Thater, playing in Pokerstars.com colours, was never heavily chipped up but she played a canny game of protect and survive before sneaking into the cash positions while all about slung their chips around. A couple of useful double-ups later sees Katja still behind the average but capable of making progress with well-timed moves.
Norwegian Marius Torbergsen accumulated a large chunk of his chips in a blinding ten minute spell just after the cash positions were made. He took out three players in 24th, 23rd and 22nd including two in one hand when he found KK and was called by AK and, surprisingly, A5 from two shorter stacks.
This is all set to go. Blinds will be reset to a lower level to ensure some play can take place without an orgy of all-in moves. Follow the action with photos on the Pokernews.com Live Update service right here:
The full seating order with chipcounts is:
Seat 1 – Fredrik Hostrup (Denmark) - 288,000
Seat 2 – Peter Willers Jepsen (Denmark) - 498,000
Seat 3 – Marius Torbergsen (Norway) - 434,000
Seat 4 – Andrew O'Flaherty (UK) - 168,000
Seat 5 – Farid Meraghni (France) - 971,000
Seat 6 – Katja Thater (Germany) - 105,000
Seat 7 – Patric Martensson (Sweden) - 305,000
Seat 8 – John Conroy (UK) - 73,000
Ed note: Qualify for all future EPT events when you download Pokerstars.com right here