EPT Warsaw Day 1A dominated by Sweden and Norway

Tony Bromham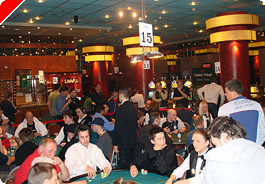 The European Poker Tour's inaugural tournament in Poland got off to a good start with the traditional domination by young Scandinavian players in EPT events once again on show.
The venue for this event was Casino Poland in the Hyatt Regency Hotel, Warsaw. The casino is nicely appointed but operating at capacity which limits the numbers able to play at one time. Around 15 tables were slotted into the available space.
Last week's EPT Dortmund winner, Andreas Hoivold of Norway, was in contention very early on and, after a few levels, found himself vying for the chip lead with Pokerstars qualifier from the USA, Thomas Osmun. The American was in fine form regularly coming over the top of anyone who dared to raise against him preflop.
Before long Hoivold and Osmun had between them nearly 10% of the chips in play with over 70 of the 136 players remaining on Day 1A.
UK players were digging in, however, with Jim Kerrigan foremost, playing solid poker. Other Brits building steady positions were Spencer Lawrence, Paul McCann and Kevin Love.
Simon Young, another Pokerstars qualifier, well known as "SuffolkPunch", had some of the toughest tables all day, first being sat amongst the likes of Ireland's Andrew Black, WSOP Bracelet holder from the UK, Praz Bansi, Jim Kerrigan and Swedish hotshot, Ramzi Jelassi. Later on, Simon was moved to a Scandinavian hotbed of poker including Andreas Hoivold, Norway's Johnny Lodden and Henning Granstad, and EPT Copenhagen winner Mads Andersen.
With all these opponents to handle, Simon did very well to hang in to the end of the day with 13,000 in chips. He is one of 45 players remaining to go into day 2 with the survivors of Day 1B that starts today. He has his work cut out and needs an early double up with blinds resuming on 500/1,000 tomorrow.
An early favourite was Roland de Wolfe but he was unable to build upon an early good start and soon departed. Other names to leave were Dave Colclough and Praz Bansi.
As for the chip leaders, Andreas Hoivold continued to motor and was soon guarding around 70,000 in chips. Then he clashed with fellow countryman Henning Granstad who had around 30,000. On a board of 972, Granstad ended up all-in holding 22 while Hoivold had first raised with 98 suited. Granstad doubled up and simultaneously took the lead which he was able to keep to the end of the day. He was almost caught by Sweden's Patric Martensson who benefited from a few of Thomas Osmun's chips. The top 20 at the close of play were:
80,800 - Henning Granstad (Norway)
79,000 - Patric Martensson (Sweden)
61,300 - Raymi Sanchez Thorn (Sweden)
60,600 - Thomas Mathiesen (Norway)
58,800 - Leszek Krawczyński (Poland)
56,600 - Thomas Osmun (USA)
55,200 - Ramzi Jelassi (Sweden)
54,200 - Mikael Westerlund (Sweden)
53,300 - Dariusz Paszkiewicz (Poland)
46,200 - Mark Petersen (Denmark)
44,400 - Jim Kerrigan (UK)
44,200 - Spencer Lawrence (UK)
41,900 - Andreas Hoivold (Norway)
36,700 - Kasper Bisgaard Nielsen (Denmark)
35,600 - Martin Ostby (Norway)
34,500 - Sondre Sagstuen (Norway)
32,700 - Paul McCann (UK)
31,500 - Kristian Kjondal (Norway)
29,300 - Kevin Love (UK)
28,900 - Soren Bakfort (Denmark)
Day 1B gets underway here today and the field definitely contains a higher quotient of well-known players. Three of the Hendon Mob will be here, the two Boatman brothers plus Joe Beevers. Also here for the UK will be Ben "Milkybarkid" Grundy, Ash Hussein, Iwan Jones, Robin Keston, Kevin O'Connell and Nick Slade.
From overseas, some of the bigger names to grace Day 1B will be Marcel Luske (Holland), Luca Pugano (Italy), Pascal Perrault, Paul Testud and Bertrand Grospellier (all France), Juha Helppi and Jani Sointula (both Finland).
It should be fascinating to see this unfold and you can catch it all as it happens by dropping in to the Poker News live updates service right here:
Poker News Live Updates – EPT Warsaw
Ed note: You can qualify for large numbers of EPT Main Events by downloading Pokerstars right here.