Danish Team Outplays Their Rivals in Everest Poker Nordic Summit

Tony Bromham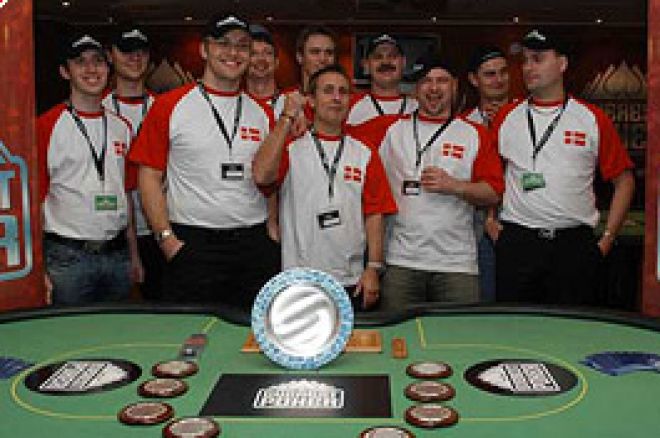 The Everest Poker Nordic Summit, a uniquely original tournament for the benefit of online players based in the Scandinavian countries of Norway, Sweden and Denmark, came to a conclusion last week in sunny Barcelona in Spain where the qualifiers fought out a combined team and individual contest.
The team prize was $5,000 to be shared between the ten team members but the real money was available to the ten players who finished highest in the tournament, with the winner alone taking home $6,000.
The format was very unusual, involving ten tables of three-handed poker. One player from each of the three countries occupied each table, but only three tables would be running at any one time, meaning other team members were on hand to be consulted. The rule allowed each player one team time-out to give advice. The sense of team and nationality would therefore be strong, not to mention the inbuilt rivalry that already exists between Scandinavians.
Scoring involved 3 points for the winner of each table, 2 for second and 1 for last. The highest scoring team from the ten tables won the $5,000 team prize. However, winning the three-handed tables meant more than mere points for the team. Simply put, a player had to win to stand a chance at the individual prizes from the $20,000 prize pool.
Once all ten tables were completed, it was the Danish team that had the biggest tally of points. It was no surprise then that the final table included five Danes. Close behind were four Norwegians leaving room just for a single Swede.
In the final table play, the Swede was soon eliminated, finishing 7th for a $1,000 prize. The Danes and Norwegians proceeded to split the placings amongst them with neither dominating the other. In the end, it was a Norwegian, by the name of "Busseman" who took the top prize of $6,000.
All players also had the pleasure of a day out for lunch, drinking and seats at the big football match at the Nou Camp to see FC Barcelona vs Athletico Bilbao.
Everyone enjoyed the occasion which was a clear demonstration that Everest Poker is top of the pile when it considers what its players would like to see. There must be something in this since Everest Poker is, according to Pokerscout.com, regularly fourth in the table of cash player numbers online at any one time, sitting behind no-one but the majors, Pokerstars, Party Poker and Full Tilt.
Ed note: Regular qualifiers to EPT and WPT events are held at Everest Poker. Download through UK Poker News and earn $50 on top of the normal bonus!