Poker Groupies and the Rise of Europe

Catman - The Poker Agent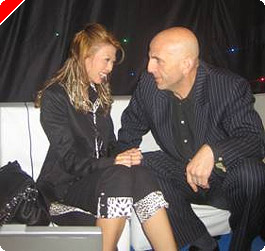 I am wondering how many poker groupies there are presently, but I do believe I am turning into one! The Rolling Stones used to have a professional team of fixers, their role was simply to go out into the audience and choose the best babes for the aftershow party. Professional footballers have unlimited choice, but for some unknown reason they always end up on the dark side, e.g Wayne and the Granny etc. So, do our poker pros have a fleet of prime babes quivering in their very footsteps? Well, not yet, our pros go to play poker, but there is indeed a very new poker groupie, he's big, bald, ugly and purrs. Yes, Liz Lieu (pictured with me!) now has the opportunity to have a slave at her beck and call!
I managed to get back down to Maidstone for a key round at Party Poker's Premier League event, one that Liz badly needed to win. After my proposal of marriage, I seem to have inspired the stunning Liz to victory that night, when she outplayed the not quite so sexy Kirill Gerasimov to gain a more solid place in the league title race.
Liz and I spent some considerable time discussing her outfits on her sensational Myspace and her own website (built with her own hands). I naturally invited her to take me shopping but her cooler decided poker took precedence. The relevance of all this to poker is that Liz, presently unsponsored, is here to start to make an imprint on the ever developing European market. "It's happening here Catman, I am focusing on Europe and Asia." said the ever smiling Liz. "Bingo!" The Americans are coming!
So the posts on the forums missed the point; for poker groupies and the non-playing public, TV is about entertainment and educating the uneducated with the glamour and excitement of the game. Agreed, most of it is so damn boring (by the way if you want some fun, look at Sky TV this Monday – "Naked in Westminster" for chuckles and giggles) but TV poker is only at its embryonic state. The cast for the Party Poker Premier League will provide some of the most entertaining poker yet. Is poker becoming WWF? I hope so. Eventually, most of Europe will know who Phil Hellmuth is, just like they know Big Daddy (the wrestler that is). It's a bit like the car industry, I am happy with my Smart but Ferrari are not happy with the Enzo; you can never go over the top with glitz.
Entertainment and glamour has been missed in poker TV, full stop, but now I do believe we will see shedloads of entertaining TV to develop our game further. If we are lucky enough to have some beautiful women, like Liz Lieu, Vicky Coren and up and coming pro, Alina Salnikova, who can play top flight poker and light up the game, then all the better. "Poker is a game of people" said Doyle Brunson in Super System, and I believe that eventually women will consistently beat the men. It is presently only a numbers game; the more glamour, the bigger the game. Keep the Hollywood coming.
The 5th and 6th March sees Party Poker's High Stakes cash game that is being filmed as a side bar to the league event, this time for Channel 5. It is going to be 24 hours of cash – initial sit downs start at $5,000 for the first session; players can then sit down with $10k and $20k the later they take their seat. Expect to see Phil, Tony, Devilfish and Roland sit down at the later stages. Unfortunately, no logos are allowed on this one so "the missus" will have to give it a miss.
The Party Poker lush tells me that so far at least 50 people want to sit down in this High-ish stakes event, well bloody ridiculously high for most of us, but if the sit down was $50k upwards, then probably half of America would attend. I cannot tell you how exciting life is going to become. Phil Ivey, according to the Poker Data Miners and Full Tilt's site, is up around £2 million through online play and Mike the Mouth is down around $550k in No Limit Hold'em swings. Who cares, the story goes on.
Europe will become the new Vegas, well for a good few years until the USA works out how to tax the poker companies, that is. Naturally WSOP will always be the Mecca for poker, as Phil explained to me, but to add to the icing on the European cake, the WSOP circuit is on its way here. I for one will be storing the pennies for the £2,500 HORSE event, Sept 2007 at LCI's new Leicester Square Casino. London has been waiting for this moment. I cannot say more, but my enthusiasm and belief is that sooner or later poker players and the game will get the Hollywood treatment. God bless America.
Ed note: Join the party and claim a free $50 cash instantly. Download Party Poker and grab the cash.