Andrew Black of Ireland Storms into Lead at Monte Carlo

Tony Bromham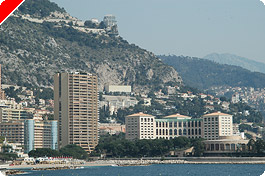 With just 85 players remaining and 64 to be paid from a record European poker prize pool, former WSOP Main Event finalist Andrew Black is sitting in an enviable position a fair distance ahead of another WSOP finalist, Josh Arieh.
The top 10 standings after Day 2 look like this by chipcount:
513,300 Andy Black ( Ireland)
343,100 Josh Arieh (USA)
332,100 Antony Lellouche (France)
310,900 Johnny Lodden (Norway)
302,100 Simon Johansson (Sweden) - Pokerstars cash qualifier
286,800 Christopher Ulsrud (Norway )
273,200 Philip Hilm (Denmark)
245,900 Oscar Blanco Carrasco (Spain)
226,400 Steve Jelinek (UK) - Pokerstars cash qualifier
219,200 Biri Balazs (Hungary)
We were in Poland just a couple of weeks ago and, whilst Andrew Black took an early bath there, he remained a prominent figure for the rest of the EPT event in Warsaw, cajoling from the rail and even taking the microphone for commentary on a portion of the final table. Between times, he was cleaning up in style on a cash game involving the likes of EPT supremo John Duthie.
Black's unlucky 5th place in the WSOP 2005 final table, winning $1,750,000 after a river bad-beat, had previously marked him out as a player of note albeit he has poker experience going back years.
In Monte Carlo, Black had a difficult looking table with Dave Colclough, Barry Greenstein, Chris Moneymaker and John Shipley for company, but an early big pot with pocket aces taking Greenstein out of the equation helped him along.
With players dropping like flies and tables breaking up, Andrew Black was soon moved around and mopped up at every table he visited. With chips, Black went to work raising and re-raising. Erstwhile leader, Chad Brown of the USA, finally fell behind Black after taking a couple of reverses.
However, another seasoned US pro, Josh Arieh made up ground with a big pot after calling a big bluff push.
All three were keeping a posse of aggressive Scandinavians at bay, a group that included the highly-regarded Johnny Lodden of Norway who is an incredibly confident and assured player in his early 20's. The fact that he was upset at losing the chance to take the William Hill Grand Prix final is a measure of how far this online whizkid (who plays under the name "Bad_ip") has come. Lodden finished the day in fourth position and a clear danger to the leaders.
One player not of danger to anyone is Phil Hellmuth who was unfortunate enough to have strong pocket pairs run into AA three times. The "Poker Brat" was last heard complaining of his ill-luck. All in all, this was not a good week for him after his half a million dollar loss in a side game of Chinese Poker with Phil Ivey. The entertaining video interview of Phil Hellmuth explaining this mishap can be found on Pokernews.com's fabulous Live Update service.
Also out for the count were WSOP Champions Greg Raymer and Chris Moneymaker, with Raymer in particular taking some bad beats to seal his fate.
So, with Ireland leading the way, were there any chances remaining from the many other UK and Ireland players who started? Well, yes. If you have chips, there is always a chance, some better than others. Amongst them were:
226,400 – Steve Jelinek
166,000 – Dean Sanders
141,900 – Ram Vaswani
131,200 – Richard Waters
119,400 – Nicholas Goodall
103,100 – Shane Reihill (Ireland)
95,000 – Richard Herbert (Ireland)
82,800 – Joe Beevers
76,300 – David Mobbs
58,000 – David Barraclough
55,500 – Ben Callinan
54,400 – David "Devilfish" Ulliott
44,300 – Ali Masterman
32,900 – Ross Boatman
32,400 – Fowzi Baroukh
31,900 – Xuyen Pham
13,700 – Mickey Wernick
With just 85 players to go, the prize money of €1,825,010 on offer to the winner looks so much closer, especially to Andrew Black!
Ed note: Some of the best Texas Hold'em and Omaha cash games are on offer when you download Pokerstars.com