Tony G and The Devilfish in East Versus West Clash!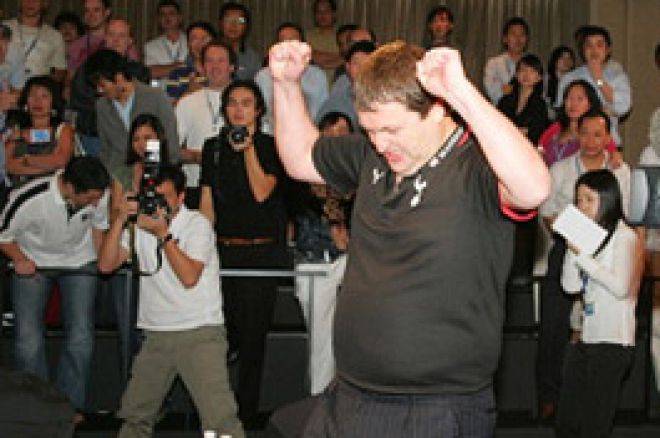 If you are going to this event, take your ear-defenders and hard-hat with you! Two poker teams, one from East Europe and the other from the West, are lined up to do battle, captained by the kings of the rubdown, Tony G and Dave "Devilfish" Ulliott!
The powers-that-be at Party Poker have put their collective heads above the parapet and organised this incendiary proposition and have also arranged for its online players at PartyPoker.com to be offered the chance to be on the respective teams.
This event is part of the PartyPoker.com European Challenge and will take place during the Spring Poker Festival that is being held in Vienna, Austria in March. However, this year's European Challenge comes with a twist as Party Poker has decided to resurrect the cold front and ensure that the first 50 online qualifiers from Eastern Europe and the first 50 from Western Europe will clash in the PartyPoker.com East versus West Cup[/B], a €100,000 freeroll tournament, in addition to the main event, the European Challenge. In the East versus West Cup, the teams will be captained respectively by Tony G, who hails from Lithuania, for the East, and David "Devilfish" Ulliott from England, for the West.
Anyone who watches live poker on TV will be aware that neither of these leading professionals is known for their periods of quiet reflection at the tables. Should they be facing each other in a pot, sparks could fly. Subtle references to key events in European history cannot be ruled out.
A spokesperson for Party Poker commented:
"The €100,000 prize pool for the East versus West Cup is a great bonus for qualifiers for the European Challenge. The final table of 10 will share €50,000 while the winning team will get €50,000 split between them so even if you go out first hand in the freeroll you stand to profit from successful team mates. Tony G and the Devilfish will be there to lead their teams – we'll need an iron curtain to separate the two. This event is sure to show whether it is a phoney war between them or whether this event will renew their hostilities. Tony G and the Devilfish have famously clashed many times, in particular, at last year's Intercontinental Poker Championship in Las Vegas and at the EPT in Paris a while back."
The 13th Spring Poker Festival in Vienna takes place in the famous Concord Card Casino from 10th March, concluding a week later on 17th March. The Main Event is the PartyPoker.com European Challenge with an estimated prize pool of around $1,100,000. Online poker players at Party Poker can enter any number of various qualifying tournaments to win an exclusive package worth $6,500. The first 50 qualifiers from East and West will have the bonus of playing in the East versus West Cup. Daily and weekly qualifiers are available right now online for as little as $3.
Last year's winner of the European Challenge was from home soil, Vienna-based professional Siegfried Stockinger. He is defending his title and will be one of the favourites again. The Spring Poker Festival should see around 1,000 coming to play in the various poker events during the week, so side action is expected. With Tony G and the Devilfish squaring up, how could there not be!
Ed note: Free and instant $50 cash is yours when you download Party Poker, exclusive to UK Poker News readers.