Sweden Swoops to Victory in Party Poker Nations Cup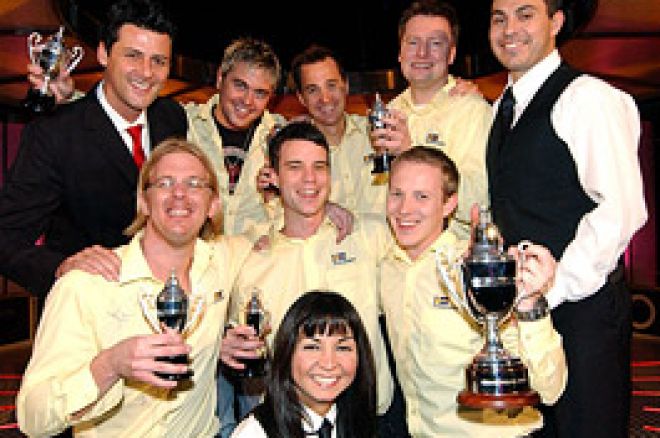 Despite adverse odds at the latter stages, the Swedish poker team have triumphed at the Party Poker Nations Cup in Cardiff this week, after turning round an 8:1 deficit when heads up against the USA!
The winning Swedish team was captained by Bo Sehlstedt, and included two WSOP Gold Bracelet winners from 2006, Anders Henriksson and Mats Rahm. Also on the side were Johan Storakers, William Thorsson (who was 3rd in EPT Dublin and also picked up nearly $1m coming 37th in the WSOP Main Event) and online qualifier Hans Isoz. This was one strong team on paper and would have been feared by the other teams including Great Britain, USA, Germany, Denmark and Netherlands.
As it is, the Swedes won $100,000 for the team in this unique televised tournament which also included individual prizes as well as the team trophy
The defending champions were Great Britain who featured Dave "The Devilfish" Ulliott, Ram Vaswani and Joe Beevers amongst its ranks, and they got off to a flyer in this event. Going into the final, they were on top form while the USA, which included captain Robert Williamson III, along with Phil Laak, Antonio Esfandiari, Clonie Gowen, Kevin O'Donnell and Hollywood actress Jennifer Tilly, were struggling for a hold. Only Williamson III won his heat for the USA, leaving the USA entering the final as short stack.
The Americans soon got into gear as their strength in depth told. Soon they were the biggest stack, much of which was down to some great play by "The Magician" Esfandiari. A big double-up then followed from Clonie Gowen and the States were dominant. The Swedes were keeping a low profile at this stage, staying in the pack and out of trouble.
In trouble, however, were Germany, and they were eliminated first, soon followed by Denmark and Holland (with Marcel Luske amongst the Dutch). Down to three-handed, Great Britain were still in with a shout.
Swedish captain Bo Sehlstedt decided to employ Anders Henriksson at this stage, and this proved a master stroke. The Devilfish was talking for Great Britain but it didn't deter the Swede who was calm personified as he accumulated chips. Yet it was the American Williamson III who moved in to remove Ulliott and Great Britain from the proceedings.
With a massive chip advantage, the USA looked heavy odds-on to take the Party Poker Nations Cup trophy away with them. But the Scandinavian had other ideas!
At one time, Robert Williamson III held 88,000 against Henriksson's 12,000 but the latter wore his opponent down and eventually triumphed against the odds.
Sweden captain Bo Sehlstedt said, "I have won bigger sums of money but this is a real career highlight, I am so proud of my team. Anders is one of the best players around right now, he just doesn't seem to lose. Even when we were almost out I was scared but confident that Anders can beat anybody shorthanded even from such a weak position."
The Swede's hero Henriksson added, "It is great to win. I always thought we were in with a chance because we had a very strong team. It didn't seem to be going good for a while but once I had doubled-up from almost nothing my confidence started to rise."
USA captain Williamson III could only lament: "I don't need a bar right now, I need a doctor!"
A PartyPoker.com spokesman said, "If you were to ask any pro who the two strongest poker nations in the world were right now, most would say the USA and Sweden, and this tournament is evidence that this is the case. It was a great spectacle and will make compelling television."
The show will be produced for Channel 4 in the UK by Presentable, and aired in nine one-hour episodes during March and April 2007, featuring commentary by EPT London winner and popular columnist Victoria Coren, with Barny Boatman.
Ed note: Join the team with a free $50 in cash courtesy of UK Poker News. Download Party Poker right here to claim yours