Take Advantage of the Sun – by Private Jet to Las Vegas, or Race to Monte Carlo!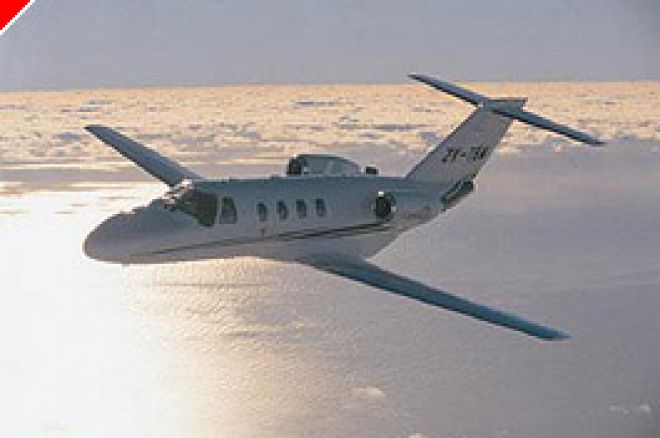 One of the glories of online poker is that there are so many poker rooms jostling to offer us great deals, yet most of us ignore them! Here are a couple we think are worth taking up at CryptoLogic-powered Sun Poker. Fly in luxury to Las Vegas or get down to Monte Carlo!
Before getting on to the outrageous prizes of excess on offer in Las Vegas, we should highlight a special event for all new Sun Poker players in February. This month, Sun Poker is offering new players the chance to win a €12,000 package to the EPT Grand Final at Monte Carlo! Join up in February and be one of the top ten February joiners (determined by "My Player Points" or MPP's) and you enter the ten-player single table tournament to win the big Monte Carlo package - exclusive[/B] to February's new players.
Those players and all other new joiners in February will also be automatically entered into the Sun Poker $10,000 New Player Freeroll to be held on 4th March.
But there's yet more:
Weekly MPP Freerolls with either a $2,000 Prize Pool (buy-in = 300MPP's) or a $4,000 Prize Pool (buy-in = 600MPP's).
$25,000 Monthly MPP Freeroll. The next one is on 25th February and can be entered either directly with 10,000 MPP's, or indirectly through daily satellites of 100 and 1,000 MPP's entry.
Monthly $100 Bonus. This is not something available at many other rooms. Earn 5 MPP's for every $1 in bonus money granted, and every single month[/B] you stand to collect up to a $100 bonus. That's $1,200 per annum ongoing!
But now to the main course!
As we have already demonstrated, Sun Poker is a poker room with plenty of attractions. Not least is that its players have access to the ready-made liquidity of games and players that comes with CryptoLogic's highly-respected software and spread of poker tables. Games from one end of the spectrum to the other are catered for. But best of all, Sun Poker has a fabulous ongoing promotion which will enable 100 players to travel to Las Vegas for the World Series of Poker this summer. Even better, a good number of those will travel in luxury by private jet!
There is still plenty of time to get on there and begin accumulating the necessary Player Points (MPP's) to climb up the table, with nearly four months to go before the Top 100 players are determined. The top 60 of those players will be entered into the $10,000 WSOP Main Event without further ado, with the promise of much more. The remaining 40 will win WSOP packages to other events at this spectacular festival of poker where even the smallest events pay out six-figure cash prizes along with the gold bracelets!
If you have done enough to make the top five MPP spots by the end of May, you can look forward to sitting back in the lap of luxury – on board a private jet to Las Vegas. If you were the 5th placed earner, you will carry $2,000 with you, while the top earner will pocket no less than $5,000 cash to add to his or her haul. When those five players arrive, it is straight into a car to a private Las Vegas mansion – described as a "10-bedroom palatial estate with all the trimmings".
Didn't make the top 5? Never fear, Sun Poker will ensure you don't miss out on the extras. The next five players in the rankings will stay at a 5-bedroom villa in Las Vegas, with its own private pool. Other stylish accommodation is waiting for players in 11th to 20th.
Finished in 100th place? Don't forget you still have the WSOP package to look forward to, with special freerolls available to win big spending packages to go with it. Sun Poker isn't like the big poker rooms, so your chances of winning those places is far greater when you play there.
Sun Poker also has seats at the prestigious HORSE $50,000 WSOP Event up for grabs. The crème-de-la-crème play that tournament so you have to know your onions. Sun Poker has a special freeroll set up to send one of its players to join Phil Ivey, Gus Hansen and all the other high-rollers. Accumulate 50,000 MPP's for that one and you will have a chance to qualify.
Ed note: Download Sun Poker today and benefit from a $100 monthly bonus along with the fabulous promos above!