Will You Be All In on St Valentines Day?

Paul Sandells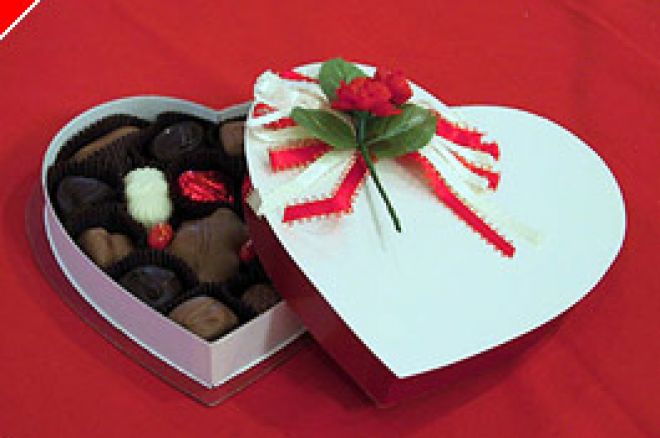 Love is in the air as St Valentines Day looms once again. February the 14th is not a day to forget if you want to keep your loved one happy. However, the poker world turns 365 days a year and, no matter how loved up you are, you can find plenty of poker action on the big day.
Listen up poker playing men, buy them flowers, chocolates, a card or a new Mercedes if she wants. Poker playing ladies, get him some sexy underwear (for you), his favourite dinner or a new Aston Martin. Whatever flicks his switch! If it keeps your other half happy this St Valentines Day then do it, because you'll want to keep a few hours free for some red hot poker action. Well thought out bribes... or is that gifts? may just buy you enough time to pursue your favourite game.
Live poker fans can rest assured knowing there will be a full program of tournaments and cash games throughout the UK on St Valentines Day. Far be it from me to suggest residents of Yorkshire aren't very romantic but the Steel City Cup Festival, at Napoleons Casino in Sheffield, begins on February 14th with the £100+£10 No Limit Hold'em rebuy event.
Fancy a romantic trip to Europe? Things don't get much more romantic than Paris, so I'm told! So whisk her (or him) away to the French capital on the 14th. Which will be handy for the €300 No Limit Hold'em Freezeout, part of the Paris Open of Poker festival. Why not take in the sites of Tallin, the capital of Estonia? and indulge yourself in the €75 No Limit Hold'em rebuy tournament at the Olympic Casino.
If leaving the house is out of the question, then fire up your PC and select your action from the following games:
Snooker Loopy at Pacific Poker takes place at 16:00 PPT. Cash prizes and signed snooker memorabilia is on offer in this $5 + $0.50 buy-in.
$100,000 Guarantee at Mansion Poker is attracting daily fields of around 500 players. This $100 buy-in event is huge value with overlays of $50,000 a common feature.
$50 Free at Party Poker is available exclusively for UK PokerNews readers. What a great bonus after the expense of St Valentines Day!
Win Knickers! at Paddy Power Poker in the run up to St Valentines Day. The Irish poker giants are giving away vouchers at figleaves.com to winners of their special St Valentines tournaments.
Ed note: Feeling loved up? We didn't think so. How about $50 free from Titan Poker? No catches!