Sports Stars To Compete in Party Poker Challenge

Tony Bromham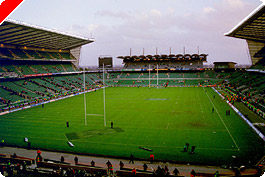 The Poker Den in London is to be the venue for the second annual PartyPoker.com Sports Stars Challenge this week from 6th to 9th February. Included amongst those taking part will be last year's winner, rugby union player, Austin Healy.
The event is the exclusive domain of sporting legends, assuming the term "sport" is used in its widest sense. For example, not everyone will be used to running several miles in the space of ninety minutes, and there are some sports TV presenters included this time!
The event will sport six heats of players with each heat comprising members of a specific group or sporting category.
There will be the usual gaggle of snooker players including ex-multiple World Champion Steve "The Nugget" Davis, and the highly respected Matthew Stevens. Darts players will be bringing along their svelte torsos and table banter (Phil "The Power" Taylor, Raymond "Barney" Van Barneveld and Peter "One Dart" Manley included).
Footballers will be present, with Tony Cascarino, Kenny Sansom and Norman Whiteside lining up in the centre circle, while rugby players will be discussing a different shaped ball on their own table, the reigning champion Austin Healy and all.
No-one will want to lay a bad beat on the boxers, least of all the sports presenters, including Chris Kamara, who will continue doing what they do best – sitting down talking!
In this tournament, the winner from each group progresses to the final where debate is sure to hot up. Some cards might even get looked at during the discussions. Let's hope so because the tournament is being exclusively produced for TV by Matchroom Sport and will be aired in the UK later in 2007. As usual, Jesse "The voice of poker" May will commentate on proceedings with the able assistance of Steve Davis (except when he is playing his own heat of course!).
A spokesman from PartyPoker.com said,
"All the sports stars are born competitors and it makes for an exciting game of poker. The way the tables are structured by sporting category means that a few old rivalries are bound to be re-ignited, before what we hope will be an even more intense final. It was Austin's victory last year but this time every player is determined to prove that they are a Rolls Royce of the poker world."
Ed note: Join the legions of poker players when you download Party Poker and we'll give you a free $50, no strings attached!