Sponsorship, Mad Dogs and Poker's Dream Girls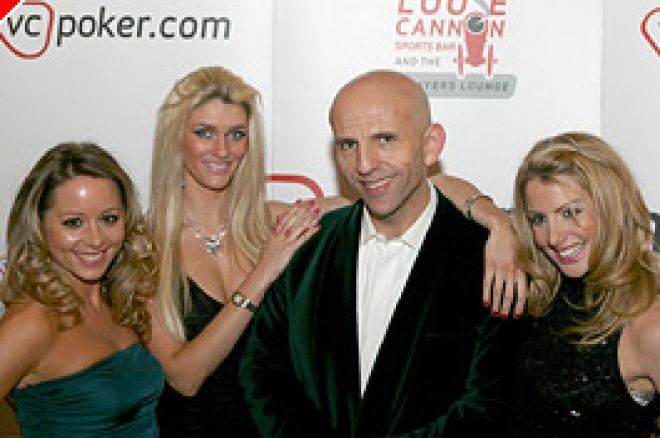 It has been a non-stop week in my little world of poker, mainly with the official launch of The Loose Cannon Sports Bar and VC Players Lounge. The historic significance of this venue, as with the history of poker, is that this club has gone down the straight road, and it's looking like it may win its battle. Poker has suffered a rollercoaster ride; whether gambling is right or wrong, it still should be a matter for the individual to have choice.
This week, I read with alarm the news that Nick Savic of the Staffsmart Spalding and District Poker League has to obtain a personal gaming licence at this very moment to continue with his points and prize only league. Poker will be allowed in pubs from September, and the new Gaming Act comes into force, defining a very vigorous set of legislations working against all those outside the casino industry. On the 7th February, a meeting was called by the police, gaming lawyers and the gambling commission with all concerned parties. Unfortunately, I could not attend but I believe that we will see a very firm set of rules that will allow venues such as The Loose Cannon to operate in a defined and regulated manner; any variance from this path will result in immediate action from the authorities.
If you are confused by the whole situation, join the club. So it looks like you will be able to get an uncontrolled game down the boozer, or regulated games at casinos or fully licensed members clubs. Poker clubs are almost certainly not going to be on every corner and choice will once again be limited.
Last Tuesday, 6th February, saw the celebrity launch of The Loose Cannon Sports Bar and VC Players Lounge, which is the huge London games room that has done it the right way. My involvement in The Loose Cannon as a poker agent has been as a consultant, assisting the owners in many departments, but especially in the role of getting the brand on the map. If you are an aspiring poker pro and looking for sponsorship, then your brand and image must be strategically developed. How do you attract attention of the scouts out there, working for major poker brands? The answer is, exceptionally gruelling, and at times very painful, hard work.
Opening a new business, selling a unique product - poker and games with no rake or fees - mimics the story. It is a sensationally tough job, and then you crack it, a bit like a losing streak. They say perseverance and certainly patience are two of our poker's virtues, try and try and you shall succeed. Of course your bankroll and money management come above these. The Loose Cannon is primarily run by individuals who have invested their life savings.
My background in the entertainment has left me in the same situation as the Loose Cannon on many occasions, sitting there and waiting for it to happen, and then when you are suffering bad beats unlimited - "Bingo!" - your journey of pain becomes viable. Poker has got to be fun as well as a serious business, so with this in mind I did my very best to ensure we had some fun on the night.
The first thing was to make sure that the legend that is Roy Houghton was delivered a guest list of the "who's who" in the press in alphabetical order. This ensured great confusion and took Roy's mind off the stress of the evening ahead. Everyone was equal this evening and all were treated to a short queue and a grilling from Roy as to why they were attending! Jokes aside, if you don't know one of the great men behind the club, it is worth a visit to see the cheeky cockney in action. The man roars like a lion and has a heart of pure gold, I suggest you make a visit to the club just to meet a piece of poker history, Roy that is!
The event was a $10,000 freeroll and attracted a fierce field of 213 players including poker luminaries such as Joe Beevers, Willie Tann, Marc Goodwin, Tony Holden and Al Alvarez. Hardcore players included the likes of Neil Channing, Paul Parker and Michael Greco along with all the poker industry press that believe they can play poker like Gus Hansen, including myself of course.
Next came celebrities including Teddy Sheringham, Alex Best, Matthew Stevens, a smattering of Premiership footballers, snooker players and forum celebrities. Let us never forget our poker forums, especially Tatty, BagLady, Scribbs, Elivism, Jeff the Chef, Eat my Stack Posse, PokerZone and their cameras too, Ukpokerinfo, Meetup, punters and of course the great Mobsters. Don't shoot me if the names are confused I want to get out to Starbucks!
Above them all came the members of the club, about 110 of them attended. The numbers were limited due to the nature of the beast. Sorry, I made an error; above them all came the Grand Slam Girls and numerous wonderful women of poker, one such being Valerie Ross of Ladies in Poker.
The evening was one big party and, with the assistance of IMA, I was left to wander the room and do my best to ensure fun was being had by one and all, if only I did not get called out every second by the old git Roy, screaming at me about the wonderful job I had done on the guest list.
After the dancing girls came the big event, as serious a field as you would expect in a major event. Eight hours later we were left with a final table with three of the most gorgeous ladies in poker. Ashly Rae, a very promising actress and model represented by ICM - if you want to see what legs look like that are insured for a million pounds then go to www.ashlyrae.moonfruit.com, but please do not look too long. The lovely Liv Boeree (she is on Myspace) accompanied by the runner-up, Alina Salnikova.
Alina battled with Matt Wilson, a jailbird, sorry, I meant journalist from TalkSport (do I sound biased?) with one railbird heckling, "meow!". Matt was a diamond and won through with 56 versus Alina's 72, with a 5 and a 2 on the flop. Alina was recognised by those very scouts, and has since received two very solid sponsorship offers, an unknown player who has made a name for herself by regularly playing in some very high stakes cash games with the likes of the "King of Cash" Marc Goodwin. Of course a second at the Cannons freeroll, did not do any harm.
The Marketing Director and great friend of The Loose Cannon and VC Players Lounge, Lee Ferris, commented:
"It was great to see everyone enjoying the poker competition and this fantastic new venue. The event was a resounding success and the perfect platform on which to showcase the newly formed association between VC Poker and The Loose Cannon Sports Bar."
Stages 1 to 3 of Roy's mission are complete and, when asked his feelings, he said:
"I've always wanted a poker club; it has been a great event. Our members and everyone here seem delighted. Now I am going to offer the poker community the best I can provide. I will launch a mammoth freeroll and we are looking at some guaranteed events in association with VC that will keep the momentum going."
I am honoured to be a small part of poker history, that history being the old dog Roy "Chips" Houghton, Sonny "Figures" Osman, Robert "Solitaire" Carlyle and The Loose Cannon and VC Players Lounge.
Photograph: by Neil Horne
Ed note: A fabulous €12,000 package to the EPT Grand Final in Monaco is up for grabs exclusively for February new members when you download Sun Poker!