Purple Lounge Specials on the Menu – including an Apple!

Tony Bromham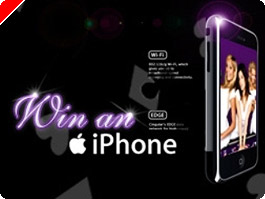 Purple Lounge is amongst the UK's fastest growing online poker rooms. Already well-known for its "lifestyle" themes and attractions, such as a luxury concierge service for its top players, it now offers more special attractions for its players, old and new.
Starting with a tempting hors d'oeuvres, Purple Lounge will happily give a new player an instant $10 cash drop into their poker account. Simply deposit some cash of your own into a new real player poker/casino account within 24 hours of opening it, and the tenner is yours. Simple things done simply!
Poker players can then kick on and start earning their match deposit bonus on top of the free cash. If you feel flush and deposit $1,000, you can top this up with a $1,000 bonus. If you only have $50, no worries, it still pays to play for another $50 in bonuses.
Once you become a regular at Purple Lounge Poker, which is played on the world-renowned MicroGaming software with over 10,000 players at peak times, you can benefit from becoming a member of "the world's most exclusive member's club", Quintessentially. This is a top-end concierge members club enabling you, when you are on your travels anywhere in the world, to gain immediate entry to the best restaurants, health clubs, concerts, plays, operas, sporting events and nightclubs. In fact, you name it, the Quintessentially "Purple Ace Card" Membership will make it happen.
In keeping with the credo of obtaining the best first, Purple Lounge is also excited to say that several of its players will be the proud owner of the most desired and elusive product to launch this year, the Apple iPhone! This little beauty combines a mobile phone, a widescreen iPod with touch controls, and an internet communications device, all rolled into one small and lightweight handheld device. To win one, the holder of a registered Purple Lounge account needs to get into the iPhone grand draw on 1st June.
To qualify to enter the draw, players must play, between now and 31st May 2007 (a period of 3½ months), 10,000 raked hands on Purple Lounge Poker. Given that a hundred hands will often be dealt in one hour on the internet, that may happen quicker than you imagine. You could also be earning your deposit bonus at the same time.
While playing for the iPhone, how about a trip to Dortmund, Germany to play in the Main Event of the European Poker Tour? Purple Lounge has seats on offer and a package worth $9,000. Qualify for this and you travel, all-expenses paid with spending money, to Germany for the 8th – 11th March poker festival.
If not Germany, then how about the rich man's paradise, Monte Carlo? This is later in March and substantially more valuable still. A package worth nearly $17,000 is up for grabs through Purple Lounge.
Playing poker at Purple Lounge also opens up avenues to stylish prizes, something a little different perhaps to suit your desired lifestyle. Apart from an Apple iPhone, offers have included a Bentley GT Continental, limited edition iPod Nanos and film premiere tickets.
For great poker and oodles of rewards along the way, Purple Lounge is certainly the place to relax.
Ed note: Start now, download Purple Lounge Poker here and grab your free $10 in cash and play for the Apple iPhone!