The Poker Oscars Starring Phil Hellmuth

Catman - The Poker Agent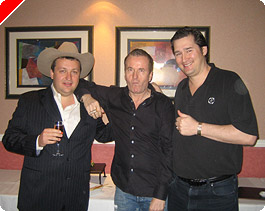 Sunday night saw the media launch of the PartyPoker.com Premier League, a format developed by Matchroom Sport. 12 players each paying a $20k buy in with $260k added by PartyPoker. Each player competes six times, accumulating points, leading to a 6 player final. Good enough for the WSOP? sounds good enough for me!
For those of you who have not yet had the chance to attend a launch or a showbiz party, in general don't worry, you are missing zilch. But on this occasion, we are talking poker gods, free Laurent Perrier and great Sushi. Perfect timing really what with the Oscars, not that I couldn't have attended them, as a waiter or something like that. So instead I went to meet the stars who would naturally be first choice for Poker Oscars. An A List line up including the Poker Brat, Tony G and The Fish. The supporting cast includes Andy Black, Kiril Gerasimov, Liz Lieu, Ian Fraser, Roland De Wolfe, Vicky Coren, Juha Helppi, Kenna James and Eddy Scharf. I only refer to Phil Hellmuth, Jr as the Poker Brat as hopefully, a film based on Phil's life story titled 'Poker Brat' will soon get the green light, so it would be disrespectful not to. With regard to the supporting cast of players, it's a bit like referring to the rest of the Chelsea Squad, they all have achieved formidable poker achievements. But getting Phil, Tony and the fish together is a stroke of genius.
So, I dragged the misses out and told her she could would get to practice her poker this evening against some great players and of course eat her favourite food: sushi. The players were shacked up in the Marriot Golf and Country Club in Kent, of course Kenna James and Phil H were still out on the golf course doing what poker players do best. The alarm bells rang at 7pm when the party was due to start, I was instructed by my poker playing goddess, that I was not allowed to talk to anyone till she had eaten, which I thought fair enough, what is more important her body or Phil Hellmuth?
"Catman it took me around 150 emails to get Phil to the U.K," said Eddie Hearn , Poker Director of Matchroom Sport , as he handed me a glass of that pink fizzy stuff. "We have given the event a slow structure, brought in some of the world's best players and yes the event is structured for global TV. There is something for everyone. I will grab Phil for you a little later, once everyone has got the betting sorted out for the week." Eddie was the charming host and facilitator of this event, and naturally a very avid poker player.
For those of you who have not yet had the chance to experience the inside story on poker and it's players, although a game predominantly of skill, Vegas and any major poker tournament arena will see massive side action, with betting on anything that moves around our game of poker. From the golf course to last longers, part of the fun and games of poker pros is this frenzied action. The competitive spirit you see on the table, fills the air of the media launch. We sat down next to Kitty and Rita, the sister and mother of the legend that is Andy Black. "I think it depends on the river, except I have no clue what the river is" said Kitty the lovely sister of the ever smiling $2,726,095 winning Andy Black. It was great to see a proud mum brought to the party.
Bingo, the room lit up and the doorway was filled with a huge Stetson, that the one and only Tony G had purloined of Kenna James! Tony's smile lit up the room, even if you know Tony, you really are waiting to see what happens next. Bare in mind this is not only one of most exciting players to watch, but as he constantly reminded Phil, he holds an amazing 250,000 views of his decimation of the Russian player, Ralph Perry. You cannot hate Tony G, well I suppose we were all freaked out when he toyed with Surrinder, but then again. The popularity of TV poker is something that is vital to us all, and Tony G is the daddy of TV poker.
Eventually Tony comes our way and I get the misses to grab him so we can ask the magic question, Tell us Tony, is it tactics, fun or just pure madness or brilliance ?
"It's a gift, I won for many years, the pressure just builds up and I realise I just don't want them at the poker table anymore, it's is time for them to go. I start talking to them, if there is no reply, then I answer for them, I have fun. I try never to be angry, if bad things happen I am mentally prepared. I feel good about myself, I look after others in life and do my best to be a good person. Poker is about fun and I just want to get my opponents out of the game." And his strategy for this event, "Enjoy, relax and play. Get the Fish and Hellmuth upset and insult them. I have had a private detective on them and will give it to them on the table." Tony G is a diamond, he has a natural wit, he is as funny of the table as he is Hulk Hogan on it, and above all he really enjoys banter, like no other. Kenna James approaches and Tony has drawn against Phil Hellmuth 5 times, Kenna asks why he is only playing Tony once, "you are b draft Kenna," jests Tony. "Tony it is funny but not three times," and we haven't even got near the poker table and the game has begun. What a game it will be, imagine 6 days of this, to finish of the event there is a 24 hour cash game which we will let you know about soon.
The Party has only just begun, and I am loving it, of course deep inside, like every wanna be pro, I am thinking I am almost at the table playing between Tony and Phil and working out my reaction if Tony decided to steam into me.
Eddie Hearn has given me the nod, that I can get a quick chat with Phil. We wander outside, where Phil indulges in some stretching exercises on the floor to rectify a rare twinge in his spine. So you are sitting there with one of pokers greatest legends full stop, your misses comes over to let you know she will be playing Tony G heads up for a bottle of Don Perignon, Liz Lieu passes by and The Devil Fish is about to tinker on the piano. I am in heaven, this is what I love about poker it is unreal, madness.
Phil stinks of class, now before you think I am some sycophant, please remember I spent ten years working with a Double World Champion boxer called Nigel Benn, I have served up the very best in naked women to royalty and beyond, and celebrity does not easily impress me. But I know the word respect, Phil is often the object of Mickey taking on high Stakes, I can't say I like it. How the hell has it happened, how do you become Phil Hellmuth.
Phil what makes you so strong ? "I spent a couple of years where things were very quiet, I was so busy and playing very little poker. People in poker are so quick to wipe you off and bring you down. I came back to the WSOP in 2006 and now I have secured my reputation once again. For all the big players, the two months of Vegas is the time where you want to win. The WSOP is the most important time for us." In 2006 Phil was in the money no less than 8 times, wining nearly $1.2 million, his tenth WSOP bracelet and a 2nd and 3rd placing. The man is a walking miracle as far as I am concerned. His demeanour of the table is beyond reproach, he oozes charm, he is a pleasure to sit with and shows respect for everything around him. "Catman, I simply want to be the best player in the world, at the same time I want to give back when I can. I am looking forward to arranging a huge charity event with all our actor friends, very soon, but I want it to be huge. My wife and I have spent a lot of time choosing charities to give money to and we will continue in this work." Phil's persona is as big of the table as on, but in a very different and calming way, you just want to sit and listen and admire.
Asked about his famous tantrums, "Players might be able to get to me once, Mike Matusow managed it twice, but never again, I know what to say to him and he can no longer do it. Tony won't be able to get to me this tournament, he has tried before at the WSOP. I will play my best game and of course hope for a little luck that we all need. My anger is generally on a bad beat, it might affect me for an hour maybe less, it happens. It may well affect my play, but this is me. My biggest improvement during my poker career has been that of increasing my patience and that has really helped me. I would advise any up and coming pro to simply work on their weakness and above all control their bankrolls. Don't get into the borrowing circles. I have no respect for those who keep loosing it in the side games."
Phil's next European trip should be to Monte Carlo, but his love for his family and commitments make travel to Europe fairly rare.
Back to the bar, where I spent some time reminiscing with the fish, about the time he sloped of with the masseur we employed on a game in Spain for a romantic dinner and then noticed 15 or so poker players staring at him, as red as a beetroot, the fish has a very soft side to him. Anyone who has been around the scene will know, that where there is a stage, a piano or a guitar then the Fish will perform, as of course he did at this very party. Dave Ulliot is the bookies favourite for this event, but he will need to play his A game, that is for sure. My mobile rings and I get called off on a mission, even more important than being a journalist. The misses calls me to a game with Tony G, I arrive and we play our little hearts out for 15 minutes or so, naturally Tony G says it is only fun as he plays all the strokes you see him do on TV. The misses is one all with him, I get to take a game of him, its bloody serious for us, Tony gets the bill for £115 for the DP, he was doing that anyway. Her indoors is ecstatic, I told her I would get this heads up victory all over the net and on the databases, so here it is. Tony G got thrashed by a 21 year old super babe poker player, I have told her never to use that whip in public.
We wander into the main bar area, the choice is to watch Chinese Poker between Roland De Wolfe and Phil or a £20 freezeout. We elected to chat with the Pr man from Party Poker, the one and only Warren Lush. Warren I need to put Alina into some of your events please? " We have had calls form all around the world lining up for the next one, all the big names. We are very excited and the characters will make this a fun event." Warren seemed to miss the point of my question, but hats of to him, this event is innovative and has a stinkingly hot line up. If you want to blag of Parties Pr man, don't for god sakes make any jests about Lush, apparently it means drunk in the US, I have spent 8 years on the name Catman and he is born with it.
I want to start a book on who will rare up first, let us prey the testosterone flies, I don't want to be switching to the UFC anymore, I want entertaining top class poker, with a touch of madness.
No matter what the criticisms out there against TV format poker, this event will be one I watch. If it makes you smile then surely it is worth more than any miserable poker face.
Ed Note: UK PokerNews is bringing our readers live updates from the Party Poker Premier League.