Paddy Power Poker's Pallette of Plenty!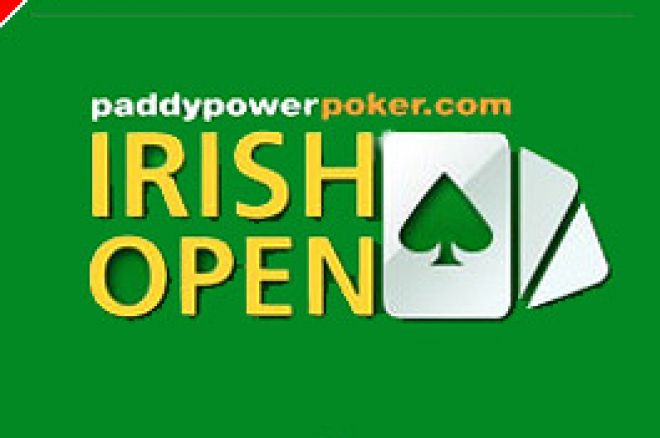 With Easter on the horizon, this can mean only one thing – to Paddy Power Poker players anyway! – The Irish Open 2007. Paddy Power has imminent qualifiers for this plus a poker cruise, the WSOP and WPT Main Events.
If big live tournament events are your bag, you are in business at Paddy Power. If big, online cash tournaments are your preference, you are, well, in business at Paddy Power! Let's look at the highlights. Be warned, some of these big qualifiers are on during this coming week, so prevarication is not an option!
Irish Open 2007
Where better to start than the one most associated with Paddy Power and the Emerald Isle, the Paddypowerpoker.com Irish Open 2007. Regulars at this shindig, for it is not only a poker game, can expect the best in Irish hospitality and willingness to let the hair down and have a laugh along with a tipple or two. Then there's the poker and a guaranteed €2,000,000 prize pool.
You can win a $6,500 entry package into this prestigious tournament – to be shown live on Sky TV - by one of three ways at Paddy Power Poker:
i) Win a Weekly Grand Final seat daily at any one of five $12 rebuy tournaments. These are held at 2pm, 6pm, 10pm, Midnight and 2am. At weekends, there is additionally a Noon satellite making six a day. Plenty of opportunities there to make progress.
ii) If time is of the essence, why not try the direct route by buying straight into the Weekly Grand Final. The above qualifiers also get you into this $198 Rebuy Super-satellite.
iii) The third way is also a cheap one. On the first Monday of each month there are a number of $1 Shootout Tournaments. Always worth aiming for the Irish Open in that one.
The Irish Open will be held at the Burlington Hotel, Dublin, from 6th to 9th April 2007. The $6,500 prize packages consist of $4,600 buy-in (or dollar equivalent of €3,500) along with expenses.
World Poker Showdown Caribbean Poker Cruise
We can't think of a much better way to spend a week than on a cruise ship in the Caribbean! Play poker on board and your dream may well be complete. Now Paddy Power Poker can make it possible with a $7,000 package to embark for the week beginning 22nd April 2007.
Time to move fast if you want some of the action! Next week, on 26th February at 10.30pm GMT, Paddy Power Poker is hosting the WPS Caribbean Poker Cruise Super Satellite. Win it and the cruise is yours. Here's how to enter by next Monday:
i) Go straight for the jugular via the very modest direct entry buy in of $54;
ii) If that doesn't appeal, then get into the satellite via a single table sit'n'go for the measly price of $6.30.
iii) Even better, why not spend $3 and enter a twice daily multi-table tournament. Be ready for a late night as these start at 10.30pm and 1.30am GMT!
The WPS Caribbean Poker Cruise sails from 22nd to 29th April 2007 and each package gets you a $1,000 cruise ticket and $6,000 of poker fees and expenses for the trip.
World Series of Poker 2007 Main Event
It's the old stand-by but what a stand-by! There's nothing quite like the WSOP Main Event for a chance to play at the same table as Phil Ivey, Gus Hansen and Padraig Parkinson to name but three top players. Of course, as any Irishman will remind you, of those three only Padraig has made a final table at the WSOP Main Event before!
Get to see the bright lights of Vegas by following these three courses:
i) One of the first packages of the year can be yours this weekend by playing in the
WSOP Rebuy Super Satellite on Saturday 24th February at 9pm GMT. It's dirt cheap to enter too! Only $18 for a direct buy in so a good chance to rack up some chips and stay in the race with the odd rebuy if you get unlucky.
ii) Or spend just a little more than $2 and win a seat at the Rebuy satellite in a sit'n'go tourney.
iii) Better still, spend just $1 and qualify for the Rebuy satellite through a multi-table qualifier. Just to think you can spend $1 at Paddy Power Poker and win several million for your efforts. It's a sobering thought!
Each WSOP prize package is worth $13,000 which includes Main Event buy-in and $3,000 in expenses. Players must be 21 years of age to play in the WSOP.
World Poker Tour Events – $15,000 Prize Package Guaranteed
Paddy Power Poker can offer you a place in any number of 2007 WPT Main Events from this list:
Borgata Poker Open – Atlantic City – 15th – 19th September
Festa Al Lago – Bellagio, Las Vegas – 15th – 19th October
North American Poker Championships – Niagara Falls View – 25th – 29th October
World Poker Finals – Foxwoods – 12th – 16th November
Five Diamond World Poker Classic – Bellagio, Las Vegas – 14th – 19th December
Once again, this weekend is the time to be logged on at Paddy Power Poker. The big WPT Freezeout Super Satellite will be held on Saturday, 24th February at 23:45 GMT.
Once again, there are three ways to get in there:
i) Buy in directly for $198;
ii) Win a Sit'n'go for $24.20
iii) Win a seat in a daily multi-table tournament at 11:45pm for $3.
And finally, if you do get bored with all these qualifiers, why not try to win some big cash in the $100,000 Guaranteed Cash Multi-Table Tournament this Sunday at 8.45pm GMT!
Ed note: Over $4m of guaranteed prizes are on offer when you download Paddy Power Poker and claim a $500 deposit bonus to boot!