Time Approaching for MANSION Poker Dome $1,000,000 Final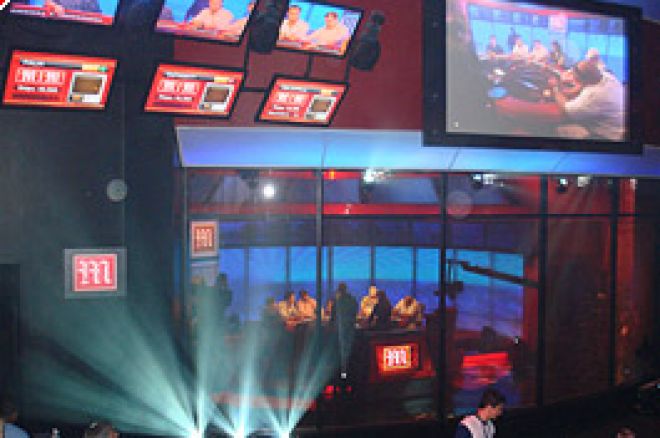 Poker professional Rob Sherwood is one definite UK poker name in the mix for the grand final of the US TV poker creation, the $1,000,000 "winner-takes-all" MANSION Poker Dome, held at the purpose-built studios (pictured) in downtown Las Vegas.
Fox Sports Net has been broadcasting the heats of this long-running series in the US for nine months and is now at the business end where six finalists will battle it out on 17th March live on US TV at the special Speed Poker™ table under the Poker Dome. In this capsule, the players cannot see out but the studio audience can see in. On top of that, the audience has six large screens showing each player and the statistics affecting each hand that is played, odds of winning, the works.
There are the usual Speed Poker™ rules with players having a mere 15 seconds to check, bet, raise or fold. With a million at stake, there is sure to be a little perspiration and furrowed brows amongst the players.
Ironically, the bulk of the players that entered the massive number of micro-fee Poker Dome online qualifiers at MANSION Poker actually cannot now play there! Since the Poker Dome series started, the US lawmakers have turned against their own people and made it virtually impossible for the poker companies to offer the wide variety of games and opportunities for fun and success that the rest of us can still enjoy at MANSION Poker and other sites similarly affected.
It is not only 28 year old Rob Sherwood who might be representing the UK. On 10th March, the last of the $50,000 to the winner semi-finals is taking place in Las Vegas. One of the players will be $25,000 heat winner, Ryan Hall, 26, who is a guidance counsellor from South Yorkshire.
Rob Sherwood is better known in poker circles and he talks openly abut the event and his ongoing career on his weblog at http://sherwoodpoker.blogspot.com/. In that column, Rob admits he did not play at his best in the semi-final and owed a little to luck. Here is an excerpt:
"I stayed patient however and eventually won a huge pot on a jack high flop with my AJ outkicking J4 (blind v blind), which gave me 200k chips 3-handed out of 300k in play. Heads up commenced with me on 180k v 120k and blinds 5k/10k, which soon went up to 8k/16k, so basically a preflop game. I then proceeded to get the lot in with A6 v AJ, a 457 flop, 6 on the turn, 3 on the river, split pot! I was down as low as perhaps 90k chips when the momentum swung my way, I kept moving in with anything interesting and luckily didn't run into any hands, I had whittled my opponent down to 58k when I got my chips in with the worst hand and sucked out on the river, though it wasn't too bad, he limped button, I checked 98o and set him in on the 677 flop, he called with Q3, no problem a 5 on the river and it was all over."
Good luck to Rob Sherwood and, hopefully also, Ryan Hall for the UK. One million dollars awaits!
Ed note: UK players can play for $100,000 guaranteed prize pools every night at 8pm when they download MANSION Poker