Loose Cannon's $10K Freeroll Earns the VC Medal

Tony Bromham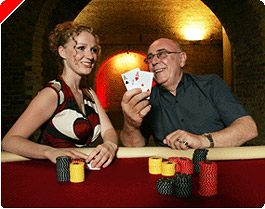 London's newest and biggest no-rake, no-fees, members games room, The Loose Cannon and The VC Players Lounge, opened full-time with a celebratory evening of free poker and cocktails and a $10,000 Prize Pool.
Legendary London cards man, Roy Houghton, whose venture this is, was on hand to welcome members, media and special guests. They came through the door from 6pm and were still coming well after 8 o'clock!
The Loose Cannon is situated in the heart of the City of London under the arches of Cannon Street railway terminus. The Victorian railway engineers knew a thing or two about construction and they made sure their buildings were big, solid and imposing. The massive arches of the station therefore make for a vast and roomy atmosphere and offer plenty of room for sitting, drinking, chatting and of course playing poker and other games such as backgammon and chess.
That said, the numbers on the big night meant that every table available and more was needed to accommodate the playing guests. If there was an available balcony, there was a poker table on it! The numbers of tables even exceeded the dealers available so there was some good old-fashioned shuffling and dealing going on early in the piece.
It made for a noisy occasion with plenty of banter. The Victor Chandler Group, which already lends its name to the VC Players Lounge, had generously divvied up $10,000 to this big celebration freeroll event and that was enough to draw a few well-known names for a crack at the money. The likes of Joe Beevers, Iwan Jones and Marc Goodwin, to name just three, were in attendance but with over 200 in the field and 10 cash prizes on offer, none of them made the money.
Neither did well-known evergreen Premiership football player Teddy Sheringham, here representing VC Poker and always on hand for a photo or two.
The final result of the VC $10,000 Loose Cannon Freeroll looked like this:
1st ($3,000) Matthew Wilson (Talk Sport)
2nd ($2,000) Alina Salnikova
3rd ($1,200) Jason Cajigas
4th ($1,000) Ashley Rae (Ian Monk)
5th ($800) John Raab
6th ($600) Sam Kiani
7th ($500) John Ionnou
8th ($400) Liv Boeree
9th ($300) Jonathan Blum
10th ($200) Osman Ramadan
Second placed Alina Salnikova is already highly regarded as a fine poker player and we understand that she received an offer of sponsorship afterwards!
The owners of the Loose Cannon were pleased with the evening's entertainment. Roy Houghton said:
"We are doing our very best to provide players with the best we can offer; this evening has been a powerful incentive for us to push forward to give the players a premiere venue. I am delighted with the result, everyone seemed very happy. We certainly are!"
Ed note: Plenty more freerolls and great games are yours when you download VC Poker and claim a very solid-looking $1,000 bonus, or get $35 cash free.