Grosvenor UK Poker Tour Event Two: Walsall

Richard Prew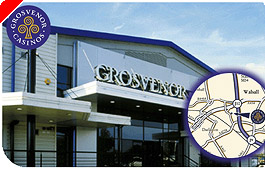 Following the initial event last month in Bolton won by Praz Banzi the second event in this new major series was held in Walsall this past weekend. This event, due to the capacity of the casino, was on a bigger scale than the first an attracted a sell-out 360 competitors split over two day ones each paying £1,000 or winning a satellite seat to battle for a first prize of over £110,000, significant added value and a seat into December's Grand Final for the winner. The field comprised all the European household names and then a large number of qualifiers.
Once again the structure was attractive with 10,000 starting chips and a one hour clock accompanied by the relatively early introduction of running antes. At the end of the first two days 129 competitors advanced to the combined field for Saturday's Day Two. Chip leader at this stage was Nottingham's Chris Bruce with over 100,000 chips followed closely by the likes of local Mohammed Shaffiq, Northampton's Paul King and Cardiff's Roberto Romanello.
Early on Day Two Paul King established himself as chip leader when making an excellent call a Lucy Rokach all in on a Q J x board with AJ when she had an under-pair. Other players towards the head of affairs included Peter "The Bandit" Evans, both the Boatman brothers and Alan McLean who damaged both Paul King and youngster Dan Carter when he found himself all-in, over-playing 22 pre-flop against 99 and KK only to spike a 2 to remain in the competition.
Another youngster Billy Ngo was seeing the ups and downs of tournament poker. Outdrawing Ross Boatman's AK with A3, a 3 on the river but then running KK into AA late on. Alan McLean is not one to slow down when he has chips and this can be his downfall. So it was to prove when he ran 33 into Jerome Bradpiece's AA to see himself depart in the final 27, thus cashing, but not hitting the final table.
There was a controversy late on Day two when the players requested the advertised structure be changed due to fears of an absence of play (average stack six rounds of the table) some eighteen levels into the competition. The management acceded, freezing the running antes whilst allowing the blinds to progress unchanged.
Dan Carter's tournament was rescued when semi-short stacked he pushed with 75 onto Joe Beevers' big blind, only to find Beevers with AA. However two sevens on the flop saw Carter advance to the final day alongside Beevers behind chip leader Bradpiece, Peter Evans, Shaffiq in a group of twelve players ending with short-stack John Conroy from BadBeat.
On the final day, there was a dramatic bubble exit for Chris Bruce, all in with KK against Billy Ngo's QQ only for the turn to bring a Queen and send us to the televised final (Channel Four, September) with chip-counts as follows:
Jerome Bradpiece — 918,400
Billy Ngo — 547,600
Des Jonas — 505,400
Peter Evans — 447,600
Dan Carter — 444,000
John Conroy — 255,800
Mohammed Shafiq — 202,500
Ganesh Rao — 181,000
Joe Beevers — 134,200
Ganesh Rao was the first to depart, having called fellow short-stack Beevers with KQ versus A10 and losing, he was down to the felt and found his AQ defeated by Joe's 9 6, auto-called in the big blind. Meanwhile John Conroy and the talkative Shaffiq in particular had upped gears, raising liberally and putting themselves in contention. Beevers then doubled up through Conroy, his AJ hitting Quad Aces versus the KJ of Conroy. Conroy then got caught, moving all in on Jonas' big blind with J9 to find Jonas with a pair of tens which held up.
Beevers was then unlucky his KK outdrawn on the river by the nut flush of Ngo's AQ, all-in pre-flop. He was next to depart in 7th pushing in the small blind and Jonas knocking him out. Evans then lost a key confrontation with Shaffiq, QQ versus AK all-in pre-flop, Ace and King on flop to leave him with 100,000 and blinds at 20,000/40,000 so needing to move in very quick. When he did so with a random hand he found Carter making the obligatory call with AK which held up to knock him out in 6th.
Jonas was then unfortunate, raising all-in over the top of big chip leader Bradpiece with AQ he found Bradpiece gambling with 10 3 of diamonds which turned a flush to make the game four handed. Then on a board of K K 2 10 9 Carter found himself with 99, felted by Ngo's K 10 , Ngo having slow=played the flop and turn to perfection. Carter was then knocked out by Bradpiece next hand.
Then Shaffiq raised all-in over the top of Bradpiece's raise, called. 10 10 for Bradpiece, A Q for Shaffiq. When Shaffiq got no help he was out in 3rd leaving Ngo and Bradpiece heads-up for the title with Bradpiece with a 2 to 1 chip advantage and no deals made.
Heads up was a short battle as both players found an Ace pre-flop and in the chips went. Bradpiece's AJ suited held up against the A8 of Ngo to make him the GUKPT Champion.
Ed note: Download Everest Poker and take part in a $1000 new player freeroll