Poker Pro For a Year: EPT Dortmund Freeroll Report

Paul Sandells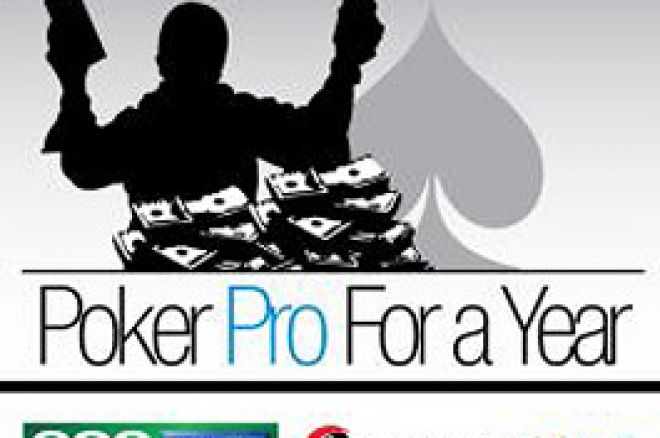 Last weekend saw 42 lucky qualifiers fight it out for a FREE seat to the Dortmund leg of the European Poker Tour. An epic battle ensued. Here is our report from this special Poker Pro For a Year tournament.
A shot at one of Europe's top poker tournaments is something many of us can only dream about. However, regular readers of UK Poker News will be aware of the great promotion on offer at our sister site Poker Pro For a Year which is sending poker players to the biggest tournaments in the world.
So, on to the freeroll from last Saturday. At 9pm GMT 42 players took their places for a great value tournament. Within a few minutes our first casualty was already sent packing. Hagtorn's departure left 41 players and rocketed merock into an early chip lead.
Merock was quickly joined by advfear who managed to lose his large early chip stack within 25 minutes, going out in 37th.
An epic battle was fought for the next 90 minutes until the final table of ten was complete. A nicely structured tournament from Pacific Poker meant there appeared plenty of play left in this event. Even so, Porkbot departed very early in the proceedings in 10th place.
DMTRX, who was one of the shorter stacks at the start of the final, began to make several pre-flop raises which brought him well into contention. After several rounds of aggressive pre-flop action Kuerton8 moved all-in when short stacked. His KQ was no match for 25kopek's 22 which hit a set on the flop to seal Kuerton8's fate in 9th place.
BGOOD2me, who entered the final as the chip leader, made a stand against the aggression and consolidated his healthy position by picking up a number of small pots.
Kassike then made a massive pre-flop raise with 66 and runs into a monster: KK from merock. The board gives kassike a straight through: 4,5,6,7,8 for a huge pot. Merock moves all-in on the very next hand, his 55 was out-gunned by IMNTZONE's rivered royal flush! merock departed in an unlucky 8th.
Kassike's good luck continued shortly afterwards. BGOOD2me made a loose call and doubles up kassike, his KQ dominated by AK. DMTRX then took the chip lead with 7 players remaining. BGOOD2me appeared phased by the set back and quickly loses another large pot to the quiet Ryoxyz. BGOOD2me quickly went from hero to zero and out in 7th, his A3 dominated by IMNTZONE's AJ.
25kopek was the next to go, on the very next hand, as his 88 lost a coin flip to DMTRX's AK - which made a straight.
With 5 players remaining, the game went into a break. Nobody was really dominating the game at this stage and all five players must've felt in with a chance at claiming the EPT Dortmund seat. As the game resumed, with the blinds at 250/500, the chip counts were:
DMTRX - 27.813
IMNTZONE - 17,281
Ryoxyz - 15,475
kassike - 15,032
k3nn3 - 8,399
The early exchanges were a tense affair with few chips changing hands. Eventually k3nn3 doubled up with 34 vrs Ryoxyz's 22. Ryoxyz was unlucky in the hand previous to that as his AK split a pot with DMTRX's AQ on a JJ622 board. These events sparked the game into life as the blinds increased to 300/600.
IMNTZONE then made a wild move with 56 and ran into k3nn3's QQ. The ladies are good and IMNTZONE dropped to the rear of the field.
IMNTZONE eventually sent the rest of his chips to k3nn3 as his AT was no match to k3nn3's AA. An Ace high board made it tough for IMNTZONE to not go broke. He finished in 5th place. k3nn3 seemed inspired by this and quickly builds up a healthy chip lead with only 4 players remaining.
Four handed, and with the blinds at 400/800, the game evened up. Leaving many observers wondering when this epic would end!
Ryoxyz finally made a move with A9. Kassike took a deep breath and called with 55. No Ace or Nine hit the board and kassike jumped into the chip lead. Ryoxyz exited in 4th place.
With the blinds hitting 500/1000, kassike knocked out k3nn3 with KK vrs AQ. The Q high flop left k3nn3 with few options. As the game went heads-up kassike had a 2:1 chip advantage over the aggressive DMTRX. However, DMTRX gets the better of the early exchanges thanks to pocket Queens. The game quickly evens up with both players around the 42,000 chip mark.
After several raise/fold situations both players finally commit their stacks and kassike gets the better of things with TT vrs AK. DMTRX is down to a few hundred chips which is not enough to post the blinds. The cards are automatically turned over on the next hand and kassike is dominating DMTRX's A2 with A8. An 8 on the flop, and no help for DMTRX, means kassike won the EPT Dortmund freeroll at the expense of DMTRX who put up a brave performance with an exciting brand of poker.
Congratulations kassike and the very best of luck in Dortmund!
Ed note: Join the cream of the crop by becoming a Poker Pro For a Year