Roll Up, Roll Up to Circus Casino in Stoke

Paul Sandells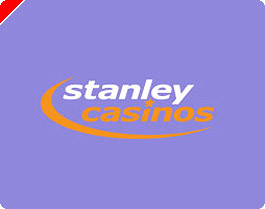 Stanley's Circus Casino is fast becoming the destination of choice for many poker players in the Midlands. Paul Sandells headed north, for their Tuesday evening freezeout, to check out the action.
What immediately strikes you about the Circus Casino in Stoke is the sheer size of the place! I cannot recall visiting many casinos in the UK that offer such an expanse of space. Stanley Leisure have made the best of the floorspace by fitting in a very large card room at the right hand side of the casino. I spent most of last evening in this area.
For the month of February the Tuesday evening freezeout boasted a house fee of £0. Only a couple of hundred metres away the Grosvenor card room ran an almost identical tournament, however the juice at Grosvenor was large, in terms of percentage, at £5. This charge could perhaps be excused due to the poker league being run by this card room and all the prizes on offer for league players. If you're not a resident of Stoke or any nearby towns, the choice for a one-off night out to play poker seems obvious. Head to Circus Casino.
As a new player to a card room I always pay great attention to how the staff handle new player registrations and any queries I might have. The staff member handling registrations was very polite and friendly. A smile costs nothing, as my mother would say. Circus have got the small things like this absolutely right.
The tournament itself attracted quite a small field of 53 players, even so the structure offered plenty of play. 8,000 starting chips and a 20 minute clock seemed very reasonable indeed. The game started, as near as makes no difference, at 9pm. I was a little surprised to find my opening table to be an eleven handed affair. This wasn't a huge problem for a card room so spacious, something other eleven handed regulars such as Napoleons Casino in Sheffield have yet to overcome.
The dealers were very professional and I'd like to praise one especially, Joe, who was only on the second day of his job. He handled a tricky table of very verbal punters, which included me, extremely well. Tournament Director Andy Gray ran the show seamlessly, stepping in when help was required and overseeing a very slick operation.
In general the punters at Circus are a friendly lot. As with many of the UK's card rooms there is a mix of "experts", excitable youngsters, "seen it all" regulars and a handful of players just passing an evening away. This isn't a card room that will intimidate any new players to the live poker scene.
To celebrate the Chinese New Year, the casino kindly put on a Chinese buffet for players at 1am. Buffets and free snacks are common place at many casinos, the standard of these buffets are often questionable to say the least, however the hot Chinese food available here was of a high standard.
Away from the card room the casino has the usual array of table games and slot machines. There are several LCD televisions dotted around the establishment and a large bar at the left hand side of the casino.
I enjoyed my evening at Circus Casino in Stoke. The friendly staff and lovely atmosphere make for a relaxed environment to play poker in. Here at UK PokerNews we feel card rooms such as this set the standards for others to follow. Well done Circus Casino, Stoke.
Ed note: Play live on Sky TV, download Sky Poker now[/I]