A New Dawn in the Sky

Catman - The Poker Agent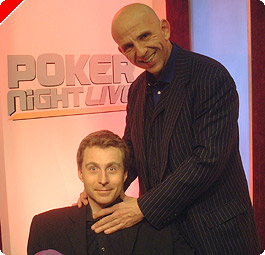 Another week, another bout of flu that has blasted me further into the land of the fairies since my first appearance on Poker Night Live. Poker and TV is a major concern to me especially when sick, and being alive and well even more of a concern.
So with great delight I managed to catch the historic and almost secret commencement of Sky Poker. The news is that the programme is led by a great advert with some of the most amazing chip tricks you have ever seen. Why? Because they were done by some pillock with big clumsy, sweaty hands – "Yes" the chip twizzler was indeed me!
At last, I am a piece of history, just like Tony Kendall who is the poker consultant to Sky for Sky Poker. When I was asked if I wanted to be the Poker Whisperer, I politely refused; I am not the kind of person who wishes to slate anyone, well anyone who is presently living. I really believe in love and peace.
Tony Kendall is a wonderful TV presenter etc, and leader of a great poker community, but this was the second occasion that the man had gone ballistic on me, this time for congratulating him a week early on the success of his job at Sky. The point is that good manners are vital components in life and poker. It's funny how you can run an entire life, almost dance with the devil, survive the ICF under the arches in south London when they desired a knuckle up with my client who was Nigel Benn, avoid death on many occasions whilst having to work doors of nightclubs for a living, or greed. But God help you if you say the wrong thing on a forum.
Spirituality and Zen are things I for one as a PhD Poker Student will always preach, for I am an excellent poker teacher – rubbish player of course; far too aggressive. But combine whatever knowledge you have managed to consume with the ability to never stray onto the dark side, from where I have just returned, and you too will be a great player and a better person.
Now back to my TV journey to Sky Poker, Sky Channel 846. Whilst hopping from channel 121, I managed to pass Showbiz poker, Norman Pace vs Michael Greco heads up. I got to watch Pacey give the Grecs verbal that in many a case would have resulted in tooth loss post-event. Pace was horrifically awesome. The point was that I didn't want to turn it off, and as I have said prior to this, Michael Greco is a celeb, but the man is a diamond. If I did not know him I would have enjoyed the foul trash talk lesson Pace gave him.
So even prior to reaching my chip twirls, I bumped into one of Sky's poker analysts, and indeed not a bad player at all. Hopping upwards, I passed Poker Superstars, The WSOP and on reaching The Poker Dome I got a call with a Tarzan ring-tone - no less than Mr Ed Giddens himself was on the "Catphone". Ed used to hang out at my old club, Sophisticats, whenever the other cricketers dragged him there, and I must admit to having hung around with him on several showbizzy knees ups.
Ed is another poker analyst, the ladies love his looks and he is bloody funny, once you know him that is. His sparring partner, Johnny Gould, is no less hilarious. I attended a charity dinner, where Johnny did his auctioneers number. Now if we can get him drunk enough one night to do that on Sky then we will have some mesmerising poker TV! Martin Turner is one of the production team, he is doing outside broadcasts but I saw him on the box (send me an autograph please), a regular player at the Gutshot and someone who goes way back in poker.
So the story is growing, but the point is that we can never get enough people playing poker can we; now we have Sky on board, that can only be a good thing. The production is top class and of course I can't wait to get my shiny head up there as one of those 3D images.
Sky Poker offers me another piece of poker-driven TV to watch. Sky are offering poker to the masses and that is fine by me. Just got to train all these newbies in Dealer's Choice, although I do believe Razz is slowly going up the ratings.
The more poker, the better. Without any doubt, my very good friends at PokerZone TV will up the ante. Poker Night Live is the next level of education and I don't think they will be affected by Sky Poker, only in that they will need to show some creative response, which they are more than capable of. Freedom of choice and, boy, are we getting it.
Who is next to get on board the poker game? Endemol Gaming are already there with a major investment and I am sure you can guess what other global monopoly might soon be offering us the game? A clue: Vista.
As much as I want to guest-present and play on every single poker TV game in the world, there is only one that makes me fall, like a cat on catnip, for it. Go to High Stakes Poker, this was the first real life poker game that you could learn and learn about cash poker from. Of course the play is so advanced or so damn stupid, that it might be better to watch just for fun. Danny Negreanu's raises with junk may or may not be just a small investment in his brand, but they are so much fun I am turning into a woman watching 'Sex and the City.' I can't say enough about Phil and Sam and the rest of my family on the show. The game is pure poker, all we have got to do is move this onto the next level, not sure how, and we will have the nectar of life.
Congratulations to Dusk Till Dawn for gaining the grant of a Certificate of Consent for operation of a casino in Nottingham. Although Dusk Till Dawn will be a "poker only" dedicated venue, as opposed to offering casino "house games" such as roulette and blackjack. On 16th February, Dusk Till Dawn will submit their application to Nottingham council for the April 2007 hearing to be held at Nottingham Magistrates Court. The criteria that will be assessed here is simple, "is there an acceptable level of demand for this poker club?"
However, it should also be noted that even if demand is not proven, the court still has the powers of discretion to grant permission to operate. With over 3,000 people having already applied for membership of Dusk Till Dawn, as well as the dramatic growth in the overall popularity of poker across the UK and Europe, there is little doubt that demand will be proven; however, the impact of any third parties claiming "material loss" if Dusk Till Dawn opens, could still be a mitigating factor. Good Luck to DTD.
Ed note: The sky's the limit with $100,000 a day Guaranteed Tournaments when you Download MANSION Poker and earn a $1,000 deposit bonus to boot!