Big Brother, Chinese Whispers and The Big Poker Party

Catman - The Poker Agent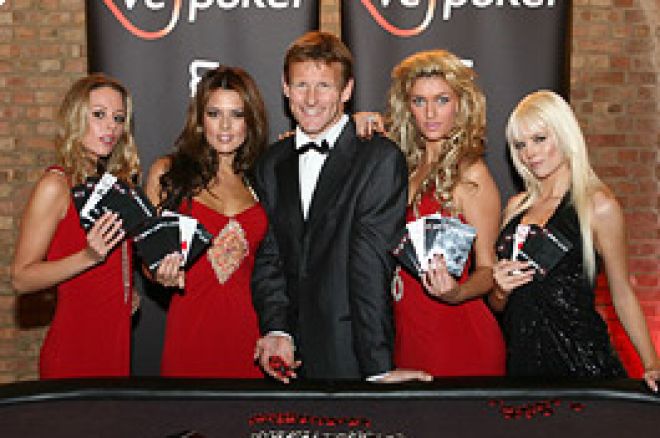 Willie's Wise Words
Being a Poker Agent isn't quite the same as being a Footy Agent, mind you with the amount of footballers playing big league poker, I might look at "Vig" opportunities (Vig = interest charged by Mafia money lenders on loans)! My dear friends at Paddy Power Poker sent me an invite to play the likes of Ian Rush, Jan Molby and John Aldridge as part of their online partnership with Liverpool FC, a tempting offer but the combination of the Paddy Promo team and Liverpool, surely my liver could not take the punishment?
My belief is that with the loss of the American market, the European players will soon get their chance to experience the big time. The Asian market is slowly opening up its doors to poker and shares are rising in companies that have interests in the Far East. This leads me on to my great friend and "poker guru", Mr. Willie Tann. I refer to the ex-Dice Man as "Sensei Tann" - Sensei, as in Japanese Master or teacher. "Catman, you have misquoted me", said the stern voice of one of my poker heroes. His anger was the result of a whisper from someone who had read an article I wrote about Willie.
After we got over this misinformation - something which seems to be a part of our poker community - I got Willie to remind me of my favorite Tann quote, "If you want to know what is on the road ahead, ask the man on the way back". With this in mind, I continued with the road I have been on many, many times - the road of building the foundations of a club, that club being The Loose Cannon and VC Players Lounge.
Many of my years were spent in the world of entertainment and night clubs, and building strength in a new product takes a lot of blood, sweat and tears. I spent many months inviting famous names to the launches of clubs like The Ministry of Sound and Sophisticats, only to be ignored; it was painful and disheartening.
"Catman, there is a light at the end of the tunnel, in your case the lights may be that of an oncoming train"; the second of Mr Tann's telephone quotes I chanted after his phone call. Sometimes you don't know whether to laugh or cry, you have got to push and push. Then, as if by magic, you have turned into Roland De Wolfe. Roland and I had many conversations prior to his first big win, something told me that this man's grit and determination would win through.
Celebrities And Publicity
Once the name is out there, you would literally be fighting them back. Celebrity is a key, look at Full Tilt and their stable of poker playing superstars, they are celebrities and they draw in millions.
Roy Houghton had always wanted to own a poker club and at 67 (or is it 58? He is such a handsome chap it is hard to tell!), well, finally he has achieved his dream. Now my role is to assist Roy and his partners into creating a poker player's dream. Part of that job is to create an awareness of the premises to the press and media. So along comes a great offer from VC, who are the sponsors of the VC Players Lounge, let's throw a launch party to celebrate the full time opening of the club.
So, two thousand-odd emails later, we are ready to rock and roll and Tuesday (6th February) is the big night. We decided that for the hell of it, we would add celebrity content, so I skillfully arranged for four stunning celebrities to attend and wear some amazing dog suits, just like you see on the amazing work of Cassius Marcellus Coolidge. Yes, why the hell not have some fun!
Right Attitude
The next moment, I open my email box to find an email epitomising small-mindedness, relating to a certain female on Celebrity Big Brother. "If she is attending your launch, I don't want to be associated with it." I replied in my normal loving attitude stating that the club was about fun and people with good attitude who want to enjoy poker. Who gives a damn about the mouth of a young girl that overshot the mark, when we are soon to be taxed for every mile we drive in our cars, or even worse, the poor polar bears that are drowning daily on the icecap from the very same global warming. The point is, let us all have fun and enjoy our wonderful world of poker.
Image and first impressions are very powerful tools on the poker table, they seem to be very exact most of the time, as long as we never let our observations become personal. How hard is it to resist gunning for an opponent who has muttered some untoward words or just sucked you out of a pot? My observations were once clouded towards a celebrity, who at one time put me on tilt. Well, it wasn't that dramatic, but Michael Greco has rightly refused to let me say hello to him with a film crew, while he was chilling out at The Ministry of Sound some 6 years back.
I used to ignore him at The Vic as any poker player would ignore any celebrity, but after meeting him the other day I have got to say, what a nice chap he is. So The Grecs will join the party, along with Teddy Sheringham, Alex Best and hopefully all of our snooker brothers who seem to love poker. Of course, a few poker-playing celebs like The Devilfish, Tann and Marc Goodwin, if they can get out to it. Plus, lots of sexy girls and four dogs! Correct, celebrities are not all that poker is about, but it will sure be fun trying to knock them out of the tournament!
I think that Roy Houghton's perseverance will be rewarded and the poker community will be rewarded with a great and affordable venue that will be seven leagues up from playing in the boozer. The club is legal and is another alternative to the casinos. The story goes on, but with poker in the pubs coming very soon, our game is going to go from strength to strength.
Live And Kicking
Life is one big poker game and I always want to learn. I believe that, if I am not corrected, Poker Night Live has really gone all out to provide the audience with a class act. Two of the most handsome men in poker will appear together (Monday 5th February) on Sky channel 843. Yes, you guessed it, Catman and Simon Trumper! I am in fits of hysterics already, and I suppose it could be time for sound-only TV.
Simon is a man of great knowledge and he certainly has been on that long road. Use the knowledge and experience you have gained on the road and always listen and learn from those who have trodden the road ahead of you. If you are going to make a raise, make it meaningful.
I love the wonderful game of poker and life, please enjoy it too. Don't take it too seriously, especially when watching Celebrity Big Brother!
Ed note: Play the game with those who know how to live life to the full! Download Paddy Power Poker and grab a big $500 bonus into the bargain.