Tournament Report: Birmingham Festival of Poker

Richard Prew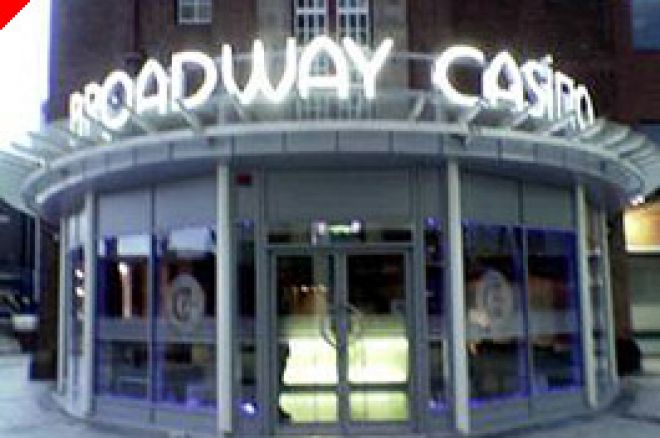 At the conclusion of a week long festival, 93 players began the main event, with a £1,000 buy in. The tournament was structured as a double-chance with each player receiving two allocations of 7,500 chips and an hour clock, fighting over a scheduled first prize of over £32,000.
It was a high quality field, packed with big names and festival regulars including William Hill's Julian Thew who recorded back-to-back wins on successive nights in two of the support events.
The early chip-leader was the prolific festival winner Mick Fletcher from Blackpool, tripling up in the first level and proceeding to apply pressure as is his normal style. Fletcher was followed by Tim Blake and Shawla Javadi who cracked AA with 86 and knocked out six players on the first night. However Fletcher was to go down before the night in the same aggressive manner that he uses to accumulate chips.
At the end of the first day, 36 players remained headed by local player Mrs Javadi with 115,000 chips (blinds 400-800) and followed by Tim Blake, Praz Bansi (Grosvenor UK Poker Tour winner and holder of a WSOP 2006 Gold Bracelet) and Tony Mackay. Further down the field, the likes of John Shipley, Alan McLean and Michael McCool still remained. Javadi has had a successful six months winning the Ladies UK Open at Star City in September 2006 and a festival event in Walsall last November.
Propelled towards the chip lead early on Day Two was Simon Zach who managed to get himself all-in pre flop with AA against Alan Davies with KK only for the board to come 2 10 Q K, only for the gut-shot Jack to come on the river to give Zach the "Broadway" straight. John Shipley knocked out Henning Grandstad with AA versus a flopped top pair whilst Grandstad's fellow Norwegian Henning Bolstad became chip leader with 19 left when his AA held up against Mackay's AK, all in pre-flop in a 200,000 chip pot. His position solidified when he had QQ and 1010 in the same fifteen minute period alongside KK versus AK too.
Zach and Shipley then clashed, AK versus JJ with both the Ace and the King on the flop to severely damage Shipley and put Zach in real contention. Zach finished off Shipley soon thereafter, QQ versus AK.
Bolstad then moved way ahead, finding KK to eliminate Mclean, pushing with pocket tens, to give himself 320,000 chips, treble that of his nearest competitor.
With eighteen left the likes of George Geary and Trevor Reardon had doubled up to move into menacing shape. In a shift of momentum Bolstad turned the nut diamond flush in a pot only to pass his bare Ace face up to heavy action on the river against Zach, who had the straight flush at the same point.
Not unusually the bubble lasted more than a full level of raise and fold poker, short-stacks doubling up periodically, mainly off Javadi who herself became short-stacked to just survive to make the final ten, with blinds 3,000/6,000 as follows:
M Shaffiq 348,000
P Bansi 190,000
S Zach 173,000
H Bolstad 171,000
P Pihijama 129,000
S Javadi 90,000
T Reardon 85,000
C Gavriel 85,000
D Lloyd 58,000
G Geary 40,000
After another hour Gavriel was the first to depart with KQ versus Zach's AK and then Shaffiq eliminated Javadi calling her all in with Q 10 with his A 10 and flopping an Ace. Banzi then lost a key race with Zach and was caught stealing on several occasions, forced to call short-stack re-raises for pot odds and losing. Pihijama then ran pocket threes into Bolstad's Aces to depart in eighth.
As the blinds increased, action speeded up. First Geary, having hung on for ages, lost to Zach and then Lloyd saw a flop of Q74 with Zach. Lloyd pushed with his KQ but saw an immediate call by Zach with trip fours, which hit quads on the turn. Soon afterwards Zach did it again. AK versus Reardon's JJ to leave four left and himself a huge chip leader.
Four handed Bolstad was extremely unlucky, pushing with A5 of diamonds, being called by Bansi with A5 of spades, four spades on the board to knock him out and then Shaffiq fell to Bansi, QJ versus 77, Jack and seven on the board. Six players had been knocked out in thirty minutes following five hours of grinding action.
Heads up therefore were Zach and Bansi, who failed to agree a deal and thus decided to play it out, £32,500 for first and £14,000 for second and beginning level in chips. After a see-saw battle Bansi emerged triumphant to back up his GUKPT victory at Bolton with another win.
Ed note: Play for big five-figure overlays in the MANSION Poker DAILY $100,000 Guaranteed Tournament