APAT Welsh Amateur Poker Championship Report

Richard Prew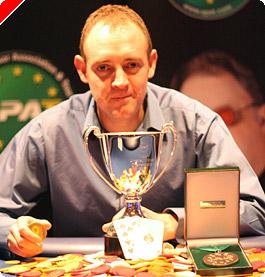 The Amateur Poker Association & Tour (APAT) held the Welsh Amateur Poker Championship in Cardiff over the weekend of 24th-25th February. The event was a sell out with 220 runners for a £75 freeze-out with 10,000 starting chips, a slow clock and significant added value from tour sponsors PokerStars.com via entry into next months EPT Dortmund event to the winner
A number of players departed early. These included local player James Fisher who called a raise on his big blind with K8 and saw a flop of 887. After a blank turn and a King on the river all the chips flew into the pot . James was understandably crestfallen to see his opponent turn over Pocket Kings. Elsewhere English Amateur Championship winner Daniel Phillips ran AQ suited into AA on a Queen high flop to knock him out.
Early leaders included Roberto Romanello, whose opponent flopped a King high flush only for Romanello to river a straight flush, James Doran, Daniel Brown and Mark Donnelly.
Romanello made dramatic progress in the final two levels of the night, winning a 60,000 chip pot in a race, 55 versus AK and then slow-playing KK pre-flop he saw his opponent betting all-in on a 10 high flop with J 10 to propel his chip-count over the 200,000 chip mark. Mark Flynn found AA versus AK all-in pre-flop to go over 100,000 chips whilst Mark Donnelly had played an aggressive game to exceed 150,000 chips.
At the end of the first day 32 players remained with the prospect of swift early action on the second day as the average stack, with blinds going 4,000-8,000, was only 9xbb. The five chip leaders were:
James Knox 185,000
Adrian Royle 161,500
Roberto Romanello 158,000
Brendan Hartnett 128,000
Mark Donnelly 123,000
Day Two did see immediate fireworks. On the first three hands of the day different short-stacks auto-pushed and they each doubled up in turn. In a 100,000 chip pot Curtis Ledger raised and was met by three-all-ins behind him, and thus faced a tricky decision for two-thirds of his chips with AK off-suit. Going for the win he decided to call and his face represented a mixture of relief and dread when he saw his opponents turn over A7, A10 and AQ. He was ahead but had to avoid a lot of cards. Sadly for him Andrew Jones (AQ) triumphed when a Queen fell on them flop for him to knock out two players and severely dent Ledger.
Finishing 22nd , the first money position, was the unlucky Craig Clifford whose QQ was outdrawn by Richard Davies' 66 hitting trips on the flop. When Davies knocked out James Doran in 20th he became the new chip-leader with over 300,000 chips followed by Romanello, Donnelly and Linda Iwaniuk. Indeed Iwaniuk, winner of a big Ladies Championship in 2006, secured a final table spot when knocking out three players approaching the bubble including Antony Wolsey and James Knox, the latter with a rivered two pair against top pair on the flop.
However it was not one way traffic for Linda who was clearly flummoxed in one hand with eleven players left, pushing all-in on Lee Mulligan's big blind from the small blind for all Mulligan's chips (100,000 plus) with 9 10 off-suit. Mulligan made an astounding call that defied belief with 54 off-suit and rivered a straight.
The final table line up, with blinds at 15,000-30,000 was as follows:
Lee Mulligan from Southampton 425,000
Dan Coles from Tiverton 315,000
Roberto Romanello from Swansea 310,000
Linda Iwaniuk from Reading 270,000
Richard Davies from Reading 255,000
Chris Barnes from Rayleigh 250,000
Graham Cox from Bristol 180,000
Mark Donnelly from Birmingham 130,000
Duncan Hodgkins from Stratford-upon-Avon 80,000
With high blinds and the prize money identical up to 3rd place it was inevitable that players would play to win and thus not back down from confrontations. Romanello provided an early example of this when he pushed all in from early position on the first orbit of the final. He was unfortunate that the player behind him to find one of the few hands capable of calling him was the chip-leader Mulligan with AK of diamonds. Romanello turned over KQ off-suit and was eliminated in 9th giving Mulligan over 750,000 chips and a commanding position.
Duncan Hodgkins was then next to depart after a valiant short-stacked battle when in a blind-on-blind battle with Mulligan flopped top pair, trap-checked but was caught out when the turn gave Mulligan the bottom straight to eliminate him. Chris Barnes struggled to make significant progress and then as the blinds rose again rose in the small blind with K2, was set in by Iwaniuk in the big blind with A7 and was forced to call. The board gave him no help and he departed in 7th.
Mark Donnelly then went on a tear, doubling up three times in quick succession when pushing from late position or the blinds including on the final occasion AJ from the small blind versus Iwaniuk's A10 following her button raise. Iwaniuk was left short stacked and she pushed with J9 only to run into Dan Coles on the blinds with AK suited for her to leave in 6th.
Richard Davies then pushed on the button following a limp, and found himself called by Mulligan in the small blind which priced in Cox on the big and limper Donnelly. On a 8 2 6 flop Cox himself pushed, found himself heads-up with the all-in player and revealed 8 2 to eliminate Davies with Q 9 in fifth.
Four handed Dan Coles was extremely unlucky. Donnelly raised on the button with A9, Coles pushed on the small blind with AJ and Donnelly called. A heartbreaking/fantastic flop of 9 9 2 conclusively sealed the pot for Donnelly and knocked Coles out in 4th.
Chip counts as we reached the final three were as follows:
Lee Mulligan 900,000
Mark Donnelly 875,000
Graham Cox 435,000
Play three-handed ebbed to and fro for approaching two levels with Graham consistently limping on the button and attempting to out-play his opponents pre-flop. In playing in this fashion he was able to secure a number of pots by the virtue of post-flop betting in position.
The key hand appeared when Lee raised on the small blind and Graham pushed in the big blind. Lee dwelled and after an age made the call, turning over J10 of diamonds which brought gasps from the crowd of railbirds. With a sigh and a resigned "great call" Graham turned over 35 off-suit, a fantastic move in its own right that would have got past many players. A Jack on the flop sealed Graham's fate for third place and the APAT bronze medal.
Heads- up Lee has a 2.5-1 chip lead and it lasted one hand. Mark pushed from the small blind with Q7 off and Lee called immediately with A 10 of spades. A seven on the flop gave Mark hope but a rivered 10 gave Lee victory and the Welsh Amateur Championship title.
Ed note: Download Full Tilt Poker and qualify for the WSOP main event for free with Team PokerNews