"Poker Pro for a Year" Gets off to a Flyer

Tony Bromham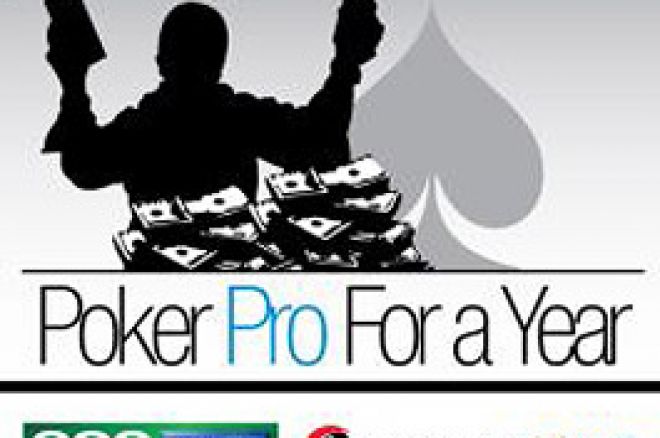 We are less than three weeks into the Poker News / 888 Poker "PokerProForAYear" league but already the action is hotting up! Players are flocking to play the many and varied tournaments that will help them realize a dream to be a sponsored poker pro!
Remember that there are 48 whole weeks over which the best players will be determined and we are only into week 3. Now is the time to join! If you think you can play low buy-in or freeroll multi-table tournaments with even a little skill, then you will not want to miss the opportunity to pick up points and learn to become a better player on the way, and in addition have the chance to win packages to several major 2007 poker tournaments even before the Main Prizes are dished out! So let's remind you of what is at stake and on offer.
The PokerProForAYear League will run until December 2007 by which time the very privileged final ten players will be destined for an adventure!
The ten finalists will be flown, all expenses paid, to a secret location to play a deciding live tournament that will be webcast live right here on Poker News. This final will determine who will be the winner of the Grand Prize and become a Poker Pro For A Year!
But even if you fail to make the ten, there are opportunities aplenty to cash in on the way through.
Here is the full list of rewards and prizes, worth in total some $150,000:
PokerProForAYear Final
All ten players in the PokerProForAYear Final will receive an all-expenses paid package (flights, accommodation and expenses) to the secret filming location.
Grand Prize
Sponsorship into FOUR[/B] (yes, four) major poker tournaments in 2008 where the buy-ins, accommodation, flights and expenses together are worth in excess of $50,000. You will also have your own personal blog on PokerProForAYear.com.
2nd place
Sponsorship into one major poker tournament in 2008 with buy-in, accommodation, flights and expenses all inclusive. This is worth up to $15,000.
3rd place
$1,000 worth of entries into Pacific Poker Global Qualifiers.
On top of those, throughout the year, there will be cash and major prizes available to PokerProForAYear League players through special $500 Freerolls and some stunning EPT/WPT/WSOP/AM package Freerolls. These are:
Series 1 Global Freeroll - $8,500 EPT Dortmund package
Series 2 Global Freeroll - $15,000 WPT Grand Prix de Paris package
Series 3 Global Freeroll - $12,000 WSOP package
Series 4 Global Freeroll - $8,500 EPT Baden package
Series 5 Global Freeroll - $12,000 Aussie Millions package
Series 6 Global Freeroll - $12,000 Aussie Millions package
Each package consists of the buy-in, accommodation and approximately $2,000 for flights and expenses.
The first of the big Freerolls in this series is on 17th February gaining the winner a place in the European Poker Tour Main Event at Dortmund, Germany!
To access all these opportunities throughout the year, you must register through the PokerProForAYear website, and be at least 21 years of age. Further details are given on that website.
Good luck from UK Poker News!
Ed note: Register for the PokerProForAYear Series and play all the major tournaments as a sponsored poker pro!