Report Finds Brits are 'Addicted' to Online Poker

Paul Sandells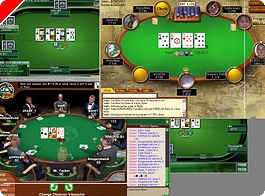 Nielsen/NetRatings, a company which monitors British use of online applications, has reported a huge increase in "addictive" application usage. The widespread availability of broadband has been largely to blame, the company claims.
Figures now suggest 83% of Britons, who have Internet access, use online application such as MSN Messenger. The figure comes from Nielsen's first publication of their "Applications Index". The index ranks the most popular, most addictive and "stickiest" (frequency) Internet applications.
The figure of 83%, from November 2006, represents a total of 25.3 million Britons using an Internet application, for an average of 3 ½ hours over the course of the month.
However, it was online poker software that stood out in the report. Users spent more time online using poker applications than any other. Users of 888 Poker spent on average a staggering 10 hours and 17 minutes per month, followed by PokerStars at 6 hours, 7 minutes and Party Poker at a surprisingly lowly 3 hours, 43 minutes.
Why users would spend almost three times as long, on average, at 888 Poker over Party Poker is one for the market analysts. One thing is for sure, the figures are a huge boost to 888 (Pacific) Poker and yet another kick in the teeth for Party Poker bosses.
Alex Burmaster, European Internet Analyst, Nielsen/NetRatings said, "As we all know, the increase in bandwidth has had a profound impact on our ability to use the Internet as an entertainment centre and communication resource."
"Watching videos, downloading and streaming audio online have become much smoother experiences since the broadband revolution and applications are, obviously, a key beneficiary of this."
"However, one could argue it is poker that has most effectively harnessed the 'always-on' nature of broadband whilst, simultaneously, providing more ammunition for those who campaign against gambling due to its addictive nature."
Ed note: Have you taken advantage of the FREE $50 at Titan Poker yet? Download Titan Poker now and pick up your free $50 today