One Moment in Time

Richard Prew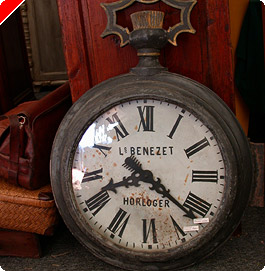 No, I am not treating you to a Whitney Houston lyrics compendium but a concept struck me this last weekend. To be frank it often strikes me, but especially so just recently.
In poker, it appears to me, there should be one constant thought that sustains even the player with the biggest self-doubt over their ability to play the game. That thought is as follows:
"One day, somehow and somewhere, there will be my perfect poker-playing day"
And on that day, in whichever poker tournament you have entered, a victory will be yours. Not just any old victory, but a victory so comprehensive that it is never in doubt.
This particular idea, and one of course which I still forlornly wait to apply for me (hopefully after I have won a satellite into a WPT/EPT or WSOP event!), came to me whilst watching and working at the Grosvenor Grand Challenge Main Event of the Luton festival. In the 102 runner field of locals, regular circuit players and even poker household names like Wernick, Citrone and Woodley was a complete stranger to everyone.
A Turkish man now living in Sweden called Mehmet Cinar. Softly spoken in his early 40s it was his first ever poker tournament outside his normal haunt, the Casino Cosmopol in Stockholm. He has never played online and was only in the UK visiting relatives and decided to enter Luton's marquee event "so I could play against different players. I always play against the same players"
It turned out to be an inspired decision as he literally sent the rest of the field giddy for two days. At the start of the second day he outdrew a couple of players with Ace-rag versus Ace-King, having re-raised all-in and of course from then on whenever he re-raised he was virtually guaranteed action. It was therefore an extremely happy coincidence for Mehmet that not only did he have the image of a loose fish but he turned into a card-rack. Always showing an Ace when he raised, and showing AA, KK and QQ no less than eight times when re-raising he hit the final with 40% of the chips in play and more than twice those of his nearest challenger. The key hand that made him dominating was as follows:
Calling a pre-flop raise with K9 in the big blind he saw a flop of K 4 10, checked and then pushed all-in when the pre-flop raiser bet. His opponent gleefully called with A-K and the nut flush draw. With a stunning predictability to this watcher, the draw missed and a nine fell on the river!
At the start of the final our plucky hero lost half his chips, 200,000 worth, in the first level liberally doubling up his opponents before the card-rush started all over again. With over half the chips in play three handed one of his two remaining opponents had the temerity to suggest a deal to be met with a withering look and the Rocky-esque line, in broken English
"I play on. I play to win. Play! Play! "
Some-time later Mehmet triumphed and with a shy smile accepted £32,550, won in a canter, and shuffled out of the casino. In all likelihood he will never be seen in a major European tournament again.
Sunday was his day, He knew it. His opponents knew it. It is the prospect of, one day, this happening to me that sent me home with a smile.
Ed note: $50 FREE! - Did that get your attention? Good! Now download Titan Poker and collect your free cash