Manchester Gets The Super Casino!

Tony Bromham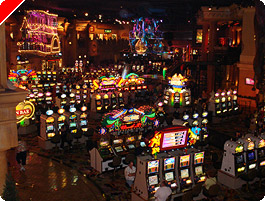 Against all expectations, the UK's first "Super-Casino", styled on Las Vegas splendour, is to be housed in Manchester, dealing a blow to the front-runners of London and Blackpool.
The SportCity complex near the City of Manchester Stadium, home to Premiership football team Manchester City and formerly the scene of the 2002 Commonwealth Games, is recommended by the Casino Advisory Panel to be the location for the venue which will have over 1,000 big jackpot gaming machines amongst its attractions, and might well also boost the city's poker circuit too.
In addition to the grant of the major licence, the Casino Advisory Panel also granted licences for smaller casinos to a number of provincial towns and cities. These include Bath and North East Somerset, Dumfries and Galloway, East Lindsey, Great Yarmouth, Hull, Leeds, Luton, Middlesbrough, Milton Keynes, Newham, Scarborough, Solihull, Southampton, Swansea, Torbay and Wolverhampton.
In a comment to the BBC, Stephen Crow, the Chairman of the Casino Advisory Panel, said:
"Manchester has a catchment area for a casino second only to that of London, and it is an area in need of regeneration at least as much as any of the others we observed. Indeed, the city has the greatest need in terms of multiple deprivation of all the proposals that were before us."
Speculation had been rife that political pressure was being applied to sway the decision in London's favour but Mr Crow insisted the panel had not received such pressure throughout its period of consultation and is confident the decision is robust enough to withstand any legal challenges from losing candidates.
The Manchester project is expected to generate £265,000,000 of investment and create 2,700 jobs, either directly or indirectly, in what is regarded as one of the most deprived areas of the UK. There will be an entertainment complex with attractions such as a sports arena, a swimming complex, nightclubs, bars and restaurants, plus hotel and casino.
Richard Leese, Leader of Manchester City Council, said:
"This is fantastic news for Manchester, and the region. Manchester has an unrivalled track record in the delivery of major regeneration schemes so we are confident we have the expertise to deliver a world-class venue, creating thousands of new jobs for local people."
The go-ahead is still subject to Parliamentary approval but it is assumed this will be a formality following the massive amount of processes gone through to date.
Ed note: Think big and play for a guaranteed $100,000 prize pool every day when you download MANSION Poker