Aussie Millions – Gus Hansen Claims Another Big Title!

Tony Bromham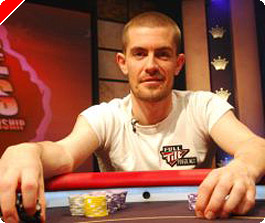 Denmark's Great Dane, Gus Hansen, has won the Aussie Millions Main Event in Melbourne, Australia. The widely-acclaimed poker professional overcame the determined challenge of US internet whizkid Jimmy "Gobboboy" Fricke.
At the start of the Final Day, the seven survivors lined up like this:
Jimmy "Gobboboy" Fricke (USA) 5,175,000
Gus Hansen (Denmark) 4,845,000
Andrew Black (Ireland) 2,100,000
Kristy Gazes (USA) 1,050,000
Julius Colman (Australia) 785,000
Marc Karam (Canada) 535,000
Hans Martin Vogl (Germany) 455,000
They would be playing for these prizes:
1st A$1,500,000
2nd A$1,000,000
3rd A$700,000
4th A$500,000
5th A$400,000
6th A$300,000
7th A$220,000
There was excitement and anticipation in the air especially as over two-thirds of the chips in play were just about equally split between two of the most aggressive players in the entire Aussie Millions field! Would we see a massive collision between Hansen and Fricke before heads-up? With leading professionals Andrew Black of Ireland (a WSOP finalist when Greg Raymer won in 2004) and Full Tilt lady, Kristy Gazes, also on hand with a working number of chips, this promised to be an entertaining contest.
Hansen Wins Over The Lady
Once play began, it was the Great Dane, Gus Hansen, who took the early initiative. He relieved Fricke of 240,000 with a big turn bet and then picked up Kristy Gazes' million plus change by calling her all-in bet with 9 9. Gazes showed A Q but failed to improve on the board. Kristy Gazes departed in 7th for a A$220,000 pay cheque.
Meanwhile, Julius Colman was making some good progress after doubling through Jimmy Fricke with an all-in bet. Colman's A Q found a Q on the flop to outdraw Fricke's 10 10. He then picked up another useful amount coming over the top of Hansen's bet with a 1.5m all-in coup. Sadly, much of the good work was undone after Colman called off a big portion of his stack to Andrew Black on an ace high flop. He mucked after Black displayed a genuinely large A Q for a A$1,700,000 pot.
Fricke Outwits the Great Dane
The chip lead swung back to Gobboboy when he called some small bets by Hansen to the river. A small pre-flop bet by the Dane was routinely called by Fricke. On a flop of 8 4 3, Hansen bet another 140,000 which was also called. The turn card Q saw Hansen bet 330,000 and it was called again. An ace on the river encouraged Hansen to represent that card with a 770,000 bet looking to take down the pot. Fricke decided he might be ahead and called with A J. Hansen showed 2 3. The small flat call by Fricke pre-flop proved to be valuable as Hansen may have assumed Fricke would have raised his little bet if he held an ace. Pokerstars qualifier Fricke has also been in the habit of picking up some sizeable pots in this tournament when behind at the flop.
Hans Martin Vogl was becoming very thin in chips but gained a reprieve and, as it soon transpired, a minimum A$100,000 leap up the prize table when doubling through Hansen with J J. The prize bonus occurred because Marc Karam quickly crashed out in 6th place when Hansen had better luck calling a small stack's all-in bet with A 9. It held up against Karam's K J. The A$300,000 prize money for Marc Karam made for a cushioned landing.
At this point, Andrew Black was sitting comfortably with around 3,000,000 in chips while the leaders Hansen and Fricke were nursing over 5,000,000 apiece. Vogl and Colman were in self-preservation mode with less than a million each.
Shorts Stacks; No Stacks
Very quickly the tournament reduced to a three-handed affair when both short stacks walked. Hans Martin Vogl will feel a little aggrieved that it was he with the 5th placed cheque of A$400,000 and not the 4th payout of A$500,000. Julius Colman was all-in with A 3 against Gus Hansen's K 10. The J 10 8 flop would have had Vogl eyeing proceedings with a warm glow but the 9 and 7 that came down to complete the board also completed the straight on the board for a split pot.
Vogl then decided to try and accumulate chips going all-in with A 9. When Jimmy Fricke called with K J, Vogl must have sensed the worst knowing Fricke's propensity for pulling the right card from the deck in these situations! The board of 9 8 5 Q merely prolonged the agony before the inevitable river J sealed Vogl's fate.
Julius Colman followed soon after in a hand with Andrew Black. Colman's A 6 all-in was routinely called by Black with pocket queens. The flop contained two more aces which might have momentarily delighted the Aussie Colman, only the other card was a Q, completing a full house for Black. The turn and river didn't give Colman a bigger "boat", so he sailed away with A$500,000. All told, a decent week's work.
Three's a Crowd
Now things would get serious. Three remaining players, all with lethal looking chip stacks, would be locking antlers for some serious differentials in prize money. The next to go would take down A$700,000 but miss out on A$1,000,000 or the big prize of A$1,500,000 and the title of Aussie Millions Champion 2007.
The count showed Fricke ahead with 6.3m, Hansen and Black had over 4m each with Hansen at a slight advantage.
Fricke on the Move
Never one to hang around, Jimmy Fricke made some moves, taking over a million from Hansen with a re-raise on an ace high flop and taking some further small pots as play tightened up. Then he made a handy call on the river of Andy Black's 300,000 bet with the board showing A Q 4 A 10. Fricke's 7 4 was enough as Black mucked his cards saying "Nice call".
After that rush by Fricke, his stack had motored ahead to over 8m with Hansen on 4.5m and Black slipping to 2.3m. This has caused Hansen and Black to slow down and Fricke continued to chip away at them taking his count above 9m for the first time. The Europeans would need to get busy soon.
Action from the small stacks
Black had a go with a 250,000 bet which Hansen called. Gobboboy on the big blind saw another opportunity and stung the pot for 1.5m. It was good enough to put the others on the defensive and they each folded.
Black had another pop going all-in with A 3 and got action from Hansen. The Dane's A 8 was ahead but Andy Black said that "Stu Ungar always made a wheel with this hand!" The flop of Q 4 2 heightened his expectation and a 4 on the turn made a split pot more likely. The river was a 10 to complete the split pot. Black survived to fight another hand. With only 1.2m left, Black was losing height fast. Hansen could relax marginally better with 2.8m while Fricke sat proud with nearly 11,000,000 in chips.
Black went for it by re-raising Fricke all-in. As big stack, Fricke felt obliged to call the 690,000 needed with 6 5. Black's K 10 held up for a much-needed injection of chips. They were not to last.
Heads Up - Big Versus Small
Andrew Black saw K Q and decided to act; Fricke saw A Q and agreed. It was good while it lasted but Andrew Black once again just fails to capture the big title. A$700,000 may well be adequate compensation.
The heads-up battle that we expected before the start of play has come to pass but the scales were tipped heavily in the American Fricke's favour, 11.2m plays 3.8m. The Dane would need the cards on his side but one double through would see battle truly joined and who would bet against Hansen in that situation? That would really be a test of the internet man's resolve.
The Great Dane Wields The Stick
"Gobboboy" was first to win a small pot to make life even harder for Hansen but the multi-WPT winner Hansen then moved decisively to level things up. On a flop of Ac Ks 7h, Fricke checked and Hansen bet out 350,000 which was called. The turn was the 8c and Fricke checked. Hansen moved all in for his tournament and Fricke headed for the tank to contemplate his future. Four minutes later, he came out of the tank and called with Kh Qh for second pair, decent kicker. Hansen's As 2s was enough for top pair, rubbish kicker, and it held up on the river. The 7.3m pot meant that we were now all-square give or take a few chips. Let battle commence!
Now Hansen got to work with a couple of all-in moves after the flop. Fricke was not prepared to gamble. The loss of those pre-flop chips at this stage made a huge difference. Hansen was suddenly the proud owner of 10.5m chips against Fricke's 4.5m. Could Hansen grind him into the dust? "Almost" is the answer.
"Gobboboy" Loves The River
While Fricke had got to the final with some super-aggressive play, he had benefitted from a good number of turn and river savers on the way at crucial moments. Now he needed one more than ever when, on a board of J 10 10, he went all-in with K Q. Hansen pondered for ages before calling with his A K sensing that Fricke had missed and was not holding a pocket pair. The open-ended draw was the only hope for Fricke who was otherwise dominated and could not rely on the Q as that would complete a straight for Hansen.
The turn was another 10 but the river? You guessed right, a 9. All of a sudden, Fricke was ahead once more. Now it was Hansen's turn to go for the double up. On a flop of K J 6, both players went all-in with Fricke showing a rather desperate looking gutshot draw with Q 9 and Hansen feeling better about things with K 10. This time, Fricke missed his cards and Hansen took back the lead, 8.8m played 6.2m. Too close to call.
Gus Turns The Screw
On a board of K Q 2 9, Gus Hansen checked the board, holding J 10, a made straight. Fricke didn't fall for the trap and checked back. An ace on the river saw Hansen bet 1.1m and Fricke pondered this before calling and mucking. More chips for Hansen.
Finally, after 745 other contenders had fallen by the wayside in this superb Aussie Millions Main Event, The Great Dane, Gus Hansen, went for the throat of the 746th player. The crucial hand saw a flop of Qd 8d 6c which Fricke checked. Gus Hansen bet 1,000,000, and Fricke check-raised all in. Hansen called instantly with the pocket rockets, A A! Fricke flipped over 9c 7c needing more miracles. The 2c on the turn opened up a flush draw for him but the 9s on the river sealed his fate. Jimmy Fricke finished runner-up with a prize of A$1,000,000 to come.
Gus Hansen wins A$1,500,000 and is the Aussie Millions 2007 Champion!
Ed note: Join the poker circuit by becoming a Poker Pro For a Year.