Tournament Report: Grosvenor Grand Challenge at Luton

Richard Prew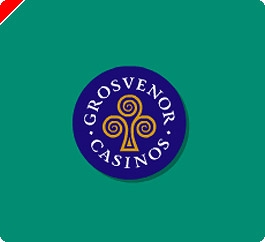 This was the last festival for Grosvenor Luton before a move to new premises in February, the new premises containing a self-contained 150 seat state of the art card-room facility. Numbers for this festival were slightly affected by the clash with EPT Copenhagen but nevertheless the £1,000 main event attracted 102 runners including Blue Square sponsored Micky Wernick and JP Kelly and a host of festival regulars including Luton side event winners Michael McCool, John Hewston and Kyriacos Dionysiou.
Once again the Main event had a nice structure affording plenty of play to all. 10,000 starting chips and a one hour clock together with the 150-300 level ensured a long first night as the field whittled down. Notwithstanding this early action was brisk. In the first few minutes of the competition Dave Clark flopped a straight flush whilst incredibly his opponent was sitting there with the nut flush on board. From this inevitable double up Clark was to be amongst the chip-leaders all night. In big hands elsewhere Steve Templeman, making a return to the festival scene after a long absence, doubled up with AK versus AQ on a flop that gave both players top pair but gave the holder of AQ the nut flush draw, which missed.
Later in the night Warren Wooldridge eliminated Mickey Wernick, flopping a set of nines to Wernick's Pocket Aces and amongst the leading pack were some unfamiliar players on the circuit, Stewart Clutterbuck, Mark Lowe and Billy Ngo. Dennis O'Mahoney was having an extraordinary night. Forced correctly to lay down AA post flop and Kings, Queens twice and Jacks pre lop three times he survived until exiting on the last hand of the night, running AQ into QQ himself. Local youngster Ben Turnstill, who is gaining an impressive pedigree in online events, had a similar roller-coaster ride. He had AA cracked by Driton Haxhiaj's K10 and was down to under 10 big blinds when he staged a steady recovery to end the day on average chips.
At the end of the first day a relatively high 44 runners remaining with average chips 23,800 and blinds going 600-1,200 on their return the next afternoon. Chip Leaders were as follows:
Mark Lowe: 60,700
Ariel Adda 52,600
Anthony Nicholls 50,000
Billy Ngo 46,500
Rob Garfield 37,900
Steve Templeman 37,400
However there was a long way to go, especially when you consider that players of the calibre of McCool, Grech, Persaud, Alterman, Jelinek and Channing were still in with competitive chip-stacks.
Early on day two sixteen players were eliminated on the first level as play was brisk. Several of these were at the hands of Mehmet Cinar who was to both enjoy extraordinary slices of luck and excellent starting cards all day. In key hands former world Seven Card Stud champion Ray Brown eliminated Mick Fletcher when flopping the second nut flush to Fletcher's nut flush draw, which missed. Last Blackpool festival winner Sunny Chattha hit two full houses to move towards the chip lead and Rob Garfield got extremely unlucky in the biggest pot of the competition pre-final table versus Cinar. His AK out drawn by K9 on a King high flop, all- in then, when a 9 hit the turn. This made Cinar a big chip leader.
Around the bubble area both Sunny Chatta and Ben Turnstill exited leaving the final table line-up as follows:
Mehmet Cinar 375,000
Ariel Adda 179,000
Glenn Ashworth 139,000
Tina Jordan 124,000
Mark Lowe 89,000
Ray Iley 82,000
Ray Brown 66,000
Andrew Georgiou 51,000
Steve Templeman 24,000
Templeman, with blinds at 1,000-2,000 exited in the first two rounds at which point Cinar doubled up several players by making questionable calls to make the final look suddenly a lot more competitive. However when Ashworth re-raised another Cinar raise all in with pocket threes he found Cinar waiting with QQ to eliminate him in 8th.
Ray Brown was unfortunate in 7th, his KK outdrawn by Lowe's A4 when he faced an automatic call of the push. Iley then left in 6th and Adda, outdrawn in two key points held on to 5th.
Play four handed went on for a long time. Both Jordan and Georgiou were very patient short-stacks and Lowe, from Sheffield, and Cinar were content to bide their time. A lot of the poker was raise and fold, and relatively passive until Cinar's key hand occurred.
Raising on the button with A8 of hearts, Jordan raised him all in on the Big blind, her strack covering his, with KK. Cinar called, hit the Ace, eliminated Jordan and put himself into an unassailable position which was confirmed when Lowe ran Ad10d IN TO Cinar's AA three handed.
The very conservative Andre Georgiou thus reached the heads-up phase, but at a big chip disadvantage which he was unable to counter.
If truth be told it was an uninspiring and passive final table between a series of very tight players and the loose, aggressive Cinar who was unbeatable all day. Cinar is a Turk now based in Sweden. A player in Stockholm visiting relatives in the UK he entered on a whim and enjoyed great fortune and to triumph and win £32,550.
Ed note: Download Sun Poker for the best chance of qualifying for the 2007 WSOP main event