Celebrities and Poker in Vogue for 2007

Tony Bromham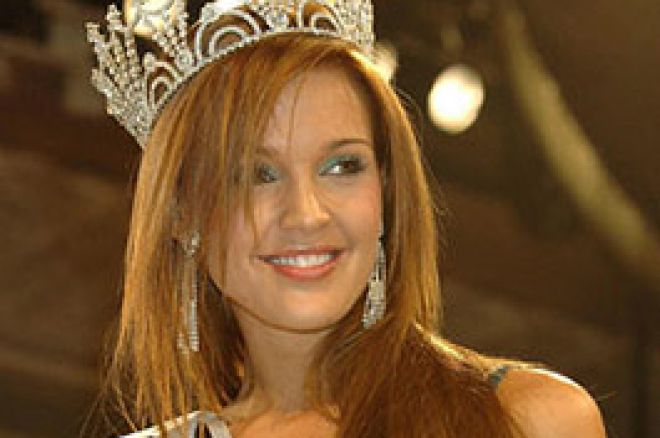 Poker is now truly a mainstream activity, with celebrities falling over themselves to state that "I just love playing poker!" and, to cap it all, the game made centre stage in one of the great entertainment events of any year – a new James Bond movie!
If ever someone or something has finally made it big, surely it is when that someone or something makes an appearance in a 007 plot! Unlike BMW, the German manufacturer of quality vehicles that paid a King's ransom to have Britain's greatest spy drive a foreign motor in the service of Her Majesty, poker made the grade simply because it is a card game that is now deemed acceptable by the world's cinema-going public. More than that, it is embraced by the celebrity world!
Talking of current celebrity (in its loosest sense!), we would not be surprised if a pack of cards were brought into the "Celebrity Big Brother" house, perhaps by Danielle Lloyd (pictured), the former Miss Great Britain, who recently played in the Party Poker European Poker Open to great fanfare with her footballing boyfriend Teddy Sheringham. It would be no surprise at all if she were primed by Endemol to teach the rest of the house how to play the game. The scope for scandal would be endless but maybe they have missed a trick there!
As Catman – The Poker Agent, now a regular guest writer at UK Poker News, demonstrates in his articles, showbusiness and celebrity is growing in its impact on poker and turning it into a lifestyle accessory in many cases. Businesses are embracing poker as a tool for promotion and involvement for its workforces and marketplaces, and television is dictating the format of poker tournaments by generating large prize pools that attract the best players in the world, even if secretly (or sometimes openly) many of those players detest the formats they play. Money talks!
Of course, dyed-in-the-wool players will continue to protest and criticise, but maybe they should not. The money, the celebrity and the finance that has come from TV exposure has helped create the market along with the internet that has given every ordinary man and woman in the street the means by which to play the game and gain access to the big time.
The number of celebrities that now take poker seriously is huge and in several cases online poker companies have taken them on to represent their brands. If a player is lucky enough to be both a good poker player and a worthy celebrity, that person has it made!
Several examples come to mind in the UK (with apologies to the many missed out):
Michael Greco – an accomplished stage actor but better known for his Eastenders appearances as Beppe di Marco. His poker exploits include several decent paydays including a €40,000 7th place finish in the EPT Irish Masters in 2005. Greco is always a good draw for celebrity invitational events.
Steve Davis - one of several past and present leading snooker professionals who apply their ability to focus in high-pressure situations to the green baize of poker, Davis is a regular in Ladbrokes sponsored events and tournaments.
Leilani Dowding - another from the Ladbrokes stable who plays in their poker tournaments and who was the feature model and "face" at the recent finale of the Poker Million V.
Teddy Sheringham - As mentioned above in connection with girlfriend Danielle Lloyd, Sheringham made his name in poker through being an excellent poker player and paying his way into events but has now been snapped up by VC Poker as their "poker face".
Nick Leeson - Notorious mover and shaker behind the Barings Bank collapse in 1995 who came back to UK public life after his prison spell in Singapore by undertaking a public speaking role. Somehow, his becoming an accomplished online poker player was never in doubt! His celebrity poker status is assured and he is a regular on Boss Media online tables.
Many other figures are involved in poker, especially from the world of sport and acting. Spare time and plenty of money are always an excellent way to get going in poker so it is no surprise to find the likes of ex-cricketer from the fast lane, Ed Giddins, as one example of the type of celebrity that will succeed and be sought after by poker companies and the entertainment industry. Then there are rugby players like Austin Healey and Mike Tindall, ex-footballers like Vinnie Jones, now of course a Hollywood actor of some repute. The prospect of meeting him across a poker table is not one to savour, especially if you have had a prior viewing of "Lock Stock and Two Smoking Barrels!
Make no mistake, 2007 will see plenty of entertainment-driven events using poker as its vehicle. If people enjoy doing it (whatever "IT" is) you can be sure that once "IT" has attained general acceptance in the public eye, "IT" will become the subject of TV shows, brand sponsorship and newspaper and magazine columns. Finally, "IT" will be in a James Bond film!
Expect more of the same in 2007 for poker.
Ed note: You can join the celebrity legions when you become a Poker Pro for a Year