Poker Legend's New Book and Pink Tutu Girls!

Catman - The Poker Agent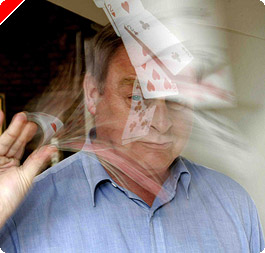 This week saw one of Europe's biggest gaming exhibitions, ICE and ATE, the casino and amusement trade exhibition - just another excuse for a poker industry day out and, of course, the chance to play unlimited free SEGA games and ride on mini-fairground horses!
The exhibition was held at Earl's Court and was of course mobbed. I won't bore you with the details, but I made two great observations. Well, perhaps not great, but Barclay's Bank's large stand from last year had mysteriously vanished, which is an ominous sign indeed. Next, word was spreading across those that dealt in live poker tables and casino business was that, from September 2007 when the new Gaming Act 2005 comes into play, casinos will be able to charge rake.
The point is, quite simply, that in life when someone provides a service we have got to pay. Free poker simply does not exist, but healthy competition will surely provide us players with the very best services we can want. I am considering the numerous requests I am getting for a strip poker club; the rake will be seriously high but who is going to complain?
ICE kindly provided us with a get-out clause - start your own casino at home, a spieler or whatever you desire, with the most stunning set of casino furnishings with mahogany tables that you would die for that fold away into tables and cupboards in seconds if the law decides to raid you!
Numerous parties follow the exhibitions and I was lucky to be invited by the sensationally extravagant Michael Caselli, Editor-in-Chief, to his Lyceum Media party in Soho. "Catman, there will be a thousand people there, you've got to come!", barked Michael and, yes, throughout the night there were indeed a thousand.
Everywhere I moved there was someone to tell me about their movements forward in the world of poker. First was the stunning and lovely Britta Streatfield along with Scandinavia's highest-ranking poker girl, Anina Staunbo Gundersen. Britta, ex-marketer of Gutshot, is starting up www.fantasypokercup.com. Now, I haven't looked yet but I know it will be big; she is a poker entrepreneur who will do it.
Next was Ash, he was the dude who was featured on Sky One in a show where he sold his house and put all the money on number 7 at the casino. Excuse the looseness of my introduction, but it was a party with lots of bubbly flowing, he has set up a website which had some very stylised graphics ready for the launch of what looks like another project associated with football.
As I wandered through the masses I was greeted by many others with similar projects going; the poker game is still only in its first half and will continue offering us what we deserve.
Wandering on, I managed to catch a break, with Mr Cool himself, Marc Goodwin, just back from the Aussie Millions, with Michael Greco. Funnily enough, when I was last playing the DC regularly at The Vic a year ago, I managed to avoid Michael, as I was still a little peeved after he gave me a blank when I was filming at The Ministry of Sound. Life is a game of poker; never take it as an insult. The good news is, after we were introduced and I got that little story off my chest, I have got to say he is a diamond. Michael has become one of DTD's sponsored players and you know what, it's not a bad choice.
Marc G of course is not only successful for his great cash play, but a man with "Bond" charisma. The story went on and on, Michael Casselli's green velvet smoking jacket was very Austin Powers, but obviously not quite as 'shagadelic' as the pink-wigged tutu-dressed vixens that were parading as go-go girls at Lyceum's outrageous event.
With Bond on my mind, I met with Daniel Craig's agent, who promised me a shot at pitching her with "how Daniel could benefit from playing poker". The location was Langham's Brasserie in Mayfair. If you have never been, then go, it is a touch of old English glamour. The late Michael Langham was the Doyle Brunson or Stu Ungar of the restaurant scene, and his biz partner was Michael Caine. Langham was an outrageous character, who would literally be found drunk under the table and insult his customers proudly. The restaurant is packed to this day, as it has been for the last thirty years plus.
For the next night I was fortunate enough to have a head-up with another poker legend, a man just as interesting and with a similar contribution to society. Tony Holden is certainly not rude or insulting, he likes a glass of wine I have been told, but he is a 'published author'. A man with a straight flush for a persona, and above all the author of The Big Deal. If you want to experience life on the road as a novice, taking a gap year out to become a pro, this is a must read. Of course, please don't forget Herbert O.Yardley's Education of a Poker Player.
Well, the great news is that the sixth book I will have ever read from front to back is coming out in May, Big Deal 2. I asked Tony to tell me a little more about the book:
"Big Deal was published nearly 17 years ago, in 1990, and it has changed not just my life, but those of many other people in ways I had not anticipated. Wherever I go, from Walsall to Vegas, people come up to me and say that they're here because they read Big Deal and took up poker. Some say they gave up their jobs and turned pro. Some Brits moved to Vegas. I just hope no-one went broke or worse. It's now sold well into six figures worldwide - and for years I've resisted requests for a sequel. I thought it was a one-off adventure I couldn't repeat. With the TV/internet-led poker boom of the last few years, however, I wanted to get back on the road myself, so I used a report from the front line for a sequel which begins and ends at the World Series, and again travels the world playing poker in between."
By the way, I must add that the interview was conducted whilst Tony was playing a game of poker with me at the Loose Cannon Sports Bar and VC Players Lounge which will boast a stunning celebrity launch on 6th February, with an amazing $10k free roll and lots of stunning celebs – oops, sorry it had to come out, but I am a Poker Agent and Publicist!
It is so rare in life, you get to chat with those that you really admire. Why I admire him, you will know when you get to read the book. Here is a little preview Tony has supplied from Big Deal 2:
Next hand, I am dealt every poker player's dream, and potential nightmare – a pair of aces, or 'pocket rockets' – which you can expect only once in every 220 hands, a statistic even I can keep in my head. With the blinds now up to $50-$100, I raise what I consider to be a well-judged $500. The guy on my left re-raises me $1,000. Everyone round to me folds; I re-raise him another $2,000. To my utter astonishment, he immediately goes all in – bets everything he has – to the tune of his entire $8,000, only five hundred less than I have myself.
What the heck could he be holding? Luckily, I don't time to wonder. Automatic poker pilot has kicked in, and all my chips have somehow reached the middle of the table. Without even pausing to think, I have called.
There can be no more betting, so I turn over my aces, and he turns over a pair of queens. Clearly an internet punter, perhaps playing with human beings for the first time in his life, he doesn't seem too fazed by my mighty hand. Especially when the first card I see coming in the flop is, yes, a queen. No whooping or air-punching from him, just a calm, quiet assumption that poker justice is being done, as the dealer rolls Q-K-3 to give him a cruel and unusual 'set' (at odds of 8-1 against). In time-honoured fashion I stand up and start gathering what is left of my worldly goods, ready to leave the room and bore for Britain with my bad-beat story.
A banged fist on the baize, and the turn comes a jack. There is barely time to work it out before the river brings a ten, one of just four cards in the deck (out of the forty-four available, so a 10-1 shot) that could give me top straight, known in the trade as a 'Broadway'.
Give that blessed street my grateful regards. It takes the guy with trip queens a moment to realize that he's lost. He has never got up from his seat, or shown the slightest sign of emotion. Now, with all the indignation of a player who's suffered a really bad beat, he picks up his I-pod and makes his way out of the arena, muttering darkly to himself as he goes.
Me, I sit down again somewhat a-tremble, but with a satisfying sense that poker justice has been done. The better starting hand, after all, has won the pot. It's been the first real drama at our table, which has now lost its first player. Some looks, even a few words are exchanged with other players for the first time since we sat down two hours ago. "That wasn't much fun" I gasp. There are sympathetic murmurs, amid worried looks at my pile of chips. Doubled up to $17,000, I am now, of course, chip leader, in a position to start bullying the table – raising with lesser hands to force out the smaller stacks – and start stealing the blinds when they grow big enough to bother…"[/I]
What a great week it has been.
Ed note: Re-raise with confidence. Download MANSION Poker and play for the Big Value daily $100,000 Prize Pool