Aussie Millions Update – Part 2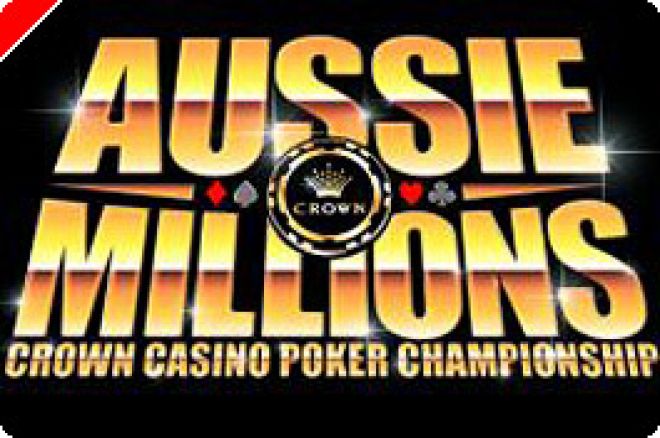 The Aussie Millions Poker Extravaganza is building up nicely to the Main Event which starts on Sunday. Meanwhile, a further three side events have run their course this week, and we round these up for you now.
Before doing that, we would like to point out that you can keep right up to date with events as they happen by clicking on our Live Update feature on the home page, or even clicking here:
There is so much more to this service as well. We have a video gallery, a photo gallery, both updated periodically as events progress, plus a Real Time Reporting Simulator with which you can follow certain hands being played.
It is certainly worthwhile doing that now because the HUGE A$100,000 buy-in Invitational event (no. 8) is on the final table. This was a special high stakes invitational tournament with each player putting A$100,000 into the pot. 18 players stumped up the readies hoping to win the A$1,000,000 first prize (A$550,000 for second and A$250,000 for third). These players were:
Daniel Negreanu
Masaaki Kagawa
Phil Ivey
Gus Hansen
Erik Seidel
Roland de Wolfe
Michael Sampurna
Jason Gray
Kevin O'Donnell
Jeff Lisandro
Erick Lindgren
John D'Agostino
Joe Reina
David Benyamine
Lee Nelson
John Juanda
Tony G
Tony Bloom
We'll summarise the outcome of this in our next bulletin on UK Poker News.
Events numbered 4 to 6 have already completed and the results follow below, while number 7 is on the final table right now (again, please click on our live reporting feature for the latest).
So to the results so far in:
Event # 4 - A$1,150 No Limit Hold'em with Rebuys (2 day event – 164 players; 300 rebuys)
1st - Gary Benson who wins A$148,480
2nd – Cody Slaubaugh (A$88,160)
3rd – Jim Sachinidis (A$51,040)
4th – Jeff Heiberg (A$37,120)
5th - Luke Brabin (A$27,840)
6th – Baden Logan (A$23,200)
7th – Sam Yousef (A$18,560)
8th – Matthew Hilger (A$13,920)
9th – Javier Arango (A$9,280)
Eventual runner-up Cody Slaubaugh got unlucky in his last two hands, first splitting the pot with A5 on an A235 board when a 4 hit the river, then losing with QQ versus 93 on a 987 flop. This gave Benson the title yet Slaubaugh had a miracle river card to thank for stopping him crashing out in eighth place earlier on. Such are the vagaries of final table poker! The main story of this event was third placed Jim Sachinidis who was having to dash across to play hands in Event 6, the Pot Limit Omaha Rebuy, simultaneously!
Event # 5 - $1,050 PokerPro Hold'em Championships (1 day event – 31 players)
This was something different, a tournament on the electronic PokerPro tables. The hand that knocked out the eighth placed finisher was one with which internet players might be familiar. A flop and turn of Q 10 Q 10 resulted in two players getting their "chips" all in. One shows a Q, the other shows a 10. The river was? You guessed it, the case 10. Eventually, four places paid:
1st – Adam Weiss who wins A$12,400
2nd – John Juan (A$9,300)
3rd – Dennis Huntly (A$6,200)
4th – Barry "Trigger" Warner (A$3,100)
Event # 6 - $3,200 Pot Limit Omaha with Rebuys (1 day event – 55 players; 110 rebuys)
Amongst the more well-known contingent up for this one were Tony G, Mel Judah, Scott Fischman, Jesse Jones, Ireland's Andy Black and the UK's Ram Vaswani, Tony Bloom and Richard Ashby.
Tony G was going well but went out in 14th place to Andy Black who built up his chips impressively. The other finishers before the final table included Jim Sachinidis in 13th (also 3rd in Event 4), reigning Aussie Millions champ Lee Nelson in 12th, Tony Bloom in 11th and Graeme Putt in 10th.
Two more crashed soon after and the event was wrapped up somewhat artificially when the last seven struck a deal and raised the blinds voluntarily. Ireland's Andy Black was well-placed at the time and received A$100,000 while the others are reported to have got A$65,000 apiece. For the record, after the tournament was played out amid manic action, the official standings looked like this:
1st – Jesse Jones (A$176,000)
2nd – Andrew Black (A$115,500)
3rd – Steve Hegyi (A$66,000)
4th – Van Marcus (A$49,500)
5th – Ralph Burd (A$33,000)
6th – Mark Vos (A$20,000)
7th – Kristy Gazes (A$15,000)
8th – Richard Redmond (A$10,000)
9th – Kevin O'Donnell (A$10,000)
Check back for more from Melbourne with UK Poker News.
Ed note: Grab a $500 bonus when you download Paddy Power Poker one of the UK and Ireland's best poker rooms