Aussie Millions Update – Part 1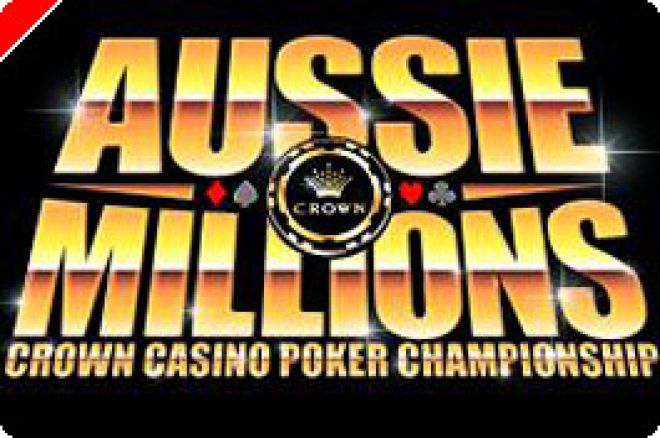 The world-renowned Aussie Millions Poker Festival is now underway in Melbourne, Australia under the guidance of Tournament Director, Matt Savage. Here, we round up the early tournament results.
If you want to keep up with events as they happen, there is only one place to be, and that is with our Live Update team in Melbourne! All the action can be found here:
Several side events are currently taking place before the Main Event starts on 14th January. Before summarising the results of the three events so far completed at the Crown Casino in Melbourne, we would like to emphasise that the Main Event is likely to be one of the biggest outside America.
Players such as World Series of Poker Champions, Jamie Gold (2006), Joe Hachem (2005, and also winner of the WPT Doyle Brunson North American Classic last month, winning over $2,000,000) and Greg 'Fossil Man' Raymer (2004) are confirmed in addition to Phil Ivey, Daniel Negreanu, Chris 'Jesus' Ferguson, Gus Hansen, Howard "The Professor" Lederer, Kathy Liebert, Antonio "The Magician" Esfandiari, Scott Fischman, Marcel "The Flying Dutchman" Luske, Asian Poker Tour champion Tony G, and defending Aussie Millions champion, New Zealand's Lee Nelson. There is likely to be a prize pool in excess of A$6,000,000 and over 600 players competing.
The three completed events so far finished with final tables looking like this:
Event # 1 - $1,100 No Limit Hold'em (2 day event – 516 players)
1st - Gabriel Xiourouffa who wins A$139,047
2nd - Zhi Hong Ma (A$84,975)
3rd - Paul Effeney (A$56,560)
4th - Andy Gelfand (A$38,625)
5th - Joe Pua (A$28,325)
6th - Michael Harrison Ford (A$20,600)
7th - Matt Hilger (A$15,450)
8th - Karim Jomeen (A$11,588)
9th - George Tsakrios (A$8,240)
Xiourouffa dominated the final table and managed to knock out seven of the eight opponents with a combination of chipstack aggression and the right cards at the right time. Heads up, Zhi Hong Ma chose the wrong time to attempt a double up, running his KJ into Xiourouffa's AK.
Event # 2 - $1,100 Limit Hold'em (1 day event – 171 players)
There were several well-known players in this Limit Hold'em contest, including Jesse Jones, J.J. Liu, Mel Judah, Harry Demetriou, Scott Fischman, Shannon Elizabeth and Kenna James. However, the final table ended like this:
1st - Nick Suter (A$54,400)
2nd - Billy "the Croc" Argyros (A$32,300)
3rd - John Juan (A$18,700)
4th - Jesse Jones (A$13,600)
5th - Paul Ravesi (A$10,200)
6th - Jason Gray (A$8,500)
7th - Gary Benson (A$6,800)
8th - Dr Eric Sclavos (A$5,100)
9th - Joe Cabret (A$3,400)
Heads up Nick Sutar held the advantage, 420,000 to Billy "the Croc" Argyros' 240,000 chips. "The Croc" is a well-known face Down Under, a veteran poker player of some standing and poker TV commentator too. Unfortunately, when Argyros moved the remainder of his dwindling pile of chips all-in with Q3 suited, he was called by Sutar for value with 89 offsuit. The flop came down a 2-pair for Sutar and secured him the title of Limit Hold'em Champion.
Event # 3 - $1,100 Limit Omaha Hi/Lo (1 day event – 96 players)
Amongst the participants here were reigning Asian Poker Tour Champion Tony G, Kenna James, Marsha Waggoner, Mel Judah and Mark Vos.
1st - Jethro Horowitz (A$33,600)
2nd - Adam Geyer (A$19,200)
3rd - Constantine Harrach (A$11,520)
4th - Marsha Waggoner (A$9,600)
5th - Billy "the Croc" Argyros (A$7,680)
6th - Robert Sherer (A$5,760)
7th - Mel Judah (A$3,840)
8th - David Gorr (A$2,880)
9th - Maurie Pears / Woody Deck (split the ninth place A$1,920)
There were creditable final table finishes for Mel Judah and Billy "The Croc" Argyros (that's two out of three so far for "The Croc"!), but in the end, it took a gruelling 4 hours and more to separate the last two participants Adam Geyer and internet pro Jethro Horowitz. In the end, it was down to one huge pot to strike a mortal blow to Geyer from which he failed to recover.
Ed note: Use our deposit code UKPNEWS when you download Full Tilt Poker and claim a $600 match deposit bonus as you play