Aussie Millions Main Event – The Big Guns Are Down to the Last 14

Tony Bromham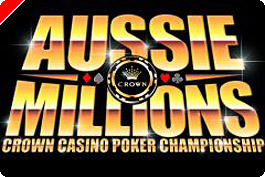 After all the excitement of the eight side events – including a short but spectacular A$100,000 big buy-in invitational won by Erick Lindgren – it is down to The Aussie Millions Main Event! In fact, two players will walk from this with a million. Second place gets A$1,000,000 while the winner a handsome A$1,500,000. 80 places are paid down to A$15,000.
A jumbo-sized field of 747 players started on the journey with half going out on Day 1A and half on Day 1B. Editorial space was at a premium yesterday on UK Poker News due to the big Neteller and Gutshot legal developments so we will skim right over the Day 1 flights and concentrate here on Days 2 and 3 which have now just completed.
Some notables that fell at the first hurdle were Gavin Smith, Clonie Gowan, Greg Raymer, Tony G, Evelyn Ng, Kenna James, Mike Matusow, Kathy Liebert, Andy Bloch, John Juanda, Phil Ivey (who gambled his short stack just before the close of play on Day 1B and lost).
DAY 2
299 players made it through to Day 2 and those starting the day in the top 10 were:
Patrik Antonius 315,400
Dennis Huntly 246,200
James Mogan 229,300
Nebil Soner 201,400
Christopher Chronis 178,100
Xen Xenofontos 172,200
Thariq Ahmad 159,200
James Fricke 139,100
Kristy Gazes 133,900
Mark James 132,600
The aggressive Finnish player, Patrik Antonius, is always a threat with his fearless style. The smart betting would be on his finishing Day 2 with either a monster chipstack or none at all! He began the day with reigning Aussie Millions champ Lee Nelson on his table.
Once the cards were in the air, one of last year's finalists, US youngster Shannon Shorr, soon busted out. A little later on, John D'Agostino ran a flop bluff into a made set of 5's and perished. The UK's Ben Roberts' set of queens was no match for a quad of kings and he went out, but Ireland's Andrew Black was making steady progress a little further down the field.
Players were gunning for chips as they needed to which gave us a high rate of attrition with the fallen being stretchered out to the rail on a regular basis. The field was down to little over 200 players after less than two of the 90 minute levels had expired
While all this was going on, the Australian Tennis Open was getting into its stride elsewhere amid sweltering temperatures that would cause at least one player to retire from his match with exhaustion. The heat also proved too much, or so it would seem, for the infrastructure of Melbourne's utility companies as the entire casino blacked out as level three commenced. Auxiliary systems are go!
With the enforced break behind us, we could see that Andrew Black's table boasted recent A$1,000,000 winner of event 8, Erick Lindgren, for company. Meantime, on the TV table, Gus Hansen continued to cast his spell over the cards, spiking a river queen to eliminate Jeff Madsen (to be fair, Hansen had the better hand all-in pre-flop).
A huge pot soon developed between the big guns on Patrik Antonius' table. Lee Nelson bet 15,000 on a flop of 8s 5s 4c and was raised by Antonius with 45,000. Nelson moved all in for the rest of his chips. Antonius called with Js Jd. To his relief, Nelson revealed nothing more than a weak flush draw, 10s 9s. A crowd gathered around the table as the defending champion's tournament life was on the line. The turn was 4s (to great cheers for the New Zealander) and Antonius missed his full house and higher flush draws on the river. Nelson scooped the huge pot of over 270,000 and Antonius went under 200,000. There was a break soon after this and Patrik Antonius did not immediately reappear, allegedly still steaming from his loss to Nelson. That's poker!
There was another example of poker's rollercoaster emotions at Chris "Jesus" Ferguson's table. He got all his money in with 9 9 only to run into A A. The flop came J J 4, but the turn was a miracle 9, giving Ferguson a full house and apparently saving him, but a third J on the river spelt the end for the Full Tilt man with the long hair.
Another Full Tilt stalwart – Erick Lundgren - followed him down the tunnel thanks to Andrew Black. Lundgren was very short-stacked already and his Q Q "lifesaver" failed to hold up against a pair of 10's.
It was not so grim for Gus Hansen (yet another Full Tilt pro; are there any who aren't?). He was rolling over his table and was up to over 200,000 in chips putting him into the top 10. The leader at this point was a player who was playing a wild game, Shane "Shaniac" Schleger on over 400,000. Just behind him, renewed after his major pot win from Patrik Antonius, was none other than Lee Nelson. Two Aussie Millions on the bounce? Surely not!
Antonius himself continued to dwindle away to below 100,000, bluffing off chips as he went. Then he went all-in with Q 9 and was called by a smaller stack with A 10. Not that small though! Antonius lost and was down to a chip and a chair – well almost, 3,000 to be precise. Would you also be surprised to learn that a while later he had 50,000? He did, thanks to some well-timed doubling and tripling up! Some of this was at the expense of the Hendon Mob's Barny Boatman. Then, to rub salt into the wound, Antonius put Barny out and doubled himself up to over 100,000. What a recovery!
Barny's fellow Hendon Mobster and brother, Ross Boatman, was making better progress getting up to 140,000.
With 80 places paying a minimum of A$15,000, play slowed up as less than 100 players were left. This was of no concern to internet whizkid Jimmy "Gobboboy" Fricke who took down a huge pot to get up to 440,000, soon pushing that up to over 500,000. Also well-placed was "Aussie, Aussie, Aussie!" favourite Joe Hachem, up to 290,000 and using his muscle to frighten off those stacks fearing the dreaded bubble. Gus Hansen was the player to bust out the bubble boy. Unlucky Craig Burgess! Hansen finished the day with a whopping 562,500 chips.
DAY 3
All 80 players in the cash placings began Day 3. An air of relaxation surely filled the place! The top ten looked like this before kick-off:
Haralabos Voulgaris 634,500
Gus Hansen 562,500
Jimmy Fricke 535,500
Jan Suchanek 516,000
Emanuel Seal 514,000
Andrew Black 501,500
Patrick Fletcher 484,500
Paul Wasicka 451,500
Chris Chronis 416,000
Michael Ismael 400,500
With very little difference in prize money for those finishing below 30th, that left 50 places for the short stacks to go for broke in a quest to double up a couple of times. Casualties came thick and fast. Patrik Antonius continued his remarkable recovery from the land of the dead men with a fortunate turn card which converted his pocket sevens into a set and eliminated a smaller stack holding 9 9.
Haralabos Voulgaris, the chip leader at the beginning of Day 3 is a Canadian professional sports bettor and has a second place in a WPT Main Event to his name. Here, he became the first player to pass 1,000,000 chips at this event by winning a monster pot in an A A vs K K confrontation. His aces held up against the unlucky Nicki Dalgaard of Denmark.
Joe Hachem was also busy eliminating players as was Andrew Black. However, it was Gus Hansen who sent last year's man Lee Nelson to the rail leaving the field down to 36 players. At this point, all seats were redrawn into six-handed tables. Minimum prize money for the players was now A$30,000, going up to A$40,000 from 30th.
Another Full Tilt stalwart Kristy Gazes surged into the ratings with a 700,000 pot taken from Patrik Antonius.
The UK's Paul "Pab" Foltyn was eliminated in a creditable 35th place taking away A$30,000, as did Katherine Hartree, a regular from the UK Ladbrokes Poker stable.
Talented US player Paul Wasicka, who is in his mid-20's and already has poker winnings of over $6m to his name, improved his chances of adding plenty more when he doubled up through Gus Hansen and scooped a 500,000 pot.
Hansen also doubled up Ross Boatman for another 128,000 of his chips. Gus is calling small stacks with any feasible hole cards like 4 4 and A 6. It's risky but then again, it's Hansen in the driving seat! Indeed, it was Hansen who finally put Boatman into port. A flop of A 6 9 helped both players. Boatman went all-in with his A 10 but the Great Dane's pocket 6's were too good.
Aussie Joe Hachem had slipped away in the background and was finally busted out in 23rd place. Yet another good showing from the WSOP and WPT winner who continues to strengthen his standing amongst the greats of poker today.
Big pots mean even the larger stacks might fall over quickly. Earlier we mentioned Haralabos Voulgaris being the first million chip man. Well, he busted in 21st!
Yoyo-man Patrik Antonius was at it again. He was down to 300,000 again but managed to find A A just as Kristy Gazes caught the kings! Antonius up to 600,000.
Internet man Jimmy Fricke then caught the kind of break winners sometimes need. Taking down a 3,000,000 chip monster pot by means of a rivered straight knocked "Shaniac" Schleger clean out of the tournament with nothing but A$60,000 with which to sooth his shattered emotions! It's a cruel game. Fricke continued the rush by spiking a 10 against K K when holding 10 10.
However, near the end of play, he slipped up in a huge pot with Antonius and a smaller stack Julius Colman. On a flop of 3 3 2, all three went all-in. Colman took down the smaller main pot holding A 3 for the set while Antonius damaged Fricke's stack in the side pot with Q Q vs 10 10. Antonius got revenge with A A and crippled Colman's stack.
But it was Gus Hansen with the last laugh. He made a value call with J J when two smaller stacks were all in pre-flop. Hansen's J J saw off the A K and Q 10 he was up against when all five board cards were in single numbers. Hansen went above 2,000,000 chips.
They will play for a short while tomorrow (Day 4) until we are down to a final TV Table. That will be played out on Friday as scheduled.
Official chip counts will follow but it appears that Jimmy Fricke, Gus Hansen and Marc Karam are the leaders at this stage with Patrik Antonius and Andrew Black in attendance.
Ed note: Qualify for the big tournaments and get $50 Free when you open an account at Titan Poker