Aussie Millions – The Magnificent Seven All Set To Ride

Tony Bromham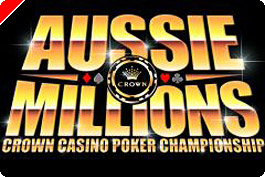 It's crunch time in sunny Melbourne for the seven remaining poker players who will now play for a A$1,500,000 first prize and the priceless title of Aussie Millions Champion 2007.
Day 4 saw the remaining 14 that ended Day 3 play down to a TV Table of seven, so it was a short session! The official chip positions at the start of the session in table order were (top five chipstacks in bold):
Table 15:
1 Julius Colman 1,018,000
2 Hans Vogl 849,000
3 "Curly" Seal 434,000
4 Jonas Buskas 819,000
5 Kristy Gazes 713,000
Table 13:
1 Gus Hansen 1,861,000
2 Jakob Glassl 464,000
3 Dennis Huntly 449,000
4 Marc Karam 1,249,000
5 Patrik Antonius 1,637,000
Table 10:
1 Paul Wasicka 560,000
3 Andrew Black 1,759,000
4 Patrick Fletcher 467,000
5 Jimmy Fricke 2,664,000
So, a clash of the big stacks on two of the short-handed tables promised fireworks.
Andrew Black was immediately out of the traps on Table 10 dismissing Patrick Fletcher in 14th with a single blow from his flush draw that hit. Meanwhile, on Table 15, Kristy Gazes was making life hard for Jakob Glassl by draining his chips bit by bit, while improving her own situation, and she just kept going, running over other small stacks too.
Then a monster pot! Gus Hansen and Patrik Antonius saw a flop of Jh As 9h and Hansen bet 500,000. Antonius went all-in and the Dane called. Gus had J J for the set; Patrik two hearts including the ace for a nut flush draw and top pair. No heart came and the Finn was out in 13th. A good result given his lowly chip count on Day 2.
Big US player Paul Wasicka soon followed after he was outdrawn on the turn by Jimmy "Gobboboy" Fricke, the Pokerstars qualifier with the fearless aggression that's working so well for him.
Next to leave the stage was Jonas Buskas who was cornered with A Q when his all-in was called by Julius Colman holding A K. Buskas finished 11th and left with A$120,000.
They were still playing short-handed with five at each table and were originally to play down to four-handed on two tables. Later in proceedings a decision was taken to move the last eight to the TV table for the execution of the last elimination of the day to leave the seven to fight the final day.
With ten still remaining on two tables, "Curly" Seal was next up for the chop at the hands of Ireland's WSOP finalist in 2004 Andrew Black. He dominated Seal's Q J with A J after Seal had moved in.
With nine left, the minimum prize was now A$155,000. Now it was getting serious as Day 4's remaining finishers would be 9th and 8th with each getting this sum for their troubles. But for those hanging on to the final seven, the rewards would be good. 7th would step up to A$220,000, 6th A$300,000, then it escalates from there in six-figure intervals!
Hans Martin Vogl on 875,000, Jakob Glassl on 634,000 and Dennis Huntly, barely surviving on 223,000 chips would be the ones hoping for others to crash first. Unfortunately for the latter two, Gus Hansen sat at their table with nearly 4,000,000 and he would certainly not be leaving their blinds alone!
Huntly it was that went next after he was warned about slow play taking ages before folding on several occasions. Marc Karam's A K was too strong for Huntly's J 10 all-in.
Onto the TV table they went to declare a final day "bubble boy (or girl)". The one female, Full Tilt's Kristy Gazes was hardly in jeopardy with a handy stack of chips.
Now Gus Hansen was making his chips work, picking up 85,000 in blinds and antes on a regular basis. Only the aggressive Jimmy Fricke is having any sort of go at this stage. On one occasion, Fricke came over the top of the short-stacked Jakob Glassl causing the latter to fold. Being shown Q 7 offsuit won't have helped Glassl's mood!
And so it was that Fricke once again relied on the dreaded outdraw to dump Glassl out in 8th place after going all-in with J J. Fricke's A 10 looked promising for a double up but Glassl was shattered by the ace on the flop. Goodnight, over and out.
It's final time at the Aussie Millions 2007 and what a stunning look this table has to it. Two ultra-aggressive players with the bulk of the chips between them, Gus Hansen and Jimmy Fricke, might well decide this tournament in one gigantic collision. Next in line but with a little catching up to do are two more top professionals, Andy Black and Kristy Gazes. The overall chip counts look like this:
Jimmy "Gobboboy" Fricke 5,175,000
Gus Hansen 4,845,000
Andrew Black 2,100,000
Kristy Gazes 1,050,000
Julius Colman 785,000
Marc Karam 535,000
Hans Martin Vogl 455,000
The final prizes will be:
1st A$1,500,000
2nd A$1,000,000
3rd A$700,000
4th A$500,000
5th A$400,000
6th A$300,000
7th A$220,000
Stand by for action!
Ed note: Take a look at One Sick Promo to see the benefits of downloading Sun Poker!