APAT Announces Welsh Amateur Poker Championship

Richard Prew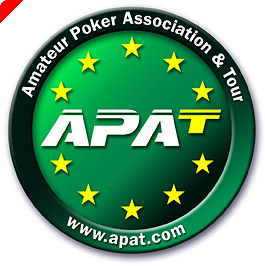 The Amateur Poker Association & Tour ("APAT") this week announced the details for it's third live event in it's tour. The Welsh Amateur Poker Championship will be held at the Grosvenor Casino in Cardiff, on February 24th & 25th, 2007. As with the previous two events the APAT will be structured with a deep stack and long clock. APAT tournament rules, which have been standardised across all tour venues, will be in operation at Grosvenor Cardiff.
The event will have a capacity of 180 players who will compete for the Welsh national title, a first prize of £3,500 and an $8,900 expenses paid entry to the German leg of the European Poker Tour in March in Dortmund, courtesy of Tour sponsor PokerStars.com.
Entry to the event is open exclusively to members of APAT, and in a departure from previous events, tournament seats will be allocated in one of three ways:-
Two online satellites on PokerStars.com. The $10 tournaments will run on January 21st and 23rd at 8.00pm. The top five players in each satellite will win a guaranteed seat plus the balance of available prize money for expenses.
A live satellite taking place at Grosvenor Cardiff. The £10 tournament will run on January 25th at 8.00pm.
Finally seats will be on sale at www.apat.com from January 27th at 8.00pm sharp. Seats will cost £75.00 each and 100% of entry fees will go directly in the prize pool.
This goes some way to answering the early criticism levelled at APAT in its first events where many players were disappointed to miss out on entry to the tournaments because of severe over-demand. Now there is at least a way to qualify aside from the hope that they can enter online before the event is full. It is also said to be a pre-cursor to a wider regional qualifying programme in the future.
Membership of the Amateur Poker Association & Tour can be obtained online at www.apat.com. Individual membership costs £10.00. Tournaments scheduled throughout the next six months include the Scottish, Irish, European and World Amateur Poker Championships. The winner of APAT's player of the Year, with point's gained in both the online and the live series, wins entry into the WPT Caribbean Adventure tournament in the Bahamas next year.
Ed note: Download PokerStars home of world champions, for a special $150 UK PokerNews bonus