Rajesh Modha Tops off a Million Dollar Night!

Tony Bromham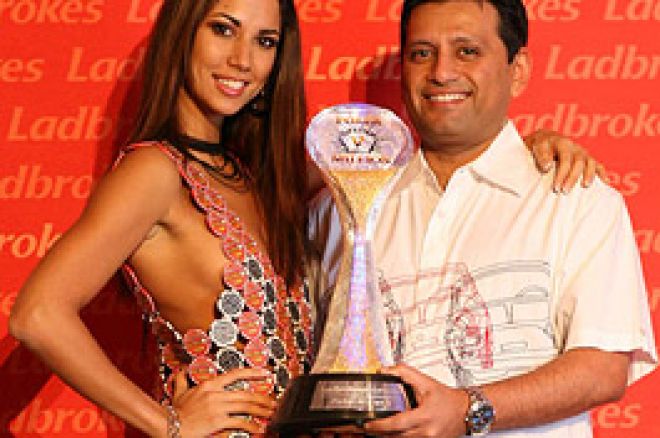 The Ladbrokespoker.com Poker Million came to a glitzy conclusion in a Grosvenor Square ballroom on Friday night while a few miles down the road in a West London TV studio, the six finalists clashed, each seeking the ultimate prize of $1,200,000.
The UK's Rajesh Modha, a nuclear engineer from Northampton, who months ago won a Ladbrokes Poker qualifier at a cost of $9, eventually prevailed in an exciting final that fairly crackled with tension yet raced to a conclusion in double quick time, unlike last year's that dragged much further into the night.
Much earlier in the evening, while the players were gathering their wits before taking their seats in the studio, hundreds of Ladbrokes' guests and table-loads of families and friends of the players arrived at the Marriott Hotel in London's upmarket Mayfair area to be greeted by champagne and a host of betting opportunities as Ladbrokes offered in-running markets on the outcome of the Poker Million final.
The initial betting screens showed semi-final chip leader Mel Judah (with a substantial 391,000 of the 1,200,000 chips in play), a man who has been in a World Series of Poker final with the late, legendary Stu Ungar, as favourite at 6/4. Alas for Mel Judah, the cards did not fall for him on the night and the wheels came off when he lost a vital K-K v A-K all-in shout to Rajesh Modha. Sadly for Mel, he was the one holding Big Slick!
Mel Judah ended the night in 4th position and was welcomed back by his tearful family in the hotel a short while later to the deafening tones of "Everyone's a winner" by Hot Chocolate. Somehow, we suspect that sentiment did not make him feel better! A cheque for $175,000 would have helped smooth the way a little.
Another man who did not feel like a winner was Northern Ireland's Martin Smyth who was first out of the door in 6th place having been simply unlucky. While starting the session as one of the two short stacks, he will have been highly delighted to see A-A as he peeked at his hole cards. These failed to stand up when it mattered most. A queen high flop looked innocent enough and Smyth was happy to go all-in. When his opponent turned over JJ to match the third J on the flop, the bottom fell out of Smyth's tournament, albeit a $100,000 consolation was coming his way.
Fifth place went to one of the three Scandinavians in the final. Mats Jungsand, who started with the smallest chip-count of just 96,000, fought well and was surely pleased to see Smyth's aces go west as this elevated his minimum pay cheque by a further $25,000. Sadly for Mats, that's as far as it went. Seeking to steal chips, he went all-in with 9-7 offsuit but was called in a calculated fashion by Dane, Claus Marcussen, who held K-J suited. The face cards held up comfortably and sent Mats to the floor.
Down to three and it was getting serious. The next one out would take a handy $250,000 down but that would pale into insignificance compared to the next level of $500,000, not to mention the winner's $1,200,000. Andreas Hoivold was the fall guy in third and he will have been disappointed with that after earlier seeing Marcussen save his tournament when he called Modha's all-in bet with 6d-10d on a 7d-K-9d flop. Modha's king looked good but an 8 on the turn boosted the Dane although any diamond will have done the job equally as well. Modha then recovered his position by putting out Hoivold in third and then took the title against Claus Marcussen after a short heads-up battle.
Many congratulations to Rajesh Modha on his superb victory, joining Tony Jones, Donnacha O'Dea, Jimmy White and John Duthie as Poker Million winners.
Throughout the evening, back in Mayfair, the diners were treated to live coverage of the tournament on three giant screens. The hotel catering staff served up a superb three-course meal and kept everyone's glasses charged with alcohol – all the better for placing bets with as the mobile bookmakers circulated!
Barry Hearn, the brains behind the Poker Million concept, made a short speech and "Statto" Angus Loughran stepped up to the microphone on several occasions to update us all with the changes in the odds as players' fortunes oscillated or terminated. Model Leilani Dowding even made a spectacular appearance in a dress fashioned entirely from $1,200,000 of poker chips! (see picture, thanks to Vismedia)
All told, this was a memorable date in the poker calendar and one to look forward to again next year. UK Poker News would also like extend its thanks to Samantha who runs herself into the ground making these events work, alongside many others at Ladbrokes.
Ed note: Not everyone turns $9 into $1,200,000, but it can be done when you download Ladbrokes Poker where the biggest tournaments and prizes are on offer every year