Purple Lounge Poker Is Not For Sale - Yet!

Tony Bromham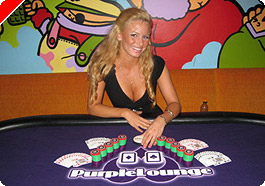 In a report featured in Scotland's Sunday Herald newspaper, a recent offer to buy half of London-based online gaming company, Purple Lounge for £15,000,000 was recently rejected by its owners. Included amongst them is Scottish-based serial high-tech entrepreneur Chris Gorman who has a 20% stake alongside his other business partners. These include Chief Executive and founder of Purple Lounge, Matt Larter.
The financial upheavals in the online gaming industry caused by the recent US internet gambling legislation have played havoc with many of the smaller players that had an exposure there. Fortunately for Purple Lounge, they have avoided the direct problems of a catastrophic loss of revenue because they had made a conscious decision at the outset not to market their products to US players. This has proven to be a shrewd decision and attracted interested parties looking to add well-run operations to their business empires.
Gorman explained to the Sunday Herald:
"I'm certainly happy we've not done business in the US. I still want to travel there. I don't want to get off a plane in an American airport and suddenly get arrested."
The recent offer to buy half of Purple Lounge came from an un-named rival casino and poker company. The proposal would have provided the founders of Purple Lounge with a healthy return on their original investments. However, the entrepreneurial Gorman – who has already made his millions from an earlier sale of a mobile telephones business to BT Cellnet - was forthright about the offer and said:
"I had no faith in that company going forward. We're still in discussions with other people. Everything is always for sale at the right price, but I don't think we'll do a deal at the moment. We're growing so fast now. We will maximise that value next year and look at selling it towards the end of next year."
In early 2007, an online casino operation, with more than 300 games, will be added to Purple Lounge's existing poker business. Meanwhile, the poker business is expected to make around US$2,000,000 in profit, in its first year alone. As an indication of progress made, Purple Lounge has entered the top three of the best poker operators in the Microgaming Poker Network (formerly Prima Poker). Microgaming is the largest of the world's poker software networks with over 50 individual poker rooms using it.
Asked to explain the company's success in a competitive and disrupted market, Gorman explained:
"Most of our poker players are in their 20's and play professionally. We've taken the offline model where the big casinos know who the big players are and target them with special services and incentives. We do the same thing, but do it online."
Such incentives to players have in the past year included highly sought-after tickets to A-List events such as England matches at the World Cup in Germany and the James Bond Premiere of Casino Royale (ed note: This 007 Premiere was attended by HM Queen Elizabeth II and UK Poker News ran a special freeroll to win a pair of tickets. Keep watching for more such offers and take the opportunities - they cost nothing!).
Gorman also makes good use of his connections at the top-end concierge service, Quintessentially. Purple Lounge Poker's "frequent players" can receive Quintessentially memberships, giving them the right to queue jump for the best seats in the house at fashion shows, grab a last-minute chartered yacht and receive privileges at gyms, spas, hotels, restaurants and nightclubs. Members out travelling can telephone a number and before they know it have a prime seat at the best show or in the plushest restaurant. The list is endless and the benefits are priceless.
Purple Lounge is openly seeking to attract more UK players as it currently is majoring on Scandinavians. Those numbers were boosted by the recent Purple Lounge/FHM Poker Tour in Norway where some of that country's top glamour models dealt the cards! UK Poker News reported extensively on that (use the "Find" box at the top right of this page to seek these out). It doesn't stop there. In 2007, there will be a similar Swedish Tour and UK Poker News will be the place to follow it and even get aboard the Tour bus!
Ed note: Join the poker A-List by downloading Purple Lounge Poker right here. A $1,000 deposit bonus is also up for grabs!