Poker, Girls, Footballers and More Girls

Catman - The Poker Agent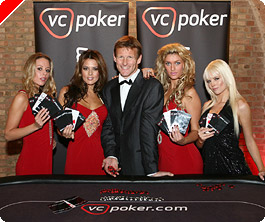 Over the last twelve weeks or so, I have had the pleasure of working with Poker Legend, Roy Houghton, along with Sonny Osman, at The Loose Cannon and the VC Players Lounge in the City of London. Working with "Rips Choy!" and Sonny has been a great experience. In response to the numerous posts you will see on forums – "I want to know how to open a poker club" - the answer is to have big courage, unlimited experience and plenty of money.
Opening any new business is a major stress and it is always a delight when something nice comes along to calm the nerves. In this particular case it was in the form of four stunning models, dressed in Bond Dress for the very Casino Royale supported by another legend that is Teddy Sheringham. Teddy was there to promote the $10,000,000 Grand Slam from VC Poker where you can also see some more great pictures of course and get the chance to win "Ten Mill".
Teddy has probably led a lifestyle not too far off Bond, a master on the pitch and a very fair reputation with the ladies (no jealousy here). So we get to the point of celebrity poker and stardom. Why was it that Teddy was posing with the posse of babes and not one of our legendary European poker players? Well, the answer is simple, poker is still regarded in a similar vein to the pugilistic sport of boxing, and fortunately for us the likes of Teddy can provide poker with an entry port into the mainstream press. We almost needed barriers to hold the gaggle of paparazzi back, and the shot made the likes of The Sun, which is a result not just for VC, but all of us. We need the support from creditable celebs to get poker out of the closet, for until we can get a greater acceptance and past the embargo of the game by the mainstream media, we will not get the outside sponsorship that will provide for all.
I harp on, but my job is that of a Poker Agent and Consultant. I want to be able to offer opportunity to others by way of sponsorship, etc, and in turn make shed loads of bucks for all concerned. I have swung back and forth with various major poker faces over the last couple of years, but the fact is that the superstardom and mega-bucks that are earned by the American stars are still a distant light to their European counterparts. We all need to graft a lot harder. We need a substantially sponsored European league, like the future PPL that is about to his us all by storm in the very near future.
Now I am not talking about promoting gambling; we all know that playing poker is a little like smoking but generally without the fatal bit. We have got to persevere and get the positive acceptance of the game as is the case for darts, snooker and the National Lottery before we will all benefit.
It's all about table image and working it; work it, girl! Brands outside the industry won't just yet accept that poker is here to stay, so I will take this opportunity to invite them to jump on board now, as the train is departing. Half the world plays poker; oh, and they get seriously drunk, smoke, take drugs, kill for money and on and on. But then again, do we want to lose this taboo? The virtual US ban on the sinful game of Internet Poker might well give the Europeans a chance to get a slice of the cake.
It is all too easy for any poker player to have a tinge of jealousy when they see players sponsored on their celebrity value, but I have just got the answer. Let's get a shed load more of them sponsored, for celebrity is vital for growth. Teddy and the other handful of recognised poker-playing celebs aren't that bad at all; they put in the time, can hold their own and are respectful to other poker players.
Next up is Ed Giddens, a man who I am pretty sure is about to get sponsored for a serious shed load of cash. Good luck to him; he is a character that will serve us well, even though you are rubbish at poker when you are drunk, Ed! I had the good fortune to sit at a Charity Dinner last Friday with Ed and he really is poor when drunk, but he is charming, suave, entertaining and will be an asset in promoting the game. It's all about graft and if the Europeans graft, I am sure everyone will prosper.
So, moving on from my tantrum, the great news was that The Loose Cannon and the VC Players Lounge had its first sell out event after the Teddy photoshoot, with over 200 players attending the Poker Player Open. Unfortunately , I couldn't stay for that one as I had to clear off and go to a corporate gig to get my photo taken with eight stunningly sexy gals, just for the fun of it. Send me an email at catman@thepokeragency.co.uk if you wanna see them!
There is a lot of fun to be had from poker, not only the bad beats, but glamour and sexy babes. The more celebs, the better for us and the more fun we can have trying to knock 'em out of games and take their money. By the way, Teddy is certainly no fish.
Talking of sexy babes, I got down to see the last leg of Paddy Power's £100 UK Poker Tour. Paddy and the boys know what to give us. I was informed they are officially the holders of The World Strip Poker title in which I was proud to participate. Bond 007, the sensational Vic cash player was a massive chip leader at The Sportsman when my darling girlfriend dragged me out. Now I wonder if Bond 007 - as he is officially known - has an agent?!!
Ed note: For a chance to win $10,000,000, download VC Poker and claim a $500 bonus too.